The NFL draft has come and gone, and now fans and "experts" get to sift through the picks and share their opinions and debate. It's part of what makes being a sports fan great. "Such and such a player was a stretch at that spot in the draft" or "Such and such a team got great value with this or that pick" are things you will commonly hear as fans now know what incoming crop of players will be joining their respective teams. And so now I'd like to take a few moments to share my humble opinions on how the Philadelphia Eagles did in their first draft of the Chip Kelly era.
I have seen and heard incredibly varying opinions on the Eagles' 2013 draft. One popular way of judging a team's draft is to issue grades, and I have seen the Eagles receive an A all the way to an F. It's pretty amazing that you would find that much variation in opinion, but again that is part of what makes being a sports fan fun.
While it's kind of silly to give a team a draft grade mere days after the draft is complete, as we won't really know how a team did until two or three years down the road, it's become commonplace. Personally, I think the Eagles did a pretty decent job in this draft and give them an early grade of B+. Let's work through the picks.
Round 1, 4th overall.
Lane Johnson, offensive tackle, Oklahoma
It's pretty hard to screw up a top-five pick, but teams in Philadelphia have shown it's not impossible. You have to like the pick here. The offensive line was one of the weakest units on an all-around weak Eagles team last year. Some of that was due to injury, but if you use that excuse then you have to admit concern when injuries become recurring, especially when you are talking about men as big as offensive linemen are.
I generally like his size at 6'6", 303 lbs. All indications are that the kid is athletic, which should work well with what is expected to be an up-tempo Chip Kelly offense. I also like the fact that he has played multiple positions. While that fact may leave him a little rough around the edges, it also gives him perspective and an ability to evaluate what defenses are trying to do. Assuming he jumps right in to the Eagles' starting line, he also allows Todd Herremans to move back to guard, his usual position. A sound, solid pick by the Eagles who can hopefully become the anchor of the line for years to come.
Round 2
Zach Ertz, TE, Stanford
Another pick I really like. Some have grumbled that the pick doesn't make sense with incumbent tight end Brent Celek still on the roster and the addition of James Casey from the Texans. I am of the school of thought that "drafting for need" is way overrated. You take the player that you feel is the best available, and if he ends up not being able to help your team, you trade him to a team that can use him and get as much value in return as possible.
Kelly has coached against Ertz, so he knows him well. All indications are that this kid can be a match-up nightmare, and again that should work well with the offense Kelly is trying to implement. I can't argue with you if you felt the Eagles should have gone with a defensive player here, but I still think they did well with the pick.
Round 3
Bennie Logan, DT, LSU
Honestly, I don't know much about this kid. The one thing that did stand out to me was his size. He is 6'2" and 310 lbs. For what seems like forever, the Eagles have had an undersized defensive line, so I like this pick if for no other reason than it adds some bulk to the trenches.
Round 4
Matt Barkley, QB, USC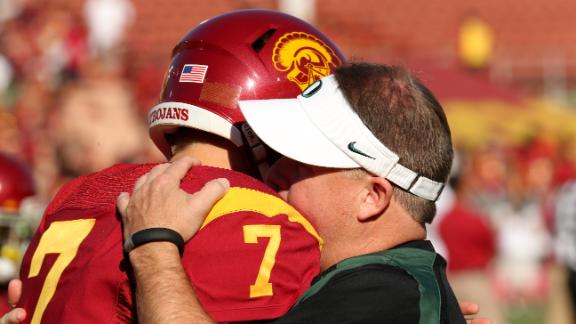 This was the stunner. I don't think anyone saw this coming. The Eagles' quarterback stable was already pretty crowded, and many thought that if they were going to go the QB route, they would have went with Geno Smith. Personally, I'm glad they avoided Smith.
I think there was a bit of a message being delivered here by coach Kelly. All the talk is about how he needs a running quarterback to run his system. I think he is showing that he isn't a one-trick pony and that what we saw at Oregon won't necessarily be what we see with the Eagles.
It will be fun to see how the quarterback situation shakes out, and it will be fun to see what the offense looks like. While I was not the biggest Chip Kelly supporter when he was hired, he has been slowly winning me over, first with his press conferences and now with this draft. I think Kelly is a very bright guy, and I am confident that he will run a system to put his players in a position to succeed and highlights their strengths, something that the former Eagles coach struggled with. Seeing as Barkley was a year removed from being projected as the number 1 overall pick, you have to like the value here. Also another guy Chip Kelly is familiar with from his Oregon days. Low risk, high reward.
I really don't know anything about the rest of the players the Eagles drafted, so I won't go into to detail about them. They were safety Earl Wolff, DE Joe Kruger, CB Jordan Poyer and DT David King. I will say that I'm glad they addressed defense here. Kruger has some decent size, which I mentioned earlier that I liked for the D-line. I think Poyer has some potential too. Some people had him projected as a 2nd- or 3rd-round pick, but he struggled at the combine. Again, solid pick in a low-risk, high-reward situation.
All in all I think it was a very solid draft for the Eagles. They didn't get too hung up on drafting for need, and they didn't try to outsmart everybody, which was a recurring problem under the previous regime. Chip Kelly continues to impress, and I think the team is going in the right direction. Now we just have to wait until we can see these guys on the field playing some football.