Yesterday, my man Kenny gave you his
all-time Final Four team
, spanning the past 20 years. Being the curious sole that I am, I decided to go back and check out the Final Four squads from 1990 on. Some impressive teams with players I absolutely became enamored with. Here are the players who played in the past 20 Final Fours that resonate with me the most. Enjoy.
1990, Teams: UNLV (champs), Duke (runner-up), Arkansas, Georgia Tech
UNLV: Larry Johnson, Stacey Augmon
This was the year of the Rebels, with Tark the Shark heading up one of the most athletic teams of all time. As you all know, UNLV won the national championship that year, headlined by the three-headed monster of Larry Johnson, Stacey Augmon and Greg Anthony, all of whom went on to have very long NBA careers. Me myself, I was a huge Larry Johnson fan. The man was simply incredible, hands down the best player in the land. When he got drafted by the Hornets and joined forces with Alonzo Mourning and Muggsy Bogues, I was enthralled. L.J. was the man, no question about it.
But don't forget about Stacey Augmon. The long, lean, athletic machine, I fell in love with Augmon's game at UNLV. The way he seemed to glide around the court, making things look effortless, even defensively. And that's what really drew me to Augmon, especially once I got a little older and studied him in the pros. Stacey was a glue guy willing to do all the dirty work, and defense was a big part of that. The Plastic Man was a beast in college, and always one of my favorite players.
Duke: No one. Fuck Duke.
Arkansas: No one.
Georgia Tech: Kenny Anderson.
I'm something of a sucker for New York City point guards, or point guards in general. Of course, I'm still more partial to Philadelphia ballers, but something about the NYC mystique adds to the aura of a player. Kenny Anderson was one of those players. His command of the floor, sweet lefty stroke and demonizing speed excited me as a young fan, and watching him become the face of the Nets made my affection for him grow even more. He's unquestionably the guy who paved the way for another NYC point guard prodigy, Stephon Marbury, to head down south to Georgia Tech and excite the nation. Kenny Anderson was a pioneer.
Though his life clearly took a turn for the strange when he married that chick from the real world. You know, the one who got the dude from Half Baked kicked out of the house.
1991, Teams: Duke (champs), Kansas (runner-up), North Carolina, UNLV
Duke: No one. Fuck Duke.
OK, that's not entirely true. I did kind of, sort of not hate Grant Hill.
Plus, his Filas when he went pro were tits.
But you know, I hate Duke. A lot. A lot, a lot. Though I will say this, Christian Laettner was one of the best college basketball players I've ever seen in my life, maybe even the best, and Bobby Hurley was all sorts of good before he got in that crash. But still, fuck Duke.
Kansas: No one. Seriously, look at
that roster
. Boring.
North Carolina: George Lynch

Michael Jordan was the reason I started following North Carolina basketball, but the future Philadelphia 76er defensive standout was the reason I fell in love with the Tar Heels. I loved everything about George Lynch's game. In college, was the complete player, scoring, rebounding, defending, you name it. And he carried that over into an NBA career in which he was asked to be a defensive stalwart, but was still able to get you some points if you needed him to. George Lynch is my man. This team also included Hubert Davis and Eric Montross, who were OK. But it also included Rick Fox, the only UNC Tar Heel I openly despise. In a proper world, Grant Hill would have went to UNC and Rick Fox to Duke. He seems like a Dookie.
UNLV: See 1990. Larry Johnson, Stacey Augmon and the defending champs somehow lost to Duke with essentially the entire team returning. Mind-blowing.
1992, Teams: Duke (champs), Michigan (runner-up, stricken from the books), Indiana, Cincinnati
Duke: Same team as 1991. Fuck Duke.
Michigan: Chris Webber
Unlike seemingly the rest of my generation, I did not fall in love with Fab Five. I despised Jalen Rose, which definitely carried over into the NBA. I never liked Juwan Howard because his game is ugly, though effective. I guess I didn't have a problem with Ray Jackson and Jimmy King. But the only one I can honestly say I really liked was Webber. He was just awesome, quite possibly the most talented power forward I ever saw play basketball. And I was rooting hard for him and the Fab Five to knock off Duke, but they couldn't. That was annoying.
Indiana: No one.
Cincinnati: Nick Van Exel
Another lefty point guard who loved to shoot the ball? Count me in. Van Exel was one of the most exciting, most explosive players ever. At any moment, he could go off for 40, and he never met a shot he didn't like. The guy was cool as hell. And who can ever forget his foul shooting, where he stood a couple feet behind the line because he claimed he was always long on his foul shots? So instead of adjusting his shot, he just backed up. That's awesome. So was Nick Van Exel.
1993, Teams: North Carolina (champs), Michigan (runner-up, stricken from the books), Kentucky, Kansas
North Carolina: George Lynch, Dante Calabria
Lynch was the man who led the Tar Heels to the title along with Montross, and Dante could shoot the lights out of the ball. Awesome team.
Michigan: Chris Webber
The timeout, courtesy of George Lynch.
Kentucky: No one. I wasn't big on Kentucky. I didn't hate them, but I didn't really like them either. Jamal Mashburn and Tony Delk were incredible though.
Kansas: No one. Greg Ostertag is ugly.
1994, Teams: Arkansas (champs), Duke (runner-up), Arizona, Florida
Arkansas: No one. Corliss Williamson was nasty though. Real nasty.
Duke. No one. Fuck Duke. But Grant Hill was still there, for what it's worth.
Arizona: No one.
Florida: No one. Down year for me.
1995, Teams: UCLA (champs), Arkansas (runner-up), North Carolina, Oklahoma State
UCLA: Ed O'Bannon, Toby Bailey, Tyus Edney
The O'Bannon brothers were athletic monsters, and Ed was as good as any player in the country. I don't know a single person on the planet that didn't love Ed O'Bannon. He was a remarkable do-it-all star. Definitely the leader, but not my favorite player on that squad. No, that would be …
That's right, Toby Bailey. I loved that guy. Great shooter, athletic finisher, tough player. Toby Bailey was my man on that squad.
And of course, who can ever forget Tyus Edney, the little point guard who showed the world that 4.8 seconds is actually an eternigy?
Arkansas: No one.
North Carolina: Rasheed Wallace, Jerry Stackhouse, basically the entire roster
One of my favorite college basketball teams ever
, this squad included Jeff McGinnis, Dante Calabria, Shammond Williams and Serge Zwikker. But it was headlined by the best one-two punch in the land: Philadelphia's own Rasheed Wallace, and Philadelphia 76er first-round draft pick Jerry Stackhouse. Sheed was the second coming of Chris Webber, a do-it-all power forward who was unstoppable on the block, could pass like a point guard and defended with the best of them. And Stackhouse was the most athletic player in the nation, and the player of the year in college basketball. One of the most talented teams to never win a title hands down.
Oklahoma State: No one. This was Big Country Bryant Reeves' team, and I did not like him. I'm not the biggest fan of slow, lumbering, unathletic centers. Sue me.
1996, Teams: Kentucky (champs), Syracuse (runner-up), UMass (stricken from the books), Mississippi State
Kentucky: Ron Mercer
This team was oozing with talent, but beyond coach Rick Pitino and star Ron Mercer, I wasn't a huge fan of most of the team. I hated and still hate to this day Antoine Walker and his stupid shimmy. Tony Delk never did it for me. Derek Anderson was OK. Same with Walter McCarty. If I had to pick a second favorite player on that squad, it was probably Jeff Sheppard, but mainly because a friend of mine loved the guy. Wayne Turner was underrated, and Nazr Mohammed was on the roster.
But it was Mercer who drew me in. His insane athleticism allowed him to jump out of the gym, and he was the guy who often swung momentum in Kentucky's favor with his forceful slams. Didn't pan out to what you would expect in the pros, but the guy was awesome in college.
Syracuse: John Wallace
Wallace was a beast of a player, dominating the Big East and getting Syracuse all the way to the title. He's only guy I really remember from that squad, and I remember being in awe of him. Plus, he was a teammate of Donovan McNabb.
UMass: Marcus Camby, Dana Dingle
Marcus Camby was far and away the best player in the nation, a shot-blocking force and athletic phenom who terrorized college basketball. He was John Calipari's first big recruit, putting the MInutemen on the map. This was also the first of two Final Four teams (the other Memphis two years ago) under Calipari's watch that had its season stripped away due to violations. That doesn't take away from anything and everything Marcus Camby did. He owned college basketball that season, and he almost singlehandedly led UMass to the title.
Dana Dingle is included for two reasons. First, I used to laugh because his name was Dana, and he was nowhere near as good as Dana Barros. Second, when he used to make a shot, announcers would occasionally say something like, "Dingle buries the three." As an immature kid, this made me break out into hysterical laughter every time. Dingleberries. Hillarious.
Mississippi State: No one.
1997, Teams: Arizona (champs), Kentucky (runner-up), Minnesota, North Carolina
Arizona: Miles Simon, Mike Bibby
One of the best college backcourts of my lifetime, hands down, and unquestionably one of my favorite teams ever. Mike Bibby was the fresh-faced kid who unleashed his talents on the nation and became a cornerstone in the NBA. There wasn't anything not to like about Bibby's game. While Bibby was the one who had pro scouts drooling, it was Miles Simon that led the Wildcats to the promised land. He was the heart and soul, and truthfully, the best player on that team. Arizona went as Simon went, and in the tournament, he was a beast. The wily senior was impossible to hate, his passion for the game emanating through the television. He never made it at the next level, but he was incredible at Arizona. Truly one of the greatest leaders in college basketball.
My dad was out in Arizona shortly after Zona took home the title, and he bought me a 1997 Arizona Wildcats National Champions T-shirt. I wore that sucker out quick, but I still own it to this day. It's riddled with holes and practically unwearable, but I still have it. Awesome team.
Kentucky: Ron Mercer (see above). No one else really. Derek Anderson was still there. Jamaal Magloire, Nazi and Wayne Turner still there. And this started the Scott Padgett era, which lasted about a decade I'm pretty sure.
Minnesota: Bobby Jackson
Simply put, Bobby Jackson was a battler. And he quickly became one of my favorite players. He was a tenacious defender, a scoring machine and basically a one-man show at Minnesota. Without him, the Golden Gophers weren't even an afterthought … they weren't a thought at all. But Jackson electrified the nation in the 1996-97 season, and especially in the tournament, when he put Minnesota on his back and carried the team to the Final Four. It was an improbable run, but that's what Jackson was all about.
Of course, he became a mainstay on those exciting Sacramento Kings teams, playing the sixth man role as good as anyone. Unfortunately, injuries slowed him down and prevented even more greatness, but he displayed plenty of it in college.
North Carolina: Vince Carter, Antawn jamison, Ed Cota, Shammond Williams, Ademola Okulaja
This team was a little too young to win it all, but that didn't stop them from getting to the Final Four. Vince and Antawn were arguably the most talented players in the country, Ed Cota was a freshman point guard with ridiculous passing skills. Shammond Williams was the combo guard who could fill it up or run the team. And Ademola Okulaja was the glue guy, a terrific defender and excellent rebounder that did all the dirty work. Throw in banger Makhtar Ndiaye and Serge Zwikker and the Final Four was no fluke, even for this young team.
1998, Teams: Kentucky (champs), Utah (runner-up), North Carolina, Stanford
Kentucky: No one. Wasn't enthralled with Magloire, Nazi or Padgett, though Jeff Sheppard and Wayne Turner were intriguing at this point. Oh, and Michael Bradley, who transferred to Villanova after the season and was briefly a Philadelphia 76er, was on the roster.
Utah: No one. I hated Utah. Keith Van Horn was already gone, plus he was a jerk. Andre Miller bored me to death. Michael Doleac fit the big, plodding, unathletic center mold. And Hanno Mottola was the bane of my existence. I hated that team.
North Carolina: (same as 97) Vince, Antawn, Shammond, Ed Cota, Okulaja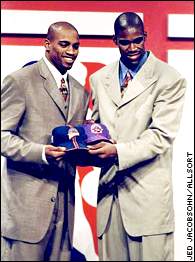 Another one of
my favorite college basketball teams ever
. Antawn was the National Player of the Year. Vince was the most electrifying, exciting, explosive player in the country, and hands down the best dunker on the planet at that time. Cota was still my man. Shammond was emerging even more. And then there was still Okulaja and Ndiaye, not to mention a young Brendan Haywood and Max Owens. This team had it all. It was back in the Final Four a year after getting there as a young squad, this time seasoned and ready. Yet they still lost to Utah somehow. It may be the most talented team ever assembled that didn't win a title.
Stanford: No one. I hate Stanford. It's like Duke of the west, but not exactly, because now that's Gonzaga. But still, look at these guys: Mark Madsen, the Collins brothers, Ryan Mendez. Bleck. I hate that school too. Smart people make me angry. Then again, so do dumb people. Let's move on.
1999, Teams: UConn (champs), Duke (runner-up), Mighigan State, Ohio State (stricken from the record)
UConn: Rip Hamilton, Khalid El-Amin
Richard Hamilton was the best player and a truly lethal scorer for the National Champion Huskies. He is also a Coatsville product, a western suburb of Philadelphia, so naturally I was a fan. In college, Rip was awesome and awesome to watch. I grew tired of him quickly in the NBA though. I'll blame it on the mask.
While I certainly liked Rip a lot, being a native Philadelphian and all, Khalid El-Amin was the reason I couldn't take my eyes off this UConn squad. The pudgy point guard was just incredible. Despite his stature, he could get anywhere on the court, make any play he wanted, and even blow by people. It was amazing to watch. He dominated the NCAA tournament in a way that made everyone wonder how this little fat guard was so damn good. And it was fun as hell to watch. When I think of the Final Four, he's instantly one of the first players who come to mind.
Duke: No one. Fuck Duke.
Michigan State: Morris Peterson
Tom Izzo's first Final Four team was led by Mateen Cleaves, the team's best player, but Mo Pete was my favorite player. His smooth stroke, athletic finishes and graceful style made me wish the Sixers would find a way to get him. I had no problems with Mateen, but he wasn't exactly my favorite guy. And I did not like Charlie Bell or Doug Davis, and A.J. Granger wasn't all that exciting to me either.
Ohio State: Scoonie Penn
Michael Redd was the sharp-shooting star of this squad and went on to become an NBA star, but Redd bored me. As did most of the Big Ten in regards to basketball. But Scoonie Penn made the Buckeyes tolerable to watch. The little point guard had a tenacity you have to admire, and his name is awesome. Scoonie was bad ass.
2000, Teams: Michigan State (champs), Florida (runner-up), North Carolina, Wisconsin
Michigan State: Jason Richardson, Mo Pete
While I liked Mo Pete, I freakin loved Jason Richardson. The way he threw down ridiculous dunks, he reminded me of Vince Carter. His athleticism was off the charts, and he quickly became the first and only Michigan State player I honestly loved as a player. He was the piece that put the Final Four team from the year before over the top, giving Izzo and the Spartans the national title. And he has continued to be one of my favorite players in the NBA, throwing down dunks and raining in threes. I saw him in person in the dunk contest in Philadelphia in 2002. You know, the year the NBA tried to ruin the dunk contest with that stupid wheel. No matter, it didn't stop J-Rich from putting on a show, bringing the house down by saving the best dunk of the night for last, and winning the contest.
Florida: Teddy Dupay
The little Florida scoring machine eventually got kicked out of school for gambling, but man, when he took the court, he was amazing to watch. He reminded me of Jason Williams in his lack of fear from taking any shot anywhere, but he was a scorer through and through. Loved watching this guy play. Absolutely loved it. Mike Miller and Matt Bonner were both on this team as well. I like Mike Miller as a player, but his face bothers me. I don't know why. And Matt Bonner is a big ginger. Nothing against him, but he is a ginger.
North Carolina: Ed Cota, Julius Peppers
Listen to me and listen to me good. There was and never will be a more beautiful site in college basketball than Ed Cota throwing a lob to Julius Peppers. Just won't happen. These two combined to put together some of the most incredible alley-oops in history. Anyone who disputes this can go and die. And yes, if you've been doing the math, that's three Final Fours for Ed Cota. The man was a magician with the basketball.
Brendan Haywood, Jason Capel, Joe Forte, Kris Lang and Max Owens were also on this team. I really liked Capel and Lang a lot, though Lang always got hurt and Capel was never quite as good as his dirtbag brother who somehow went to Duke. How does one brother wind up going to Duke and the other to UNC? Shouldn't be legal. Joe Forte was an overrated gunner, which Boston found out the hard way. And Haywood and Owens were cool, though Haywood never got the ball enough.
Wisconsin: No one.
2001, Teams: Duke (champs), Arizona (runner-up), Michigan State, Maryland
Duke: No one. Fuck Duke.
Arizona: Gilbert Arenas, Jason Gardner
Agent 0 made his name at Arizona by scoring every which way possible, and this tournament was his breakout. Paired with Jason Gardner, this backcourt was damn near impossible to stop. For those of you who don't remember Gardner, go back and check your history. Gardner was one of the toughest guards I've ever seen, and he had brass balls. Anytime Zona needed a big play, he made it, whether it be a bucket, a steal or a pass. Loved Jason Gardner. It was like Miles Simon and Mike Bibby 2.0. Add in the ultra-athleticism of Richard Jefferson, who was definitely fun to watch, and Loren Woods, and you had yourself a fun team, even if Luke Walton was on it.
Michigan State: J-Rich, Zach Randolph
Eddie Winslow
Zach Randolph joined forced with J-Rich to form a lethal 1-2 punch. The inside-outside dynamic got Michigan State back to the Final Four again, and Randolph emerged as a men amongst boys down low. Fun guys to watch. It's refreshing having Izzo around to actually bring some fun basketball to the Big Ten.
Maryland: Steve Blake, Juan Dixon
More proof that guards matter in college basketball. Yes, the Terrapins had Lonny Baxter and Chris Wilcox inside, not mention excellent role players in Terence Morris, Tahj Holden, Danny Miller and Drew Nicholas, but it was Blake and Dixon that made this engine go. All sorts of fun to watch. More on them coming up.
2002, Teams: Maryland (champs), Indiana (runner-up), Kansas, Oklahoma
Maryland: Juan Dixon, Steve Blake
One year after getting to the Final Four, Maryland returned on the strength of its backcourt once again, this time winning the whole damn thing. With almost the same team, both Blake and Dixon stepped their games up a notch. Blake was the heady point guard who always seemed to make the right play. Who can forget his awesome steal of Jason Williams?
Loved that guy. And there was Dixon, the MOP of the Final Four, the scoring machine who grew up with both parents dying from drug abuse. All he did was manage to get himself out of a tough upbringing, become one of Maryland's greatest players ever and lead them to a national title. And he did it all with an exciting flair. One of the most surprisingly awesome backcourts ever.
Indiana: No one. Not a Jared Jeffries fan.
Kansas: Nick Collison, Kirk Hinrich, Aaron Miles, Keith Langford
I always liked the Jayhawks, probably because Roy Williams coached them and he was a UNC guy. This was one of his most talented teams. Collison was a beast inside, grabbing every single rebound and giving an interior scoring presence. Now he's a key bench player on the young, exciting Thunder (who trounced the Sixers last night). Kirk Hinrich has always been one of my favorite players, and he is one of the best college guards I've ever watched. Deadly shooter, great decision maker, and tough defender.
But two guys I liked just as much, if not more, were Aaron Miles and Keith Langford.
Miles wasn't a spectacular player by any stretch of the imagination, but he was really good. And he was really good right away. Not much of a scorer or shooter, but a point guard through and through. I loved to watch him play. And Langford was the slasher you expect every great team to have. I really was enthralled with his game. When you think about those four, and then think about Drew Gooden, who was a terror, and Wayne Simien, a big recruit who had a lot of promise before injuries slowed him down, you wonder how this team didn't win it all. That just seemed to be Roy's luck before he returned to Chapel Hill.
Oklahoma: No one.
2003, Teams: Syracuse (champs), Kansas (runner-up), Texas, Marquette
Syracuse: Carmelo Anthony, Hakim Warrick, Gerry McNamara
Well, hard to not like this team. Melo put together perhaps the best freshman season of all time, leading the Orange to the National Championship and taking the spotlight away from high school sensation LeBron James in March. That was Melo's year, even if James went first overall in the draft. Carmelo was simply remarkable, an effortless scorer who led the Orange to the title.
Of course, he had some help in the form of a couple PA boys. One was Gerry McNamara, the dead-eye shooter out of Scranton. Before Dunder-Mifflin made Scranton a tourist attraction, McNamara put the small city on the map with this clutch shooting. Watching him jack up shots from all over the place was awesome.
Almost as awesome as seeing Philadelphia's own Hakim Warrick display sick athleticism, throw down monstrous dunks and swat away intimidating blocks. The Friends' Central grad did Philadelphia proud, giving Melo a running mate. He also made some ridiculous plays and ridiculously huge plays.
Kansas: Basically the same team as the year before. See 2002.
Texas: No one. T.J. Ford and Royal Ivey were on this team, but I didn't particular care for either. I hated Brian Boddicker and Brad Buckman. James Thomas was all right.
Marquette: Dwyane Wade, Travis Diener
The entire basketball universe revolved around Carmelo Anthony and LeBron James in 2003 and no one else. Well, no one else until Dwyane Wade went bonkers, announcing to the world that it ain't just LeBron and Melo who were about to take over, but Mr. Wade as well. He was arguably every bit as good as Melo that season, taking a much less talented Marquette team to the Final Four. He could score, rebound, pass, defend, do it all. He wasn't as high-profile as the freshman for the Orange, but he actually had a more complete game. He had to. Otherwise the Golden Eagles would have never made it that far.
Though Wade wasn't all alone. Travis Diener played the perfect sidekick, hitting seemingly every open shot and forcing defenders to respect his long range, giving Wade more room to operate and attack the rim. Incredible season by this duo, with Wade almost stealing the spotlight from Melo.
2004, Teams: UConn (champs), Georgia Tech (runner-up), Duke, Oklahoma State
UConn: Ben Gordon, Emeka Okafor, Rashad Anderson, Denham Brown
There was never a doubt, this was the best team in the country from start to finish. Okafor was the shot-blocking, rebounding machine inside, able to run the floor on the break and protect paint on defense. Ben Gordon was the outrageous scoring machine, doing it any way possible and making it look easy. They were the unquestioned leaders of the best team in the land.
But the guys I liked just as much were Rashad Anderson and Denham Brown, two do-it-all players that always seemed to come up with the clutch play, whether it was a steal, a block, a rebound, an assist, a shot, taking a charge, whatever. Brown became especially notorious as a late-game assassin, despite not even starting. Awesomely underrated duo there.
I saw these Huskies play Villanova at the Wachovia Center that year. UConn was widely believed to be the best team, while Nova was suffering sanctions thanks to the phone card scandal. The only thing the Wildcats had going for them was that Ray Buchanan was making every single free throw. Yet somehow, on that day, Villanova beat the eventual national champs. True story. I was there.
Georgia Tech: Will Bynum
Despite Chris Bosh bolting for the NBA to join LeBron, Melo and Wade in one of the best draft classes ever, Georgia Tech still made it to the Final Four and final game on the back of the smallest guy on the floor, Will Bynum. If you watched Will Bynum play and didn't like him, I didn't like you. Plain and simple. Short guys who show no fear and score at will are right up my alley, especially when they throw down with authority. That's exactly what Will Bynum was.
B.J. Elder was also a stud on this team, along with a slew of excellent players. Isma'll Muhammad seems to stand out in my mind. And Jarrett Jack was all sorts of good. Imagine if Bosh had come back. Scary.
Duke: No one. Fuck Duke.
Oklahoma State: No one. Fuck that Oklahoma State team. Especially John Lucas. You bastard. It should have been Jameer Nelson and Delonte West occupying this spot for St. Joe's, but not. And your dad was an awful coach.
2005, Teams: North Carolina (champs), Illinois (runner-up), Louisville, Michigan State
North Carolina: Raymond Felton, Rashad McCants, Reyshawn Terry, Jawad Williams
In Roy Williams' first season in Carolina, he took over a roster full of talent that had previously underachieved with Matt Doherty, the coach who recruited them, at the helm. In two years, he transformed Sean May from an out-of-shape player into a beast, a moody, cocky Rashad McCants into more a team player, and just continued to mold Raymond Felton into a superstar. Truth be told, Felton was the only one who was awesome from day one. But when Roy was through, he had McCants channel his ability and fit into a system, got May into shape and Raymond just did him, leading the Tar Heels to the title. Felton was the man, and McCants was always a guy I stuck behind if for no other reason than I hated Doherty too. He was an awful coach. May was a great college player, but never my favorite player.
To me, the most underrated player on that team was without question Jawad Williams.
Freshman Marvin Williams got a lot of hype and praise, and he was a special talent, but Jawad was an infinitely better player. He played defense. He rebounded. He scored. Most importantly, he provided the senior leadership this team needed, and he was the player Roy Williams could count on to help set these younger players straight.
I really grew to love Reyshawn Terry as well. He was just a sophomore but showed a world of talent. He didn't see the court much, but when he got in, I was always excited. Jackie Manuel, David Noel and Melvin Scott were also favorites of mine on that team.
Illinois: Luther Head
Illinois lost to UNC in the final that year. Dee Brown was the player who got the most pub, for his incredible speed. Deron Williams was the best player, even people didn't realize it, and he made more clutch plays than anyone. But I didn't like either player in college. I really like Deron now, but not then. Not at all. No, the only one I liked on that team was Luther Head, because he was a gunner, but in a good way. He had a lethal shot, and he was the king of the dagger bucket for Illinois.
I saw this team play at Penn State when it was ranked No. 1. It was impressive. They ran a terribly overmatched Penn State team right off the floor. One of the best three-guard attacks in my memory.
Louisville: No one. I didn't like this team. Not Francisco Garcia. Not Jual Palacios. Not Taquan Dean. Something about Pitino's players I just never seem to like, but I like Pitino. I can't figure it out.
Michigan State: No one really. Drew Neitzel was all right. Didn't like Shannon Brown or Maurice Ager. Or Paul Davis.
2006, Teams: Florida (champs), UCLA (runner-up), LSU, George Mason
Florida: No one. I hated Joakim Noah so much that it distracted me from Al Horford's awesomeness. I'm indifferent to Corey Brewer and didn't mind Taurean Green and Lee Humphrey. But I couldn't get behind anyone on this team because of Noah. I hate him that much.
UCLA: Arron Afflalo, Cedric Bozeman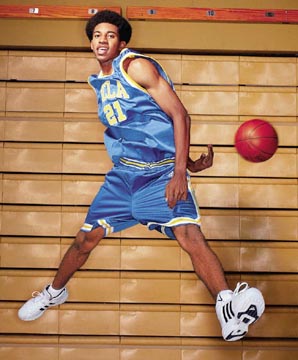 This team was led more by Jordan Farmar, but I hate Jordan Farmar. I'll blame his ears. Darren Collison is good but was young then and never really was a favorite of mine (until I picked him up in fantasy this year), and I always kind of liked Josh Shipp too. I have no feelings toward Luc Richard Mba a Moute. Just don't. But I loved Arron Afflalo's game, and I loved Cedric Bozeman's mini afro. Plus Bozeman is a cool name.
LSU: Tyrus Thomas
Like everyone else, I fell in love with the athleticism of Tyrus Thomas in this tournament, even if that's all he really had at the time. It was still amazing. He crashed the offensive glass with abandon, posterized people on the regular and blocked shots that made you jump out of your seat. He was the reason to watch LSU. Big Baby Davis was a more dominant player, but I hated him and still do. Big Baby is the appropriate nickname for him.
George Mason: No one. It was a great run by George Mason, but let's face it, it's George Mason. I didn't give a crap about anyone on that team. Though it was cool that Gabe Norwood was on the team. He is the brother of Penn State wide receiver Jordan Norwood, also briefly on the Eagles. Their dad was a coach at Penn State. Over Easter break one year, Gabe showed up at the IM building when I was there, in town for the holiday to see his family I'm sure. He was way better than everyone in the gym. Another true story.
2007, Teams: Florida (champs), Ohio State (runner-up), UCLA, Georgetown
Florida: No one. See 2006. Though Marreese Speights was on the roster. That's something.
Ohio State: No one. Yes, the team had Greg Oden, Mike Conley and Daequan Cook. But I did not like anyone, mainly because it was Ohio State. I was rooting for the Buckeyes though, because I still hate Noah that much.
UCLA: See 2006. Russell Westbrook burst on the scene a bit too, and he was fun to watch.
Georgetown: No one. This team annoyed me. Jeff Green, Roy Hibbert, Patrick Ewing Jr., Jessie Sapp, DaJuan Summers, Jeremiah Rivers — no thanks.
2008, Teams: Kansas (champs), Memphis (runner-up, stricken from the books), UCLA, North Carolina
Kansas: Brandon Rush, Sherron Collins
This team had a lot of talent, and we all know Mario Chalmers was the hero, but my guys were Brandon Rush and Sherron Collins. Rush was the leader of the team, growing into the role after coming in as a high recruit early in his career. Excellent shooter, excellent scorer and very good defender. I like him much better than his brother. And Sherron was the sixth man, exploding off the bench for instant offense. Really liked those two a lot.
Memphis: Derrick Rose, Robert Dozier, Chris Douglas-Roberts
Even though this team never existed, it was awesome to watch. Derrick Rose dominated from day one in a way you don't really expect a freshman point guard to dominate. And as the season went on, he became the best player, the go-to guy for the Tigers. The amazing thing was the way he could get anywhere on the floor he wanted at any time, even against zone defenses. One of the truly phenomenal seasons for a freshman point guard ever.
Then there was Chris Douglas-Roberts, the elder statesman if you will who played the Rodney Carney role for Memphis. He was athletic, could shoot a little, and scored in bundles. Fun guy to watch. And I loved the ultra-long, ultra-lean Robert Dozier, seeing him hit the offensive boards and block shots. Sort of like a poor man's Hakim Warrick. Shawn Taggart was a little similar that way, and Joey Dorsey was frightening, especially on the glass.
UCLA: Russell Westbrook, Kevin Love
Watching freshman Kevin Love throw outlet passes to a streaking Russell Westbrook, who would often finish with an electrifying jam, was just awesome.
North Carolina: Ty Lawson, Wayne Ellington, Danny Green
Tyler Hansbrough was the one the media loved, and he was a dominant player no doubt. But he was never close to my favorite. That belonged to Danny Green, another do everything guy. His deep threes and big dunks always brought the house down. Ty Lawson was a blur of a point guard, and a great one at that. And Wayne Ellington was the sweet-shooting scorer out of Philadelphia, so of course I loved him. More on these guys in a minute.
2009, Teams: North Carolina (champs), Michigan State (runner-up), UConn, Villanova
North Carolina: same as above, Ty Lawson, Wayne Ellington, Danny Green
Danny Green was definitely my favorite Tar Heel. He was simply a spark plug, and an athletic one at that. He came up with some incredible blocks, hit a plethora of deep threes, and even threw down some mind-altering dunks, like this one:
Rebound, defend, score, Green did it all. I love that guy. And Wayne, well, I loved watching him develop from a shooter to more of a pure scorer. After fading a bit against better competition his sophomore season, Ellington made himself a better, more well-rounded player. He learned to put the ball on the floor more, and worked on his defense. That led to him becoming much more clutch, culminating in earning the
Most Outstanding Player
of the Final Four.
Truth be told, Lawson probably should have gotten it. Hansbrough was the most celebrated player on the team, but last year, Ty Lawson was the best player on North Carolina, and definitely the best point guard in the nation. He was impossible to keep in front of him with his blazing speed. He always moved at top speed, running Roy Williams' pressure attack to perfection, never turning the ball, shooting outrageous percentages from the field, three and the line, and keeping a roster full of talent involved. Guy was a stud. His departure is the single biggest reason UNC struggled this year. Truly a great player, who ended his career by setting a new record for steals in a NCAA final.
Michigan State: No one. I kind of like Draymond Green, but luke warm on everyone else.
UConn: Hasheem Thabeet
He may be struggling in the pros as a rookie, but watching him block shots left and right at UConn was all sorts of fun.
Villanova: Dante Cunningham, Shane Clark, Corey Fisher, Scottie Reynolds
Dante Cunningham was Nova's best player last season. Yes, better than Scottie Reynolds. There is no disputing that. And it took a lot of work for Dante to get there. He came to Nova as nothing more than rebounder who played solid defense but didn't provide much offense. By his senior season, he was a dominant force, adding a soft jumper and scoring both inside and out. He gave Nova a toughness and desire that the team lacked a little this year. I loved Dante. And Shane Clark was of the same mold. Truth be told, I always expected more offensively from Clark, because he came with the reputation of a scorer. While that never translated to the college game, Clark became an important bench player for the Wildcats, giving them great interior defense and rebounding. Another hard worker that I loved.
Of course there was Scottie and Corey as well. Fisher emerged as a real offensive threat last season, proving Jay Wright could trust him with the ball. And Reynolds continued his maturation, ultimately getting Nova to the Final Four with
the shot heard round the Main Line
:
Of course, Reynolds finished up his career as Nova's second all-time leading scorer and First Team All-American honors. He definitely earned it.
Dwayne anderson was another senior on that team that meant a lot, providing a calming hand and great d, not to mention some clutch shots.
Finally, we come to this year, 2010, with Duke, West Virginia, Butler and Michigan State doing battle. We don't know the outcomes yet, or who will step up, and truthfully, there aren't many players I'm excited about. See Michigan State last year for my take on their players. There's no one on Duke because, well, fuck Duke, that's why. Butler is a great story and the Bulldogs have some really good players, but I don't care about any of them. And West Virginia isn't exactly teaming with players I love. Though I do like Da'Sean Butler. A lot. So throw him in there.
Do us all a favor beat Duke Saturday. That would be great.