One of the biggest differences between basketball and hockey is that in basketball it's easy to see when one player has a dominant performance. Even if you didn't watch the game, you can check the box score and the numbers often tell the story: 50 points, 20 rebounds, 15 assists. Individuals put forth dominant performances all the time in the NBA.
In hockey, one player's dominance usually isn't as obvious. There are several reasons for that. One, basketball players play a much larger percentage of the game, with the stars rarely sitting. In hockey, players jump on and off the ice constantly, rarely playing more than a minute or two at a time. And you can't look at a box score and determine the impact a player had on the game nearly as well as you can by looking at an NBA box score.
But on some nights, a player just jumps out on the ice. You notice him every time he's out there. He looks like he's moving two or three times faster than everyone else. And he makes you say, "Wow!" time and time again. Last night was one of those nights for Claude Giroux.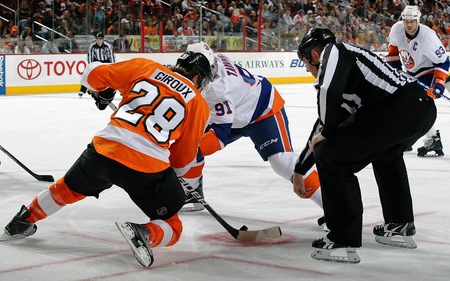 Ever since he first came up and dazzled the NHL with his incredible skill, tenacity and resolve, Giroux has been compared to another smaller yet incredible NHL superstar, Peter Forsberg. Well last night, Giroux was Forsberg, Eric Lindros and Sami Kapanen combined.
He skated backward the way a defenseman does, a la Sami Kapanen, while completely laying out the Islanders' best player last night, Frans Nielsen, with a picture-perfect hip check.
He was freight-training people and flying all over the ice the way Lindros used to. And he made insanely absurd offensive plays, proving the Forsberg comparisons aren't just hyperbole.
Giroux was just on a different level than everyone else last night. The only other player that was even remotely in the stratosphere was Nielsen, who created tons of scoring chances and completely schooled Matt Carle on the game's first goal.
But even Nielsen couldn't compare to Giroux. It looked like there were two or three No. 28's in Orange and Black last night, that's how impressive he was. Every shift, Giroux went full speed. He made several remarkable defensive plays, routinely lifted the stick of an Islander, possessed the puck, back-checked, and made ridiculous pass after ridiculous pass. The only thing he didn't do was score, and I was certain he would.
Ultimately, he didn't but he came oh so close several times. Andrej Meszaros may have earned first star of the game with his game-winningi overtime goal …
… but Giroux was the best player on the ice, by far, and his line has taken over as the team's best. Giroux, Jeff Carter and James van Riemsdyk have been playing out of their minds lately, and it's become my favorite line on the team. Carter, the shooter, works incredibly well with Claude, and JVR is reunited once again with Claude to form the young scoring duo the Flyers envisioned when they put those two together at the beginning of last season.
It was annoying as hell watching the Islanders force overtime with that late goal, but watching Giroux was a joy. He had one of those performances that went well beyond the two assists that the box score shows. He was everywhere, doing everything, and he's is truly becoming one of the very best all-around players in the NHL.
When you can stand out as the best player on the best team in the Eastern Conference — a team that includes established stars like Chris Pronger, Mike Richards, Jeff Carter, Danny Briere and Kimmo Timonen — you're truly entering the realm of elite players. That's where we're out with Giroux. He is just absolutely ridiculous.
As great as Claude was, I want to give a shout-out to a few other Flyers for last night's effort. For starters, it was the captain who got things going for the Flyers, pouncing on a loose puck in the slot and scoring the game-tying goal in the 2nd period. The Flyers are undefeated this season when Mike Richards scores a goal. He may not be as flashy as Giroux, but we've seen Richards have the type of performance Giroux had last night several times in his career.
And I thought the second best line for the Flyers last night behind the Giroux-Carter-JVR trio was the fourth line of Darroll Powe, Jody Shelley and Dan Carcillo. It's not often I say that. But last night, Powe, Shelley and Carcillo played almost every shift in New York's end. They didn't generate that many scoring chances, but they cycled the puck and maintained puck position in the offensive zone damn near every time they were on the ice. The Islanders, who were breaking out of the zone and creating rushes all night long against Philadelphia's top three lines, couldn't get out of their own zone against the fourth-liners most of the night.
Of course, once I mentioned to my roommate that I thought the fourth line was playing awesome, they were on the ice for Matt Martin's first goal to make it a 3-2 game in the third. Still, with the exception of that shift, Carcillo, Powe and Shelley had an outstanding game.
Not as outstanding as Claude, but it's not often a player dominates the way Giroux did last night. Although, Claude is beginning to make a habit of it. He really is ridiculous.