Due to its long tradition of producing talented, NFL-bound linebackers, Penn State has earned and lived up to the reputation as Linebacker U. From Ham to Millen, from Conlan to Short and Arrington, from Posluszny and Connor to Bowman and Lee, and now with Mauti and Hodges giving way to Hull and the next big recruit, the names ring eternal.
What people may not realize is that Penn State has also become an NFL factory for defensive linemen under defensive line coach Larry Johnson Sr., to an almost astonishing degree.
Johnson, father of 2,000-yard rusher Larry Johnson Jr., has been the defensive line coach at Penn State for 13 years, and he's been so damn good that new head coach Bill O'Brien made sure to keep him around. And for good reason.
Johnson has coached seven first-team All-Americans during his tenure and 14 first-team All-Big Ten linemen. The big names include the likes of first-round NFL draft picks Courtney Brown (1st overall), Jimmy Kennedy, Michael Haynes, Tamba Hali, Aaron Maybin and Jared Odrick.
While Brown and Haynes turned out to be NFL busts and Maybin has bounced around, all of them were tremendous college players, and several have thrived in the league. Tamba Hali is a perennial Pro Bowler. Jimmy Kennedy and Penn State linemate Anthony Adams have had long NFL careers, while Odrick and rookie Devon Still are just really beginning their professional journeys.
Johnson's track record is astonishing, especially recently, with Maybin bursting onto the scene in 2008, Odrick being named Big Ten Defensive Lineman and Defensive Player of the Year in 2009 and Still following up two years later by duplicating Odrick's honors.
This year, Johnson continued his success grooming monsters on the line, as senior Jordan Hill was named first team All-Big Ten and is sure to play on Sundays next season.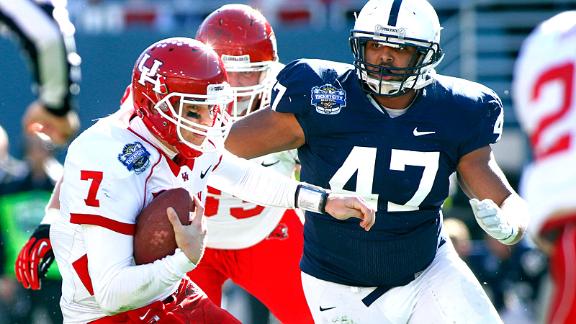 Hill, one of the leaders of the team and another key part in keeping this season from falling apart, was oftentimes a one-man wrecking crew — the same way Still and Odrick were before him. As a defensive tackle, Hill finished fourth on the team in tackles with 64, trailing only starting linebackers Gerald Hodges, Michael Mauti and Glenn Carson. He registered 4.5 sacks and had 8.5 tackles for loss, which may not sound like much but is outstanding considering the nonstop double teams he faced. And he was the reason that Mauti and Hodges were able to shine, occupying blockers so the backers could get to the ball.
The best part of all is that Hill saved his best performance for last. Hill said he never even considered leaving Penn State because he loved the place. He loved it so much that he shed a few tears on senior day, his final game as a Nittany Lion, and nothing was going to prevent him from having his moment. Not nagging injuries, not a Wisconsin team with a massive offensive line and the desire to gain momentum heading into the Big Ten title game.
All Hill did in that final outing was completely and utterly dominate, taking over the game from the defensive tackle position. It was a marvel to watch. Hill had 12 tackles, eight of them solo, including three for a loss and two sacks. Every play, he was in the backfield disrupting things, and even when the Badgers managed to move him a little, he found a way to the ball. It was a thing of beauty. Even the announcers were gushing over his dominance.
In his final game of his collegiate career, Hill was far and away the best player on the field, quite literally putting forth the type of performance we saw from Ndamukong Suh at Nebraska.
Hill continued the new tradition at Penn State under Larry Johnson, becoming a standout, NFL-bound defensive lineman. And with freshman Deion Barnes being named the Big Ten Defensive Freshman of the Year, the new Defensive Linemen U is bound to live on as long as Larry Johnson Sr. remains on those Penn State sidelines.
Linebacker U is alive and well, but it's time to make room in the spotlight for the Penn State defensive linemen and their coach.