Last night, I was on complete sensory overload. Uncle Jellyfish, Adam EatShit, two of my roommates and I went to the bar to get some wings and beer and watch the NCAA Tournament and the Flyers-Penguins game.
While the Flyers left more to be desired (as has been the case for a couple months now) in the shootout loss to the Penguins, Kemba Walker and Derrick Williams provided plenty to get excited about.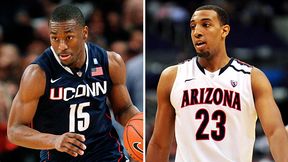 Everyone knows all about Kemba Walker. He's been in the Player of the Year discussions since day 1, and being a junior playing in the Big East, the nation has watched him develop at UConn these past three years. The man is fantastic, and he was yet again last night.
In a tight battle with San Diego State (should have been Temple!), the difference was simple: The Huskies had Kemba, the Aztecs didn't. Walker torched San Diego St. for 36 points, connecting on 4 of 8 threes and getting any damn where he wanted to on the court. Basically, he did what he's been doing all year long, and especially since the Big East tournament: Putting UConn on his back and carrying them to the team's 8th straight victory — a streak that began in the Big East Tournament.
Walker's performance last night was equally matched by Arizona's sophomore star Derrick Williams.
Now, people definitely are familiar with the name Derrick Williams —  he was the Pac-10 Freshman of the Year last season and the most known player on conference champion Arizona this year — but there was hardly any publicity for the man prior to this NCAA Tournament. Honestly, I didn't take too much notice myself until early in this calendar year, when my roommate was singing his praises. Then I started to watch, and man was I impressed.
Last night, he and his Arizona Wildcats impressed the entire country by absolutely annihilating Duke. Zona ripped through the Blue Devils 93-77 by literally terrifying the daylights out of them. And it was Williams who led in the charge in writing Duke's
obituary
.
Williams wasn't just better than anyone else on that court last night — he was way better than anyone else. Way better than Nolan Smith. Way better than Kyle Singler. Way better than Kyrie Irving, who scored 28 points himself. Williams had 32 beastly points, hauled in 13 rebounds and added two steals and a block for good measure. He completely and utterly abused Singler or whatever Mason brother Coach K. threw his way, shooting 11-17 from the floor, 5-6 from three and 5-6 from the line.
But most impressive of all, he put on a performance so NBA-like that no other player in the nation besides Kemba Walker has been able pull something like that off this season.
All season long, I've thought that Kemba Walker may not be the Player of the Year in college basketball, but he's certainly looked the most like an NBA player. Well, Derrick Williams has entered that sphere, and he may have been there all along.
Now these two men will go toe to toe tomorrow night. Arizona vs. UConn for the right to play in the Final Four, a game that you just know will be decided by these two NBA-bound players.
Last night, Kemba Walker and Derrick Williams combined for 68 points, 16 rebounds, 5 assists, four steals and a block. They shot a combined 55 percent from the field, went 9-14 (64 percent) from beyond the arc and made 13 of 16 free throws. And they led their respective teams to the brink of the Final Four.
I cannot wait to see what they have in store for us as they go up against one another tomorrow night.