Saturday was the type of day that can really tell you a lot about teams heading into conference tournament play. Going in, we knew already that Villanova was struggling and North Carolina was on a tear, but both teams' fortunes could turn on a dime against big-time opponents. A win for Villanova at Pitt could help put this horrific stretch behind them.
A loss by North Carolina at home to Duke to drop both games in the season series with its hated rival could derail the young Tar Heels' confidence it had built up during this impressive streak.
As you know, neither one of those things happened. With a victory by Notre Dame, Pitt needed to beat Villanova to win the regular-season Big East title and earn the No. 1 seed in Madison Square Garden. That extra motivation proved lethal for Nova, as the Panthers won 60-50.
It was yet another example of how reliant the Wildcats are on Corey Stokes and Corey Fisher offensively. Stokes pulled a hamstring at practice last Thursday and for the second time this season couldn't suit up against Pitt. With Stokes out, Nova desperately needed Corey Fisher to come out of his three-game slump and score in bunches. He did not. At all.
Fisher was absolutely horrible yet again, going just 3-14 from the field for a measly 7 points.
It was an absolutely embarrassing effort from a big-time senior scorer.
During the course of his college career, I was often a pretty vocal critic of Scottie Reynolds. But one thing was certain with Reynolds, he was going to give Villanova a chance to win, even if he wasn't playing his best, against the big boys. I mean, who can ever forget
this
?
The guy was infuriating at times with his decision-making and shot selection, but he was a leader that would will Nova to hard-fought victories. As much as I like Corey Fisher, he's just not that guy. Yes, the Wildcats go as he and Corey Stokes go, but those guys just don't have that thing you can't quite describe that Scottie had. They don't rise to the big moments, the big challenges. They fade. And the rest of the Wildcats follow suit.
With Fisher struggling, it looked as though the rest of the Wildcats gave up with the exception for Maalik Wayns. Wayns, the next in line to take over as the man, scored 27 points and hit a rash of late threes to give Nova an ever so slight glimmer of hope. But he was alone. Not a single other Wildcat scored in double digits. In fact, Fisher was second on the team in scoring with his 7 points. Sorry, but that's just not showing enough passion and desire at the end of the season, especially during a rough patch and desperately needing a win.
Credit Pitt. They played great defense, holding Nova to 18 points in the first half and 50 for the game. They needed to win to be crowned Big East Champs, and they did. Even with their best effort, winning at Pitt with all that on the line for the Panthers was going to be a tough task. But to just really go down without a true fight, to drop their fourth game in a row and fall to 10th in the conference, it's disheartening to watch.
Villanova does get one more chance to try and get right before the NCAA Tournament, and it starts tonight against South Florida. If they lose this game, you can forget about any visions of a surprising NCAA run, and the way they're going, losing to South Florida isn't out of the realm of possibility.
One thing is for sure: If Nova has any hope of regaining its early-season form in the Garden, it needs Corey Fisher to play infinitely better, and it needs Corey Stokes healthy and effective.
We've all seen a team struggle late in the season and somehow catch fire come tournament time, so it's possible. But there's just something missing about this Nova team that it's had seemingly every year in the past. A lack of toughness, grit, passion, something. Probably a lack of senior leadership. Because it's hard to lead when the two guys you expect it from have been so up and down this late in the season.
Moving in the complete opposite direction is North Carolina. With Duke losing to Virginia Tech the weekend before, Saturday night's prime-time match-up between the Tar Heels and Blue Devils in Chapel Hill was for all the ACC marbles. Winner takes the regular-season championship and No. 1 seed in the ACC Tournament.
Just like in the first meeting, North Carolina jumped out to a double-digit first-half lead behind the steady hand of Kendall Marshall, shooting of Harrison Barnes and interior presence of John Henson and Tyler Zeller. Unlike the first meeting, however, UNC didn't fold in the second half. Even with Nolan Smith putting up 30 and Seth Curry adding 20, Carolina fed off its home crowd and held Duke at bay to win rather easily 81-67.
Marshall once again completely controlled the game at the point for Carolina. The freshman looked anything but a first-year college player. He put his foot on the gas pedal when Duke was on its heels and slowed things down when the Blue Devils seemed to be making a run. When it was all said and done, he finished with 15 points and 11 assists, shot 5-8 from the field, 1-2 from three and 4-5 from the line. And he was the one player that influenced the pace and momentum shifts more than anyone.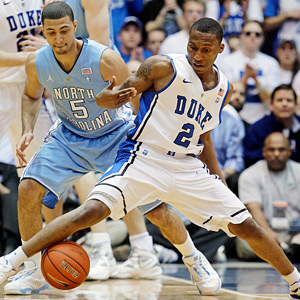 Inserting him into the starting lineup was the best thing Roy Williams has done all season, and it's the biggest reason Carolina is the regular-season ACC champs. I honestly can't say enough about him. If you haven't watched him play, do yourself a favor and tune in before the NCAA tournament so you can see what the opposition is in for against the Tar Heels.
Uncoincidentally, fellow freshman Harrison Barnes has really elevated his game to the next level with Marshall at the point. On Saturday, he was huge yet again.
In the first match-up, Barnes and Duke's star senior Kyle Singler guarded each other and essentially canceled each other out. Both players played such hounding defense that neither was effective offensively. So it was interesting to see what would happen Saturday.
Well, the two matched up once again most of the night guarding one another. And once again, both guys worked incredibly hard defensively to try and slow the other down. Only this time, Barnes was able to overcome Singler's defensive efforts to put up 18 points. Singler couldn't solve Barnes on the other end, going just 3-14 to finish with just 8 points. The second go-round, Barnes was able to outplay Singler offensively without letting up on the defensive end. It was quite an impressive performance.
Then you add Henson's double-double (10 and 12) and Zeller scoring 14 points on 7-11 shooting, and you can see why more and more analysts are calling UNC their dark horse for the Final Four.
Admittedly when I first heard those mentions, I thought, "No way." And when Kenny commented that "North Carolina WILL NOT SNIFF the Final Four," the
other day
, I agreed with him. But after Saturday night, I don't know.
I mean, think about it. This team has an elite front line with Zeller and Henson, a front line that is dominate offensively, defensively and on the boards. They have a freshman backcourt duo that is playing damn near as well as anyone else. Marshall is a maestro with the ball in his hands and the Heels have lost only once with him in the starting lineup. Barnes is a bona fide scorer who can also defend and rebound, and he's proven to be all sorts of clutch.
They're also getting solid play from the role players: Leslie McDonald and Dexter Strickland in the backcourt, Justin Knox and Justin Watts in the frontcourt.
If they can stay healthy and keep Zeller, Henson, Barnes and Marshall out of foul trouble, this team is as talented as any and can go deep into March and early April. They're built to win in the tournament: Two really good guards, two really strong interior players and an absolutely dominant rebounding team. And they're playing as good as anyone heading into conference tournament play. So yeah, maybe Roy Williams' squad can be a Final Four team. They're certainly built for it if all the pieces fall in line, which lately they have.
The rise of Carolina and fall of Villanova have been well-documented. Flying under the radar nationally (as the entire Atlantic 10 usually does) has been the steady play of Temple. The Owls closed out their regular season by handling La Salle 90-82 to finish 24-6 overall and 14-2 in the A-10, a game behind Xavier to finish second in the conference. They are primed once again to win it all in Atlantic City, and then put a good fight up in the NCAA Tournament.
The biggest factor in Temple quietly running off 11 wins in 12 games since the loss at Xavier has been senior Lavoy Allen. Allen was expected to be a contender for A-10 Player of the Year but got off to a slow start statistically. He never really asserted himself offensively in the first half of the season and was happy to cede the spotlight to Ramone Moore or Scootie Randall or Khalif Wyatt or Juan Fernandez. But as the season wore on and Moore slumped a bit, Fernandez struggled and Randall got hurt, Lavoy has completely taken over.
Since the loss at Xavier, Allen has averaged 14.5 points and 11.9 rebounds a game. He's had double-doubles in nine of those games, including five straight with his 24 points and 11 rebounds Saturday against La Salle. He had 17 and 13 in the loss to Duke, 19 and 16 in a hard-fought win at George Washington, 14 and 18 at UMass. He's been an absolute beast of late, and that's why Temple is comfortably in the NCAA Tournament field and can only help their seeding in Atlantic City.
For his efforts, Lavoy was named
First Team All A-10
. Temple's all-time leading rebounder certainly earned it with his second-half play.
And there's more good news for the Owls. Khalif Wyatt was named A-10 Sixth Man of the Year, Ramone Moore made Second Team All A-10, and Scootie Randall was honored as well. Plus, Juan Fernandez has started to come alive again, evident by his 15 points and 7 assists against La Salle, including shooting 50 percent from the field and three. The Owls just keep moving right along.
And Talor Battle just keeps moving right along with his impressive play, despite the mediocrity of his team. It's going to take a minor miracle for Penn State to make the NCAA Tournament, something Battle's never been privileged to play in. He probably won't get that chance this year either (unless Penn State makes it to the Big Ten Championship game, I don't think they should make it), but that doesn't diminish his career.
Battle was named
First Team All-Big Ten
and rightfully so. He finished second behind Purdue's JaJuan Johnson in scoring, finishing just a tenth of a point behind with his 20.4 points per game. And more importantly, he made Penn State semi-relevant this year and has them firmly on the bubble.
It's nothing new for Battle. While the talent around him has been less than great, and the coaching of Ed DeChellis is laughable, Battle has been brilliant during his Penn State career.
BSD said it best
:
It sounds so cliche to say Talor Battle is one of those players that only comes around once in a lifetime, but it's true. He's one of only three players in NCAA history to score 2000 points, pull down 600 rebounds, and dish out 500 assists. He is one of those players that wants the ball in his hands when the game is on the line, and he's one of the few players that can deliver more often than not in that situation. He's a small guy that isn't afraid to get in the paint and mix it up with guys that have seven or eight inches on him. He bangs around and gets banged around, and yet he still plays more minutes than anyone in the country.
He has made watching Penn State basketball, never my favorite team to watch, fun. He's that good. Soon, he'll be Penn State's all-time leading scorer. As it stands, he has 2,119 points (16th all-time in the Big Ten), which is just 20 shy of surpassing Jesse Arnelle's school record of 2,138. With at least one Big Ten Tournament game and one NIT game, it's inevitable that he breaks the school record. He'll more than likely get there Thursday night against Indiana.
Over the years, Penn State basketball has meant so little to me. Even as an alum who absolutely loves college basketball, I could never bring myself to care more about Penn State basketball than Temple, UNC, Villanova and even St. Joe's. But Talor Battle drew me in more than anyone else before him ever did. It's been fun watching him make Penn State basketball enjoyable again. Sadly, his time is almost up, and he'll more than likely have gone these past four spectacular years without even so much as stepping foot on the court in an NCAA Tournament game.
Regardless, it's been a great career, one that certainly goes down in the record books. It's nice to see him rewarded for that.