Last night, the Philadelphia 76ers won their fifth straight game to improve to 6-2 on this young, abbreviated season and remain undefeated in 2012. The victory over Indiana, which kicked off a brutal three-day stretch of back-to-back-to-back games, was the first test against an Eastern Conference foe ahead of them in the standings, and the Sixers passed with flying colors, defeating the Pacers by 10 in a total team effort.
It was the type of performance that has embodied the Sixers in the first 8 games of the season: stifling defense, balanced offense and contributions from everyone on the floor. Last night, six 76ers scored at least 11 points, six players had at least 5 rebounds, and everyone who took the court except for Jodie Meeks had at least one assist. It's that type of team basketball that has propelled the Sixers to this hot start, and it's the reason why
ESPN's John Hollinger has them No. 1 in his just updated power rankings
.
The thing is, this isn't just a fluky hot start. Given the unusual nature of this season's abbreviated, compacted schedule thanks to the lockout, the Sixers have several distinct advantages that have allowed them to start hot and should allow them to remain tough all season long: they are young, deep, well-coached and had very little roster turnover.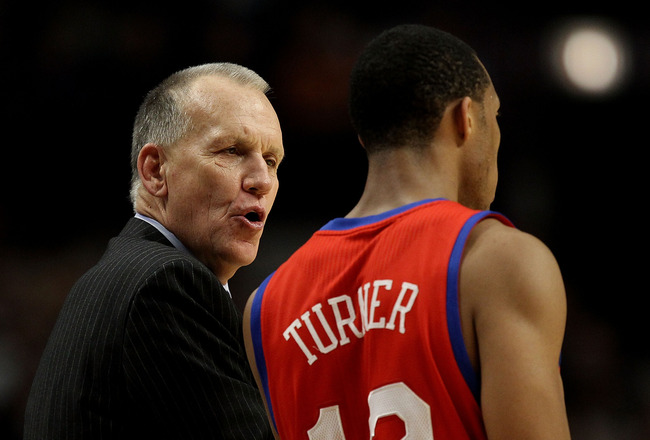 With teams playing five to six games a week, these advantages cannot be overstated. Older teams will have a hard time dealing with the heavy workload, whereas teams with younger legs should have an edge. Few teams are younger than the Sixers, who boast only one regular in the rotation over 30 — 32-year-old Elton Brand — while nearly everyone else is 25 or younger. And when I say nearly everyone else, I mean everyone in the regular rotation besides 27-year-old Andre Iguodala. Lou Williams is 25. Jodie Meeks is 24. Spencer Hawes, Thaddeus Young and Evan Turner are 23. Jrue Holiday and Nikola Vucevic are 21. That's an average age of just over 24 for the nine regulars in Doug Collins' rotation, and if you include perennial bench warmers Lavoy Allen (22), Tony Battie (35), Craig Brackins (24) and Andres Nocioni (32), they still average just 25.5 years of age. The Sixers have young legs, so they'll be able to handle the wear and tear much better than veteran teams like the Mavericks, Celtics, Lakers or Heat.
Furthermore, since the Sixers do go 9 deep, they get to keep their fresh young legs even fresher. And the Sixers really do go 9 deep, with 8 players averaging more than 20 minutes a night, and rookie first-round pick Nik Vucevic proving he'll soon get that same type of playing time given his remarkably impressive performances over the past week, including a much-needed 11 points and 8 rebounds in 17 minutes last night with Elton Brand in foul trouble and Spencer Hawes not feeling all that well. Oh, and Nik also confidently drilled a late three that put a dagger in the Pacers.
Admittedly, I was underwhelmed when the Sixers drafted Vucevic. Now I see the way he runs the floor, how he shoots the ball and how athletic he is, and he's winning me over. So is the entire team.
Right now, the Sixers have five players averaging double digits in points, led by Lou Williams at 16.6 a game. That doesn't even include Elton Brand, who is off to a slow start at just 8.1 points and 7.1 rebounds per. Last year, Brand averaged 15 points a game and was quietly the most efficient Sixer all season. For his career, he's averaged 18.7 points per game, never averaging fewer than 13.1 a game, so you have to think he'll at least average 10 ppg before it's all said and done. Evan Turner, who has already shown marked improvement from his up-and-down, disappointing rookie year, very well may join him, averaging 9.3 ppg at the moment.
Jrue Holiday is continuing his ascent and should only get better as the year goes on. Andre Iguodala isn't trying to carry the offensive load the way he once did, and he's become a true leader for the youngsters. Spencer Hawes has been the season's biggest surprise to date, averaging a double-double and looking like a completely different player. Thaddeus Young and Lou Williams give the Sixers two of the best bench scorers in the entire league, and with a second unit that also includes Turner and Vucevic, the Sixers are never without a diverse set of scorers and defenders on the floor.
When you add to that an extremely knowledgeable and talented coach, you can easily see where this 6-2 start comes from, especially when you factor in the continuity on the roster from last year. The only newcomer into the fold is the rookie Vucevic. All eight of the other regulars played significant minutes last year under Collins, so the Sixers aren't suffering from the same feeling-out period that many other teams in the NBA are facing due to shortened training camps and roster turnover.
That's why the Sixers are currently playing as good a brand of basketball as anyone. On any given night, anyone who takes the court could be the star — but usually it's just everyone doing a little bit of everything. Furthermore, the entire team has bought into Collins' defensive philosophy, with Thaddeus Young working harder than he ever has on that end, Iguodala playing the elite perimeter defense we've come to expect, and everyone else from Evan Turner to Elton Brand to Spencer Hawes focusing to protect the rim. What it's resulted in is the league's best defense: the Sixers are surrendering the fewest points in the NBA (85.6), their opponents are shooting a league-worst 39.1 percent from the field against them and only Portland has defended the three better so far this year, with opponents shooting just 26.9 percent from the beyond arc against Philadelphia.
When you factor it all in, the Sixers have the makings of a good basketball team. And while it's still an extremely long stretch to say this team is capable of making any sort of extended run come playoff time, it's not a stretch to say the Philadelphia 76ers are right now a very good basketball team and will be a good team all season long.