Last night, I was in attendance at the Wells Fargo Center for the final home game of the regular season for the Flyers.
Heading in, the game had playoff seeding implications, provided that the New York Rangers did their part and defeated the PIttsburgh Penguins, giving the Flyers a chance at the four seed and home-ice advantage in the first round. Naturally, given how much of a gigantic thorn in the side New York has been all season long for the Flyers, the Rangers rested Vezina front-runner Henrik Lundqvist with the Eastern Conference's top seed already wrapped up and proceeded to get trounced 5-2. I cannot stress this enough: I fucking hate the New York Rangers. The Penguins too. Oh, and the Devils.
Speaking of the Devils, with the Flyers having essentially no shot at the four seed once the Pens took a 3-1 lead into the third, I thought to myself that it wouldn't even be that bad if the Flyers, who were already trailing 1-0 after 2 pretty boring, lifeless periods, lost the game and then again on Saturday, giving the Devils the chance to catch and surpass the Flyers as the fifth seed. That way, Philadelphia would avoid a very talented and dangerous Pittsburgh team in the first round, instead going against the much favorable match-up of the Florida Panthers. Of course, there's a flaw in that plan as well, given that the extremely talented yet underachieving Capitals are charging hard and can overtake the Panthers for the three seed. Plus, it's never a good idea to go on a losing streak heading into the playoffs, and the Flyers have been really good in Pittsburgh this season and ever since the new building opened out there.
Anyway, it was all moot, as the Flyers came back yet again behind third-period goals by rookies Marc-Andre Bourdon and Matt Read, winning 2-1 and securing a date in Pittsburgh to open the 2012 Stanley Cup playoffs.
It was a fun third period, but the highlight of the night may have been the team awards ceremony prior to the puck being dropped. Honestly, it's nearly impossible to argue with any of the winners. In the most obvious selection of the night, Claude Giroux earned the Bobby Clarke Trophy for the Most Valuable Player for his brilliant season that has seen him rise to truly one of the absolute best players in the entire NHL. He also took home the Toyota Cup for most points in the three stars race. Also unsurprisingly, Kimmo Timonen was named the Barry Ashbee winner for outstanding defenseman.
Another established Flyer, Scott Hartnell, won the Pelle Lindbergh Memorial Trophy for most improved player, and I couldn't agree more. Scottie went from a talented but infuriating player who took way too many stupid penalties and couldn't' stay on his skates to a much more disciplined agitator and one of the top goal-scorers in the NHL — a guy whose teammates absolutely love him. Great to see Hartnell finally put it all together and stop making so many boneheaded decisions. Of course, it probably helped being on a line with Claude and the legendary Jaromir Jagr, who won the Yanick Dupree Class Guy Memorial Award.
It's still kind of weird seeing Jagr don the Orange and Black, but man am I glad he's here. The guy, even on the brink of 40, is still one of the most incredibly gifted hockey players alive. He just makes the game look so easy all the time.
And finally, fellow newcomer Wayne Simmonds deservedly was named the Gene Hart Memorial Award winner for the Flyer with the most heart. Hard to argue with that. I mean, the guy scored a goal with his face, then took on the Pens' toughest guy a day later.
I have no quarrels with any of these selections. All the choices were pretty spot on in my estimation.
However, I'd like to add a few of my own awards, based on what I've seen from the Flyers in year one of the post-Richards/Carter era.
Most Impressive Rookie
OK, this is admittedly one of the toughest things to gauge on this particular team, because the Flyers have played approximately 8,000 rookies this season. Everyone from Zac Rinaldo to Brayden Schenn, Eric Wellwood, Marc-Andre Bourdon, Erik Gustafsson, Kevin Marshall (traded), Brandon Manning, Ben Holmstrom and Harry Zolnierczyk have at one point in the season played a significant role for Philadephia. But two players have been here since day one and have thrived: Sean Couturier and Matt Read.
I'm not sure I can remember two Flyers rookies more fundamentally sound, defensively responsible and all-around impressive from an understanding of the game standpoint. I mean, these guys gained Peter Laviolette's trust so early that the two became a penalty-killing duo almost immediately. Not only that, but a top-two penalty-killing duo, going on as the forward pair on every PK with Max Talbot and Claude Giroux as the top forward pairing. That's nearly unheard of, two rookie forwards killing penalties together. But that's how good Read and Couturier are. And it's what makes this decision so damn hard.
Now at face value, at least statistically, it's pretty clear that Matt Read has the edge. Incredibly clear, actually. Read leads all NHL rookies in goals with 24 and looks like he's going to finish that way, and he's fourth among rookies in points with 47. Hell, only Hartnell, Giroux and Simmonds have more goals on the team than Read. The man is squarely in the discussion for Rookie of the Year, no question about it. Factor in that he kills penalties and is a plus-12 on the season, and I have absolutely no problems with anyone selecting Read as Philadelphia's top rookie this season.
However, my pick is Sean Couturier.
I know, I know. Read has 20 more points and plays in all situations as well. No arguing that. Read is fantastic, and like I said, I wouldn't even object to anyone who picks Read as the Flyers' top rookie. Not in the least. But I went with Couturier for a number of reasons.
For starters, as impressive as Read has been, there are times when he will get lost defensively, as he did last night on Buffalo's goal, or occasionally make a mental lapse here or there. That's obviously to be expected from a rookie. Here's the thing, I honestly don't recall Couturier making any mental errors this entire season. He undoubtedly has. Everyone does. But they are so few and far between that it's different to recall them. I've never seen a rookie so composed and poised at all times.
Further, Couturier is arguably the Flyers' best defensive forward on the entire roster, inarguably in the top three along with Giroux and Max Talbot. Peter Laviolette knows this, putting that trio out routinely here down the stretch with a lead in the final moments of a game. He's grown so much that Couturier is now night in and night out going up against the opposition's top line and best players, often alongside Talbot. Against the Penguins last week, he was in Evgeni Malkin's shirt all game long, showing no fear and never backing down. He saw ice time against Crosby and handled him as well. And he's become the type of shutdown defensive forward that the Selke Trophy was instituted for. He's just an insanely awesome defensive player.
And it's not like he's devoid of offense. While he's nowhere near Read's numbers, he still has very impressive ones for a rookie, especially for a rookie who was buried with less-than-skilled players on the fourth line early in the season and for a guy who has to take on the opposition's best night in and night out. Couturier has 13 goals and 14 assists, good for 27 points. Even more impressively, given how often he kills penalties and takes on the best offensive talent the opponent has, he's skated to a plus-19, a mark bested by only two rookies in the NHL: Gabirel Landeskog and Carl Hagelin, who are both at plus-22. That plus-19 rating puts Couturier behind only Hartnell's plus-21 on the Flyers.
That's remarkably impressive, and as a guy who absolutely loves defense in every sport and particularly loves defensive-minded forwards in hockey, I'll take Couturier slightly over Read. But like I said, I wouldn't even try to argue against Read. Hell, he has the most goals among NHL rookies. He's probably the "right" choice. He's just not mine.
Of course, Couturier also gets a boost in that he's become my new favorite Flyer this year, joining Claude and Kimmo.
Rookie Most Likely to Become a Star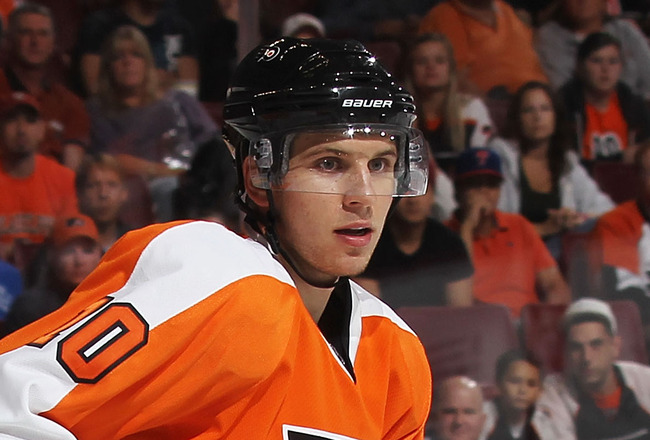 While the Flyers have a slew of talented rookies who will be really good players for a really long time, headlined by Read and Couturier, none have flashed more potential than Brayden Schenn. This is no surprise. Schenn was the main cog in the Mike Richards trade, L.A.'s top prospect who is a talented two-way forward.
Schenn's season started out slow, with injury problems limiting his action. But since he's returned and become a mainstay, boy has he been impressive. Schenn is a Richards-like player who seems to have even more speed and skill than the former Philadelphia captain. Just like Read and Couturier, he responsibly backchecks, but furthermore, he brings a physical nature the other two don't quite have. Over the past month, Schenn has thrown more big hits than any forward on the team, including Zac Rinaldo and Scott Hartnell.
Furthermore, his offense is finally coming around. He joined Couturier and Read as a double-digit goal-scorer, netting 11 in 53 games, and you can just see we haven't even begun to reach the tip of the iceberg. Lately, he's shown the hands and skills of a top-line forward, and he's been rewarded with top-line minutes. Often playing alongside Simmonds and Read of late, he has been a focal point of one of the better lines the Flyers roll out there. And last night, with the Flyers stalling in a miserable second period, Laviolette shook up the lines, putting Schenn with Hartnell and Jagr, while moving Giroux around and double-shifting him.
You can just sense that Schenn has that something special.
Most Unheralded
With names like Giroux, Hartnell, Briere, Jagr and Bryzgalov, not to mention rookies making headlines, injuries to key defensemen (Chris Pronger, Andrej Meszaros, etc.) generating concerns and discussion, and fellow newcomer Wayne Simmonds thriving, it's easy to understand why Jakub Voracek doesn't always get the same acclaim as many of his teammates. But Voracek is perhaps the most versatile player the Flyers have. His speed creates havoc for the opposition. He's a top-line forward who has 19 goals and 31 assists. He kills penalties. He mans the point on the potent Philadelphia power play. And he does anything and everything Peter Laviolette asks of him. Honestly, he's this team's Swiss Army Knife. The guy is a flat-out good hockey player, and he deserves more attention than he gets from the media. Luckily, the fans around here realize how good this 22-year-old is.
Most Reliable (Yet Maddening) Defenseman
This one is definitely a tie for me. I think we've been spoiled here as Flyers fans with the play of Braydon Coburn and Matt Carle, two very good veteran, yet still young, defensemen. It doesn't help that they've been overshadowed by their defense partners, Kimmo Timonen and Chris Pronger, for their general all-star level play. Both are incredibly outstanding and remarkably talented. Coburn is a workhorse, the type of guy who can be both physically and strategically dominant when he's on his game. And he's often on his game. He and Carle see the ice as much as any Flyers, and they are both fast, smart, steady defensemen. They really are reliable and just plain good.
However, they both drive Flyers fun crazy from time to time. In Coburn's case, it most often has to do with his penchant for missing the net. Honestly, I don't think there's a defenseman in the history of the NHL that misses the net more from the point than Braydon Coburn. When he unleashes a shot from the blue line, I don't think he has any idea where it's going. I'm not sure anyone does, but we know where it usually is not going: on net. I love the guy as a player, I really do, but it drives me insane watching him miss the net time and time again. Probably why he's not a forward. No control with his shot.
Carle, on the other hand, drives Flyers fans nuts for his streaks of inexplicable turnovers. From time to time, Carle will get a case of the yips and just give the puck away egregiously in his own zone. It's hard to fathom, because there are stretches where Carle rarely ever even makes a mistake with the puck, but then there are those times where he gives it away so horribly that fans shudder. Again, really good player and I'm thrilled he's a Flyer, but those turnovers are killer.
Most Bizarre Season
We all knew Ilya Bryzgalov was an eccentric, and he came to Philadelphia with a reputation as a moody guy. Goalies are weird, we know. But no one could have expected the craziness of the first year of his 9-year mega contract with the Flyers.
He began the season in stellar form, allowing just one goal in the first game of the season in a victory over the defending Stanley Cup champions and followed that up by pitching a shutout in his second game in the Orange and Black. It was a welcome sight, seeing as the year before, the Flyers didn't shut any team out at all. But next came a roller-coaster, where Bryz struggled for a while — often getting hurt by deflections and unlucky bounces — then started to play well again for a bit, but then plummeted so far that he was benched for the Winter Classic. He became a complete head case, questioning himself to media, becoming mercurial — and, oh yeah, not stopping the puck. At all. I mean, he was horrible. Really horrible. As bad as a goaltender can get.
But then again, he began to play a little better. Then a little better still after the all-star break. That is until it all fell apart once more. He was helpless in shootouts, giving cup weak goals left and right, and looking like a lost cause for the 2011-12 season.
However, a funny thing happened: after Bryzgalov had a horrible game in Calgary, surrendering four awful goals, the game went to a shootout — and miraculously, Bryzgalov was incredible in that shootout and finally got off the schnide. After that, he became the best goaltender in the league, tossing up shutouts left and right, breaking the Flyers' record for longest shutout streak, winning first star of the month in March and settling in as a good teammate who was now carrying the Flyers on his back. Then he got a chip fracture in his foot, missed a few games, was rusty in his first start against the Rangers and now is prepping for the playoffs. Talk about bizarre, and that's without even mentioning his breakout entertainment performance on 24/7.
My Least Favorite
Maybe it's the Philadelphia in me, but I seemingly cannot go a season without finding a player for one of my respective favorite teams that draws my ire. On this current Flyers team, that man is Zac Rinaldo.
Now, I will concede that especially of late, Rinaldo has actually played pretty good hockey. In the last game against the Penguins, his line was the best all game for Philadelphia, as he was paired with Couturier and Talbot and played really disciplined in shutting down the Malkin line. I'll also concede that Rinaldo is an aggressive forechecker and has decent speed, so he can get Lavvy's preferred forechecking style going. He also is quick to defend teammates, which is always a good thing.
However, that's all the nice things I have to say about Rinaldo. Because for the most part this season, he's been more detriment than enhancement. He's second in the NHL in penalty minutes, meaning he puts the Flyers down a man quite often. He has no discernible offensive skill, evident by his 9 points in 65 games. He isn't shy about dropping the gloves either, but he's not particularly good at fighting. Honestly, he's only won a handful of fights all season. He's just not my kind of guy, which may be surprising since I liked Dan Carcillo. The difference, in my opinion, is that while Carcillo was equally as frustrating for his penalties and boneheaded plays, he at least did have some offensive skill. I've yet to see that from Rinaldo.
Again, though, I have to admit I've been impressed with the guy here the past couple of weeks. He's played much better, is staying out of the box and even taking the top checking line role seriously when he's tasked with it. If he keeps moving in that direction, maybe I won't dislike him so much anymore.
Still, if Danny Briere and James van Riemsdyk get healthy and the Flyers avoid further injury up front, I'd rather see Rinaldo scratched than Eric Wellwood — a blazing fast rookie who is an excellent penalty killer, has shown some offensive flash and always seems to make things happen. My top 12 forwards would be, in no particular order, Giroux, Jagr, Hartnell, Briere, Read, Simmonds, Voracek, Couturier, Talbot, JVR, Wellwood, Schenn.
Most Irrelevant
Now, we all know who Mike Rupp thinks is irrelevant.
And while I can't disagree that Jody Shelley is pretty irrelevant these days, at least Jody is a great character guy and has a long, respected NHL career. Oh, and he also did this to Rupp the other night:
So as irrelevant as Shelley is, this one is a no-brainer. Tom Sestito is far and away the most irrelevant Flyer this season. He's basically Shelley with even less skill and even less fighting prowess. He has no business being in the NHL. He is awful, and I hope to never see him in a meaningful game again. Though it might not be a bad idea to run him out there tomorrow in Pittsburgh.
Finally, I want to officially endorse Paul Holmgren as the Executive of the Year in the entire NHL, and if he doesn't win it, it's a complete joke.
Admittedly, I was absolutely furious with Holmgren when he traded away his best goal scorer and then his captain on the same day, completely eviscerating the Flyers as we knew them. I was and am a Richards guy, and I was blown away that they would trade him and Carter in the same offseason, let alone the same freakin day, just two offseasons after being two wins away from hoisting the Stanley Cup. But I have to hand it to Homer, because holy hell have those moves paid off.
Carter and Richards, now reunited in Los Angeles, both struggled with injuries and consistency this season. They've had the worst years of their careers. Meanwhile, the players the Flyers received in returned have thrived. For Richards, the Flyers received Simmonds, tied for second on the team in goals, and Schenn. For Carter, they got the pick that became Sean Couturier and Voracek. Holmgren also signed Bryzgalov, who finally rounded into form; the ageless Jaromir Jagr, who has help propel Giroux to one of the top-flight players in the league and turn Hartnell into a leader and potent scorer; and Max Talbot, an insanely invaluable penalty killer, character guy and all-around smart hockey player. He brought in undrafted rookie Matt Read, who only leads all rookies in goals. And then, as his blue line that was already thin without captain Chris Pronger got even thinner due to injury, he went out and got two incredibly sound, steady defensemen in Pavel Kubina and Nicklas Grossmann to fortify the defense. Since trading very little for those two, the Flyers' defense has been incredibly better, and both Grossmann and Kubina have been stellar, though Grossmann was injured against the Pens last week. Hopefully he gets healthy here for the playoffs.
No matter how you slice it, this guy has been the most aggressive and best executive in the NHL in the 2011-12 season.