The Sixers fooled us all, myself included. Their incredibly hot start and deep, young roster had me thinking that the team
was good and would remain good
all season long. Now, I wasn't so naive as to think the team could continue at its early-season rate, particularly as the schedule got tougher and opposing teams became more familiar with their teammates, but given the depth, young legs and continuity on the roster in this condensed schedule, I thought this team would remain among the top four or five teams in the East.
I was wrong. Dead wrong. As it stands, the Sixers are just two games over .500, free falling down the standings and in serious danger of being eliminated from the postseason. Currently, they have just a one-game lead over the Milwaukee Bucks for the 8th and final playoff spot in the East. They've lost four in a row and look completely lost, from the head coach all the way down the roster.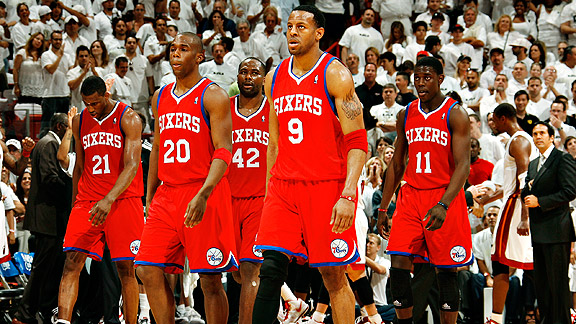 It's reached the point where making the playoffs doesn't even benefit the squad anymore. They're right back where they've been for years now, toiling in mediocrity, which in the NBA is far, far worse than being terrible. Last night's pathetic effort, combined with an overall pathetic month, has made it abundantly clear that the playoffs would be a colossal waste of time and do more harm than good. Getting swept by the Bulls or Heat isn't' worth the slippage in draft spots.
The thing that's most disturbing about all of this isn't that the Sixers are a fringe playoff team. Truthfully, that was kind of the expectations heading into the season. The most disturbing thing is that since that torrid start, the Sixers have devolved into a mess of players who do not know their roles, minutes or even expectations from coach Doug Collins. This was supposed to be another season of development, a season in which the young players took a step forward and the team started to learn how to win on a more consistent basis.
That's how it started out … only to completely reverse course. Collins did a masterful job using his full roster and coaching a team-oriented brand of ball in the early going. He used his entire bench, giving his young players meaningful minutes and watched the Sixers flourish. Then, as the schedule got tougher and the young guys went through growing pains, Collins has completely changed his style. He no longer trusts his young guys, the same guys who busted their asses to get this team off to such a hot start. He's taken the keys completely away from his young point guard, confusing Jrue Holiday on both what his current role is and what his job will be moving forward. He's toyed with Evan Turner since day one, showing preferential treatment to the far inferior Jodie Meeks. He's turned his back on his rookies, given free reign to career bench player Lou Williams, and now coaches like he's afraid.
The offense, which once shined with a sharing-the-ball style, has turned into a laughingstock. Andre Iguodala refuses to attack the rim. Elton Brand works his tail off, but he only has so many miles left in his legs. Spencer Hawes has proven that his early-season renaissance was a fluke, becoming the underachieving, soft player he's been most of his career since returning from injury. Jodie Meeks sees the floor way too much. Thaddeus Young still doesn't get any plays run for him, despite being a guy who seems to always bring energy. And Lou Williams now thinks he's Kobe Bryant or Allen Iverson, dribbling the ball for 15 seconds each possession and looking shot first, shot second, shot third … pass 8th. The team is a complete and utter mess.
That is why I am now fully on board with the
plan laid out over at Liberty Ballers
: Tank the rest of the season, don't re-sign Lou and Hawes (or Meeks), trade Iguodala, amnesty Brand and part ways with Collins.
This may all seem a bit drastic, but it's really in the franchise's best interest. Lou Will is a valuable player for a team that needs a big scoring punch off the bench. He's the poor man's Jason Terry, if you will. So let him go do that somewhere that could use him in that capacity. In Philadelphia, Lou thinks he is the best player on the team, a superstar even, so he comes in and chucks and chucks and chucks. Sometimes, he is capable of carrying the offense that way. Most of the time, he is not. He's just not good enough to be the main scoring cog on a good team. So let him go be a complimentary bench guy somewhere else. Because as long as he's here, he'll continue to believe he's the most talented guy on the roster.
As for Hawes, well, he's just not that good. Sure, he's still a skilled big man who can pass, but he's not much more than that. The Sixers aren't going anywhere with him as their starting center, so there's no need to bring him back.
Andre Iguodala is a wonderful defender, unselfish player and brings a whole hell of a lot to the table. What he is not is a franchise player, a leader or the guy fans want to see around these parts anymore. His game is incredibly valuable. He can be a key starter on any number of teams. But his time has come and gone in Philadelphia. Watching him brick two free throws in the fourth quarter of a six-point game against Orlando on Saturday only confirmed this. The boos rained down, and rightfully so. Andre Iguodala is a really good basketball player. He's just not as good as he thinks he is. He does, however, have a lot of value, even with his absurd contract, and can bring some talent back in a trade. The time has come to pull the trigger.
Elton Brand is near the end of his career. He still battles hard every game and gives it his all on both ends of the floor, but the amnesty clause was instituted for players and contracts like Brand's. It just doesn't make sense to keep him around any longer.
Finally, that brings us to Collins. As much as I like Doug as person, as a coach even, I can't look past the fact that this season he's taken away opportunities for this franchise's two most important players. Evan Turner spent a season and half on the bench and in Doug's doghouse, finally got a chance and made the most of it, only to be relegated back to yo-yo status. Meanwhile, Jrue Holiday has had the ball taken away from him in favor of Lou Williams or Andre or even Evan. Doug has seemingly lost all faith in him. Ditto Thad Young. The coach doesn't seem to know how make the Evan/Jrue backcourt work, the same backcourt that was supposed to be the foundation for years to come. Worse yet, he hasn't even really given it a chance. That shortsightedness is stunting both players and the franchise, to be honest.
The Sixers have to find out what they have with Evan and Jrue and determine where they go from here. Doug doesn't seem interested in doing that. The only way may be to trim the roster, give those two guys the keys and continue to bring in young talent through the draft. If Doug's not willing to do that, then it's time to get a young coach willing to take the bumps and bruises and do what's best for the long run.
Right now, nothing is working. We all thought this team was moving in the right direction. Now, I'm not so sure. Because the team that we all thought was pretty good early on has proven lately that they're the same old mediocre Sixers — and nothing is more debilitating in the NBA than mediocrity.