Let me preface this by saying I love my fellow Philadelphia fans. I love their passion. I love their commitment. And I love their knowledge of the games they follow (most of the time). With that being said, I've been frustrated by some of my fellow Eagles fans' reactions to the sensation of the preseason, Nick Foles.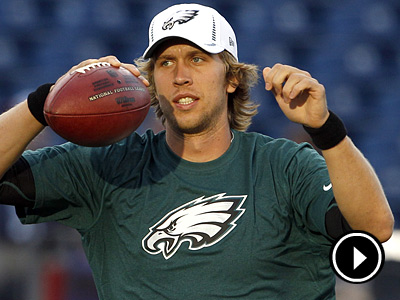 Look, Nick Foles has played great this preseason. He's completed 24 of 38 passes for 361 yards. He has thrown 4 touchdowns to 1 interception. He's made some really nice throws, both from the pocket and on the move while keeping a play alive. He's shown some ability to scramble and salvage a few yards out of a broken play. He's shown poise. He's looked pretty damn impressive.
Unfortunately, this has led to a swell of Eagles fans spouting off at the mouth and saying some, well, pretty dumb things. There is a strong contingent of my fellow Eagles fans clamoring to make Nick Foles the starter. Even more disturbing and frustrating, I've read comments where people have outright said they hope Mike Vick gets hurt so Foles can step in. Really?
Let's take a step back here people. Let's use some of that "knowledge of the game" that we always like to tell fans from other cities that we have. Yes, Nick Foles has looked great this preseason. I'll repeat that.
Nick Foles has looked great this PRESEASON
.
Before we crown him the next great thing, let's realize that the kid has yet to play a single snap in a real, meaningful NFL game. Let's remember that he has for the most part been lighting up 2nd- and 3rd-team defenses. Let's take into account that opposing defenses have been pretty vanilla in what they're doing out there, that Foles hasn't seen a lot of the deception and intricacies that show up on Sundays in September. And let's also remember that during none of these games has the opposing defense spent the entire previous week game-planning to stop Foles.
This is in no way a knock on Nick Foles. He has played great thus far. And yes, it's OK to be excited and encouraged by that. I am. I certainly hope that Foles can build on what he's shown thus far and become a great quarterback for the Eagles in the future. In the future.
Right now this is Mike Vick's team. And that's the way it should be. If this team has any hopes of making noise this season, it is with Mike Vick playing quarterback. So let's just calm down. Sure, be excited about what Foles has shown so far. But also stand behind your starting quarterback. Mike's not perfect, but one thing you gotta give the guy is he's a competitor and he's trying to make things happen out there. I thought we loved that kind of stuff in Philly. I understand your concerns with Vick; he gets hurt, he doesn't make the best decisions, etc. But if you need some hope that he can get the job done, think back to that Madden-esqe show he put on down in Washington. The dude has some talent.
All I'm asking for is some perspective. Mix in a little common sense and that football knowledge you are supposed to have with your excitement. And please, please, please stop wishing injury on your starting quarterback. You are making us all look bad.