One of the things that make sports so special is their ability to bring people together. Families, friends, communities and entire metropolitan areas can be united through their passionate support of a sports team. A stranger passing on the street or waiting next to you for a train suddenly becomes your friend simply because you have the same logo on your hats. This unity overcomes racial and socioeconomic lines and almost any other means of division you can think of, and when an entire community truly gets behind a special team, it is a thing of beauty to watch and an incredible thing to be a part of.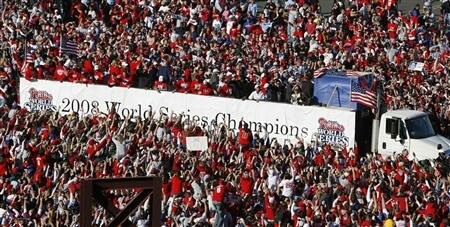 Another one of sports' great traditions is the passing down of fandom and loyalty from one generation to the next. Fathers to sons and then to their sons, on and on it goes. Another moment of great beauty and a source of joy for sports fans everywhere is sitting in a living room with grandpa, dad and son/grandson with the favorite team on the TV. Grandpa tells stories of glories of the past, long before son and grandson were around. Dad tells tales of his earliest memories of going to games with his dad. Grandson listens intently and glows with excitement as he talks about the future of their fandom and thinks about his own first experiences with sports. They cheer, and they curse. They commiserate over the disappointments and relish the victories.

My love of sports and the way I practice my fandom were learned from my father. He was a sports fan from a young age, much like me, and not only did he instill in me the passion I have for my teams and for the games themselves, but also the knowledge of the games, the fundamentals, the rules, the intricacies. And perhaps most of all, he taught me loyalty. There was just one problem.
In 1976, there was a 16-year-old boy growing up in the Philadelphia suburbs. That same year, the NFL was adding two expansion teams, one by the name of the Seattle Seahawks. For some reason or another, that young man made a decision. He decided that the Seattle Seahawks were going to be his favorite professional football team. Why a 16-year-old living in the home territory of one of the most passionate fan bases in the country would suddenly decide to root for some new team on the other side of the country is beyond me, and even he cannot produce a logical explanation. But the decision was made. That young man grew up to father three children, the oldest of whom is me.
So back to our one problem. Despite being raised around Seahawks memorabilia and following the team as an extreme youngster with my dad, I eventually became a proud, passionate fan of the hometown Philadelphia Eagles. Thankfully, we had other sports and other teams where had the same rooting interests (Sixers, Flyers and most notably Villanova basketball) so we still get to share the great moments I discussed a few paragraphs earlier. But when it came to football, it was lacking, although we rooted for each other's teams as long as they weren't playing each other.
Despite rooting for two different teams, for a long time there was still something we could share. And that was disappointment and waiting. For the majority of their existence, the Seahawks have been subpar and, even in their flashes of greatness, were never able to deliver a championship. And I don't need to recall in any details of all the disappointments that have been endured by Philadelphia fans. Seasons came and seasons went, and we each waited for our moment of glory.
Well last night, my dad's moment of glory finally came. After 38 years, after countless losing seasons and a few that ended in bitter disappointment, after all that waiting, his loyalty was finally rewarded. I don't completely know what it feels like to win a Super Bowl, but my Phillies did bring home the World Series and I will never forget what that was like. I can certainly remember the excitement and joy experienced during other big games, and so with every play Seattle made, every touchdown or forced turnover, I thought of my dad and how excited he must be. As the minutes ticked away and the outcome became evident, I thought of him and the joy welling up inside. Despite the fact that I wished it was my team lifting the Lombardi Trophy, I could at least be incredibly happy for the old man.
I waited 25 years to witness my first Philadelphia championship. When it finally came, it was one of the most joyous and rewarding experiences of my life, and a lot of that came from the wait, the disappointments, the "wait till next year."
I'm thankful that it was ingrained in me by my father that you pick your favorite team and you stick with them. You root for them, and you stick it out in the good and the bad. There is no flip-flopping. There is no changing teams from year to year. There is no flavor of the month. You wait, because one day your loyalty will be rewarded, and when it is it will be so worth it. And he was right. (Not too bad of a lesson for life in general either.)
Well last night my dad's loyalty was rewarded, and I couldn't be happier for him. He taught me a large part of what I know about sports. He planted the seed and nurtured it with time spent explaining things and taking me out to practice and taking me to games, time that was/is so special to me and which I will never forget, and that seed blossomed into the passion I now have for sports. And even though we root for different football teams, he taught me through example how to be a true fan, how to be loyal, and that is something I pride myself on in sports and in my everyday life.
So thanks again, Dad. You've waited a long time. Enjoy it.