Things really couldn't have started out any better this weekend. Friday night saw the continued re-emergence of the
World Fucking Champion's
fallen ace.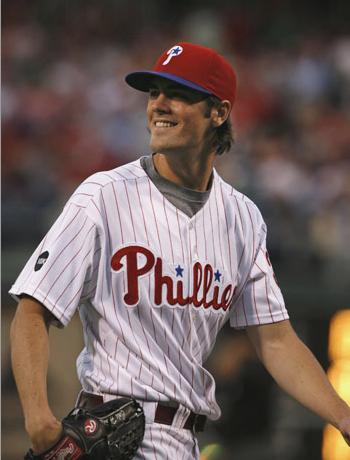 Going against a vaunted (if underachieving) Boston Red Sox lineup to kick of interleague play, Cole was back to his old, awesome self. He threw seven masterful innings of three-hit, one-run ball, striking out 8 and walking just one. His only flaw was a two-out solo home run surrendered to Victor Martinez in the first inning. From there on out, Cole was in complete control, thanks in no small part to his devastating changeup.
Over the past year-plus, when Cole went through more struggles than he ever has in his life on the mound, Hamels tended to shy away more and more from his out pitch, his changeup. The same pitch that he used to make major league hitters look foolish time and time again, most especially in the 2008 postseason, started to be put on the back-burner. All the attention seemed to go on getting his velocity up on his fastball or developing better command of his hit-or-miss curveball. And let's not even get started on the cutter. All of this tinkering came at the expense of his changeup, which truly is one of the best pitches in all of baseball. On an 0-2 or 1-2 count, he stopped trying to put guys away with his out pitch as much. And he got burned. But on Friday, Hamels broke out the changeup all game long, and the results speak for themselves. He outdueled the supremely disappointing John Lackey, who gave up four runs on six hits and five walks in just five innings of work and now has an ERA of 5.07. Apparently it's a lot tougher to pitch in the AL East than the AL West. No Yankees or Rays out there.
Anyway, Cole was awesome, Howard and Werth homered and the Phils began the series with a victory. Though David Herndon and J.C. Romero did decide to turn a 5-1 lead into an adventure in the ninth, but no harm, no foul. J.C. got the unnecessarily eventful save for the 5-1 win. But not all was well. Jimmy Rollins, fresh off the DL earlier in the week, pulled up lame, re-injuring his calf, and was put back on the disabled list. Not good. Just when we thought the Phils were finally getting back to 100 percent, down goes Rollins again. That's a tough blow, even with the way Juan Castro has played this year. Jimmy is the catalyst for this team, and his defense at short is second to none. With Rollins getting older, you have to worry about something like this. The potential for the injury to linger looks likely, considering it's the second time he's been sidelined with it. That's not good for a guy who relies a lot on his speed to create things on the base paths. Here's hoping Jimmy recovers quickly … and completely, so we can put this scare to rest for the home stretch.
Even with Jimmy's injury, it was a nice way to jump-start the weekend. A good win against an American League team. I was feeling great, and the night was still young. Silver fox and a friend headed down to my house with a bottle of booze in tow, we drank quite heavily and then headed out … where we drank some more. All was going well. That is until we hopped in a cab.
I've had many cab experiences here in Philadelphia, and the majority of them are good. Funny stories, interesting drivers. Friday night was not one of them. We told our cabby our destination, and he had no idea where it was. How that is possible when your entire job revolves around knowing where things are and how to get there is beyond me, but whatever. I told him the whereabouts. Then he proceeded to drive … and drive … and drive. I repeatedly kept telling him to turn left and head toward where we were going. He repeatedly ignored my requests, taking more than a half hour to make a 10-minute drive. I was pissed, literally fighting with the guy for not listening to me. He was meter-running like an asshole. We gave his a shit tip, which should have been way shittier, and he started yelling an honking. That's when I got in a bit of a shouting match with him myself, after repeatedly in the cab trying to get him to go where we wanted to go, then telling him it was taking forever and complaining that he was the worst cab driver ever. I hope that guy drives off the Walt Whitman. What a douche.
Luckily, we survived the remainder of the night without further incident, ate cheesesteaks and headed home for some rest. As nice as the Phils' win on Friday night was, it really wasn't even close to being a blip on my radar of importance this past weekend. It was all about Saturday, all about the Flyers and Canadiens. Game 4 had wide-sweeping implications. After beating the Canadiens 9-0 in the first two contests, Montreal dominated on Thursday night, owning the Flyers in every conceivable way en route to a 5-1 ass-kicking that brought the series to 2-1.
With that loss, I tried to
find the silver lining
, chalked it up to one bad game and hoped the Flyers would bounce back. I thought what happened in game 4 could be determined in first 20 minutes. The Flyers hadn't played a good, complete first period in a long, long time. If they did Saturday, I had a feeling that would go a long way toward taking a 3-1 series lead.
When I finally gathered myself to get set for the game, I was surprised to here that not only was Ian Laperriere playing, but so, too, was Jeff Carter. And even more surprising, Dan Carcillo was the one who got scratched along with Adreas Nodl.
I was a bit stunned to say the least. First, that Carter actually was going to play. And I have to say, when he took the ice, he looked all sorts of good Saturday. That was a great sign. He created a ton of chances, looked confident with his foot and basically looked like Jeff Carter. Great sign. But I was surprised Carcillo got scratched. Though not stunned. After his huge goal against Jersey, Carcillo has cooled down offensively. He has done a great job drawing penalties and playing disciplined, but with Arron Asham (the guy I would have considered scratching along with Carcillo) playing so well alongside Claude Giroux and James van Riemsdyk, it would be hard to scratch Asham. Some suggested Daroll Powe, but I knew he wouldn't really be considered, for two reasons: 1. He's tailor-made to play in Peter Laviolette's system, a straight up and down forward who hits anything that moves and defines his game by his forechecking; and 2. His great penalty-killing throughout the playoffs, especially in Laperriere's absence. Even with Ian back, it would be too much to ask Laperriere to log as much PK time as he had prior to his injury, and Powe and Blair Betts have developed a great chemistry in the month since Ian last took the ice. That left Carcillo. Tough thing to have to do, scratch a fan favorite who has worked his tail off and become a better and smarter player all year long. Laviolette said as much. But at this time of year, you gotta do what you gotta do. Laviolette did.
Shortly before the puck was to be dropped, in walked uncle jellyfish into our humble abode, case of beer in hand. We were all set to go as we watched the bilingual Canadian national anthem being sung. The screen panned to Claude Giroux listening intently, moving his skates every so slightly. When the camera got on him, I turned to uncle jellyfish and Adam EatShit and said, "That guy is going to score a goal today. I can just feel it." He had that look about him, the look of a player ready to go out and take over. And boy did he ever.
The Flyers came out and played their best overall first period of the series. Yes, they had led after one in the first two games, but the energy wasn't the same. On Saturday, the Flyers kept the Canadiens at bay, surrendering no real threats, and took the Montreal crowd out of it. They ground out a choppy, uneventful period, just what you want to do on the road. The forecheck was established, despite being outshot 7-5 through one, the Flyers started to take control in the offensive zone in the latter half of the opening stanza.
And then the second period happened. Montreal, lulled into a haze with an uneventful first period and gaining no advantage with the home crowd energy, was spent. The Flyers, who were so awful in game 3, regained their form and looked energized. And from then on, they just completely took over. Every shift took place in Montreal's zone. No Canadien could find time or space with the puck. The Flyers clogged the neutral zone, took away space, didn't let Montreal do anything. And conversely, the Flyers used their size and strength and speed to wreak havoc on Montreal. The Flyers won every puck battle, cycled, forechecked, hit, hell, they even won damn near every faceoff. It was all Flyers right out of the gate.
But Jaroslav Halak, who regained his confidence in game 3, was playing well. Really well. So well you had a bad feeling about another 50-something save performance to steal the show. That is until Claude went and scored one of the most awesome goals ever.
Boy did he make me look smart. Claude just left Josh Gorges flat-footed, blowing right by him on the outside, cut in alone on Halak and top shelved him with a wicked, ridiculous shot. Broken strap or not, Gorges was going to be made a fool of. Claude is the fucking man.
With Giroux breaking through, it was all Flyers. From that moment on, Montreal didn't even sniff a chance at winning. Not one. The Flyers were better at everything. And I mean everything. Faceoffs. Hitting. Passing. Transition. Offensive zone time. Cycling. Puck battles. You name the aspect of the game, and the Flyers were winning it, no dominating it. They completely took over, answered the bell, and came back with a huge statement following the debacle in game 3. The Flyers outshot the Canadiens 13-1, thirteen to one, in the second period. And Chris Pronger made sure to put his stamp on it and make it clear that game 3 was an aberration, firing the most perfect cross-ice, bad-angle, blue line to blue line pass right on the tape to Ville Leino, who knew exactly what to do with it.
That was all she wrote. Sure, it was only a 2-goal game, but that didn't matter. The Flyers were in complete control. They were the ones doing the ass-kicking this time. And with a 2-0 lead, they played a damn near picture-perfect defensive third. Short shifts, smart plays, get the puck out at all costs. Nothing dumb. The Flyers just clogged the neutral zone time and time again, stood up at the blue line and simply wouldn't let the Canadiens get anything going. Nothing. At all. It was as good of a defensive period as I've seen them play all season long. It wasn't flashy, wasn't exciting, it was just perfect, sound hockey. The only mistake came when Matt Carle shoveling the puck over the boards in the defensive zone early on, a truly atrocious play considering he had much more time and space to make a simpler, smarter play, but it was Carle's only real miscue of the game. He and Pronger rebounded nicely.
Michael Leighton went largely untested thanks to his team's tremendous defense, facing just 17 shots. But he did stop all 17 of them, recording his third shutout in four games of this series. That's just ridiculous, no matter how he got them. And just in case any Montreal fan was suckered into thinking a miracle comeback could happen down just two, Claude put that to rest with another tremendous play, showing the desire and hunger to take care of business by simply worker harder than the opposition to win a race for the puck and place it in the empty net.
The game was a nearly flawless performance by the Flyers, even with "sandgate" (if you don't know, you didn't watch). Jeff Carter looked not just good, but great, save for the fact he didn't actually bury one of the several great chances he created for himself. Laperriere brought his energy, shield or no shield. Claude was the best forward on the ice. Ville continued his playoff emergence. Pronger and Carle bounced back to be the best two defensemen on the ice. Kimmo and Coburn continued to play awesome. And the rest of the guys, led by Mike Richards, Simon Gagne, Blair Betts and Daroll Powe, played about as well as you can possibly play defensively. The Flyers are now just one win away from reaching the Stanley Cup Finals for the first time since 1997, five wins away from hoisting Lord's Stanley Cup.
That made a near no-hitter by Dice-K Saturday and the first truly bad performance by Roy Halladay in red pinstripes yesterday much easier to take. The Flyers are five wins away from drinking from the Cup. Five more wins.
Tune in tonight, as they try to make it four.
LET'S GO FLYERS!!!!!!!!!