If there's one thing we've learned during the Andy Reid era it's to expect the unexpected when it comes to the NFL draft. Just when you think you have it figured out who they're going to take, the Eagles either make a move to trade up for a guy, trade down for more picks or go out on a limb and take someone unexpected. Sometimes it works, sometimes it doesn't, just as with every draft pick for every team in the league.
So as a few of my friends and I were sitting at the bar and looking on as the Eagles' first-round pick was approaching, we initially became excited at the possibility of Nebraska's highly touted cornerback Prince Amukamara unexpectedly falling into Philadelphia's lap. Unfortunately, the Giants took him at 19, so those dreams were dashed. But with just three more teams ahead of them, it was all but certain the Eagles would be in position to take one of the three players we were anticipating. At one point, my roommate said, "There's no way than can do something to screw this up or throw us off …" Then a second later, "Well, there is, but they gotta take one of them, right?"
One of them included Colorado cornerback Jimmy Smith, Wisconsin offensive lineman Gabe Carimi and/or Clemson defensive end Da'Quan Bowers.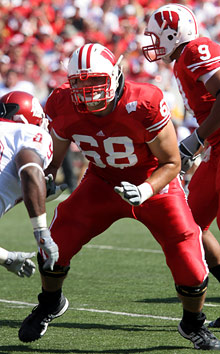 We all would have been perfectly happy with any one of those selections. Smith would give them the big, physical corner this team desperately needs, though there was all kinds of talk about character issues. Carimi was a four-year starter and the 2010 Outland Trophy winner, handed out to the best offensive lineman in the country. He comes from a school known for putting out offensive line studs, and he learned under one of the NFL's best, succeeding Joe Thomas at Wisconsin. To me, it was all but a certainty that the Eagles were going to take him. Carimi could come in from day one and start at right tackle or even right guard, and most likely be dominant.
Then there was the X factor with Da'Quan Bowers. A few short months ago, Bowers was being hailed as the No. 1 overall pick, yet due to knee issues his stock plummeted last night. So much so that he was there at 23, and is still there, going from No. 1 overall pick to out of the first round. That is completely baffling to me. The doctors must really expect him to have an incredibly short career. Because Bowers was an absolute force at Clemson, easily the most talented defensive end. I didn't think the Eagles would necessarily take him after moving up last year to select Brandon Graham, but with talent like that and the Eagles still needing more push and pass rush from their defensive line, it wouldn't have been the most shocking pick in the world.
Naturally, we were excited to see what they'd do. Like I said, I was almost certain they were going to take Carimi. I mean, why wouldn't they? Andy Reid loves his offensive linemen, and the guy who was the best in the country his senior year was still on the board. No-brainer.
So of course the Eagles go and throw a curveball, passing on all three of those guys and taking a 26-year-old Canadian from Baylor.
Now listen, I'm not going to go and bash Danny Watkins. By all accounts, he dominated the competition at Baylor and was graded very highly. Just the fact that he was invited to the draft is proof he was expected to go in the first round. And he very well may prove to be an impact player from day one. But to me, it just made absolutely no sense whatsoever, not with Carimi on the board.
Danny Watkins is 26 years old already. He's going to be 27 before 2011 is through. I mean, the guy was born in the same fucking year as me for christ's sake! To put that in perspective, the Eagles currently have 74 other players
listed on their roster
as of today. Danny Watkins is OLDER THAN 41 OF THEM! The Eagles' first-round pick this year is older than 55 percent of the entire team! What? Going even further, he's just three months younger than Kevin Kolb and just two months younger than Winston Justice, for crying out loud.
Even if the Eagles think Danny Watkins is better than Gabe Carimi today, which I find hard to believe given Carimi's pedigree and performance at an offensive-linemen factory, Carimi is nearly four years younger than Watkins. That's an eternity in football. It just doesn't make any sense in my opinion to take a 26-year-old lineman with your first pick, especially when there is younger, more decorated players at the position still available. But that's the Eagles for you. They just have to go and try and prove how much smarter they are than everyone else. The Gold Standard at its finest. Just when we thought there was no way they could do something dumb with the pick, they go and gamble on a guy that's almost as old as me.
Let's hope they're right here, because if not, this could be a pick the team never lives down. Of course, we don't know what's going to happen. For all we know, Watkins could turn out to be a perennial All-Pro and the Eagles could look like geniuses, and by all accounts he is a terrific player. I just don't get it. I really don't.
As for the pick that threw me off the most other than the Eagles taking Watkins, it was former Penn Stater Phil Taylor going 21st overall to the Cleveland Browns.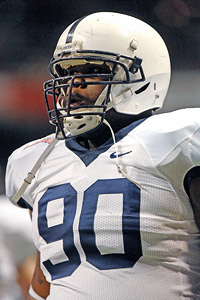 Taylor and Chris Baker were two defensive linemen at Penn State with a lot of potential, two players Larry Johnson Sr. was preparing to mold into forces. But then they got into a fight with some other students and were kicked off the team. I heard Taylor transferred to Baylor, but after that I kind of lost touch with him. Then there he was, being selected in the first round by the Browns. It was an intriguing surprise to me.
I always love to follow players from my alma mater as they move on, even if the outcomes haven't been that great in recent memory. (Though Tamba Hali is wreaking havoc on quarterbacks.) So I'm excited to see what Taylor can do, even if he was dismissed from the team and finished his career in another uniform.
I want to also congratulate another defensive lineman, Temple's Muhammad Wilkerson, who became the first Temple Owl selected in the first round in 24 years, going 30th overall to the New York Jets. Honestly, I would have been more excited had the Eagles taken Wilkerson than Watkins, but time will tell how both picks turn out.
Two more notes: How terrifying is it going to be trying to block the Detroit Lions' front four with the reigning Defensive Rookie of the Year Ndamukong Suh, who may already be the best defensive tackle in the NFL, and now Nick Fairley, not to mention the often overlooked Kyle Vanden Bosch? Detroit's entire defense just got a whole hell of a lot better.
And my god, how is anyone in the league going to stop the Atlanta Falcons? Now Matt Ryan has Julio Jones opposite Roddy White, not to mention Tony Gonzalez and Michael Turner. All I'm saying is the Eagles better sign Nnamdi if they expect to stop the Falcons. Damn.
Oh, and seriously, a 26-year-old offensive lineman? Really? Really.