Over the past couple of weeks, I've written fairly glowingly of the Sixers. They turned in a much better season than I expected in Doug Collins' first season at the helm, play hard and truly embrace team basketball. But after hearing the devastating news that
Free Darko
and its liberated fandom posts are
closing up shop
and then watching the Sixers take on the Magic last night, I realized something: I don't particularly like the players on the Sixers.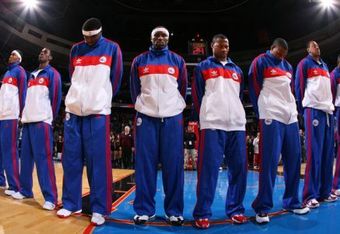 That doesn't mean I hate all of the players on the roster. In fact, there are a couple guys I really like. But as I watched Chester native and St. Joe's grad Jameer Nelson rain threes en route to dropping 19 points and 7 assists, including the alley-oop to Dwight Howard that essentially
decapitated Jrue Holiday
, I came to the realization that there are no players on the Sixers I love the way I love Jameer … and a large number of other players throughout the league.
The liberated fan in me doesn't get excited that much about anyone on the Sixers. Now, I am a Sixers fan first and foremost, which is why I'm so happy with the season this team put forth and why I cannot ever abandon them. But I'd be lying if I said I'd be devastated if they traded away a certain player. When Allen Iverson was traded, I was devastated, even though we all knew it was coming, knew it had to happen and that it was the right move for the organization. When Charles Barkley was traded in my really young days, I was devastated, because I loved watching this 6'4" monster outrebound players half a foot taller or more and then go coast-to-coast.
The Sixers always had at least one player I loved, whether it was
Hersey Hawkins, Dana Barros, Allen Iverson, George Lynch, Theo Ratliff
, even players like Aaron McKie, Dikembe Mutombo and Jerry Stackhouse. There was some sort of emotional attachment to those players that was different than just pulling for the team. But it truly dawned on me last night during that 95-85 loss that if any of these players were on any other team, I don't think I'd really care about them at all. There is no Jameer Nelson, Brandon Jennings, Blake Griffin, Josh Smith or any other number of NBA players that I love for one reason or another on this roster. There just isn't.
The closest thing to that is Jrue Holiday.
I remember hearing about Jrue coming up through the ranks out in California as one of the nation's top recruits. He was highly touted and heralded, but I didn't really latch on to him the way I did to Brandon Jennings or Tyreke Evans and Maalik Wayns (for obvious reasons with those last two) when he was in high school. And even though I was intrigued with him in college, he had an underwhelming year. Still, I was excited that the Sixers were able to nab him in the draft, because the word on the street was he had top 10 talent. The problem is I would have much preferred that the Sixers drafted Ty Lawson, a player I fell in love with during his three seasons at North Carolina.
I still like Jrue a lot and expect him to become a nice point guard in this league. He's the one I pull for the most on this squad. And who knows, maybe in a year or two he will that player I absolutely love. I do like him a lot. But I know in my heart of hearts that I wouldn't really care that much about Holiday if he wasn't a Sixer, while I follow Lawson's box score damn near every night.
Honestly, the only other guy who can even enter the discussion is Thaddeus Young. Two seasons ago, Thad was emerging as the Sixers' best player, and his energy, hustle and dedication to improving his game had me all sorts of excited.
Then last year happened. Under Eddie Jordan, Thad regressed. He fell in love with a three-point shot that he can make but shouldn't take often. He stopped slashing to the hoop, getting out in transition and rebounding with abandon. He was a different player, a softer player, and he started to fall out of favor with me. I still liked him, but I honestly didn't care if the Sixers decided to trade him.
This year, Thad has been tremendous, and of late, he's back to emerging as the most explosive player on this team. I enjoy watching him. I like him. And I want to root for him. But if the Sixers let him walk, I'm not sure I'd be heartbroken. I can't really explain why. Maybe it's because I see he probably won't become an all-star. Maybe it's because I expect more consistency. Or maybe I would be devastated and just don't know it yet. But for whatever reason, Thad isn't quite there with me. He's good, he's had a great season, and he's one of the main reasons watching this team is so fun, so maybe he'll get there too, the way Jrue looks like he may sooner rather than later.
But beyond that, I don't have a particularly vested interest in any other player. I like Lou Williams as a Jason Terry-type player — a potent bench scorer. But again, I'm not attached to him in any way.
Andre Iguodala is the Sixers' best all-around player and most talented athlete. I absolutely love to watch him throw down emphatic dunks, play lock-down defense, and rebound and pass as well as any point-type forward out there not named LeBron. He's playing arguably the best basketball of his life, easily the best defense of his career and not trying to do too much. But there's always the matter of that crippling contract, him being miscast as the man and his god-awful end-of-game shots.
In Iggy's case, he's a victim of the status bestowed upon him by the team. It's not fair to him, I know, because I actually really, really like Andre Iguodala's game. If he was cast as the the third or maybe even second best player on the squad, asked to be the defensive stopper and a distributor/slasher on offense, he probably would be that guy I'm attached to. But he's not. He's the guy the Sixers were comfortable turning the keys over to. So comfortable that they traded Iverson. And he just can't fill those shoes. When he shoots an ill-adivsed three, dribbles the ball off his foot or takes an 18-foot fadeaway on a last-second shot, or stops attacking the rim, it frustrates the hell out of me to the point that it can overshadow all of the incredible things he does on the court. Iguodala is a great defender, excellent rebounder, tremendous finisher around the hoop, good passer. But at times he just tries to be more than he is, because the Sixers ask him to. This year, he's been at his best because Collins hasn't asked as much of him. But he's still tasked with being the leader that he's not meant to be, and it takes something away, whether that's fair or not.
Then there's Elton Brand, a player I'll never like because he went to Duke, has never been a winner in the NBA and simply is not the 20-10 guy this team thought it was getting. Elton's had a great year. He leads the Sixers in scoring and rebounding. And truth of the matter is he's been the team's best, most consistent player all year long. I respect that, respect the work he's put in after last year's injury-riddled debacle under Jordan. But I'll never like Elton Brand. I'll root for him because he's a Sixer, but I'll never like him. That's just he way it is.
The same goes for Evan Turner, the Sixers' increasingly underwhelming 2nd overall pick. I'm not giving up on Evan Turner because that would be foolish. He's had some really good games for the Sixers this season and shown flashes. But the fact remains that he hasn't been very good overall. Last night, watching him play versus watching Andres Nocioni play, it's incredibly clear that Nocioni is by far the better player right now. It's not even close. And that's not very reassuring for a No. 2 overall pick, being significantly less effective than a career journeyman, albeit a tough-minded, effective one.
It doesn't help that Turner is from Ohio State, a school I deplore. And last night it hit me that much like Elton Brand, I hate Evan Turner. I hate that he's a Buckeye. I hate that he was the guy this team had to take at No. 2 overall. I hate how his elbow sticks out on his jump shot. I hate his voice. I hate that he has had an unimpressive rookie year. I just really don't care for Evan Turner.
Despite all of that, I want him to succeed. I'm pulling for him to turn into a really good player worthy of his selection, because that would be best for the Sixers. But I don't think I'll ever be able to fully embrace Evan Turner. He's a guy I hated in college and would hate if he was anywhere else more than I already don't care for him. I hope he can become what the Sixers expect and sway my opinion, but he doesn't excite me at all.
The rest of the roster I have very little feelings toward at all: Spencer Hawes, Jodie Meeks, Nocioni, Antonio Daniels, Marreese Speights, Tony Battie, the carcasses of Craig Brackins and Darius Songaila. Those guys are what they are, which Speights being the most intriguing but most frustrating, because he is the most talented. But I don't get overly worked up about him either. Once upon a time I liked Jason Kapono, but then he forgot how to do the one thing he was actually good at doing when he came to Philadelphia, so I don't care at all about him anymore.
The Sixers are a fun and exciting team to watch. They're learning how to win on a small scale. They aren't going to stand a chance against the Heat and can't contend with the star power of most teams, but they are a team that will put up a fight and a team that you can get behind. But they don't have many individual players that get my blood going, that excite and infatuate me.
I love the Sixers the way I love the Flyers and Eagles and Phillies. But I don't love the players. There is no Allen Iverson, no DeSean Jackson, no Claude Giroux or Kimmo Timonen. There is no Roy Halladay or Cliff Lee. No Ryan Howard or Shane Victorino. There is no Jameer Nelson. No Brandon Jennings. No player that I am fully invested in.
It took the shuttering of Free Darko for me to realize that. And that's just another reason why it's a sad day to see Bethlehem Shoals shut down shop. Liberated fandom will live on even without Free Darko, even if it feels like something is missing. I just hope it happens with someone on this iteration of the Sixers for me. Because being a fan is more fun when you really, truly care about the players on your favorite teams.