Listen, I know last night was all about Vance Worley continuing to be awesome and Chase Utley really truly
being the man
, and I'd be remiss without discussing the both of them.
I mean, what more can we say about Chase at this point? At times I get a little annoyed with how much people slobber over him while bashing some of the other players on the Phillies, but dammit if the guy doesn't deserve it. Not only did he have that absolutely insane, exhilarating inside-the-park home run, but he also got the scoring started with a two-out single in the first and then scoring from first to tie the game on a double down the rightfield line by Ryan Howard. As the late, great Harry Kalas — who you know was just making an absolutely majestic call on that homer — said, Chase Utley really is the man.
Then there is Vance Worley. I'm not afraid to admit that until very recently, I saw Vance as nothing more than a J.A. Happ at best and Kyle Kendrick at worst — a guy without amazing stats in the minors called up to the big club and pitching out of his mind in his first stint, but a guy that would eventually fall back down to earth. And while it is certainly a little too early to crown the guy a legitimate front-of-the-rotation guy in the making, Worley has done nothing but get better each and every start.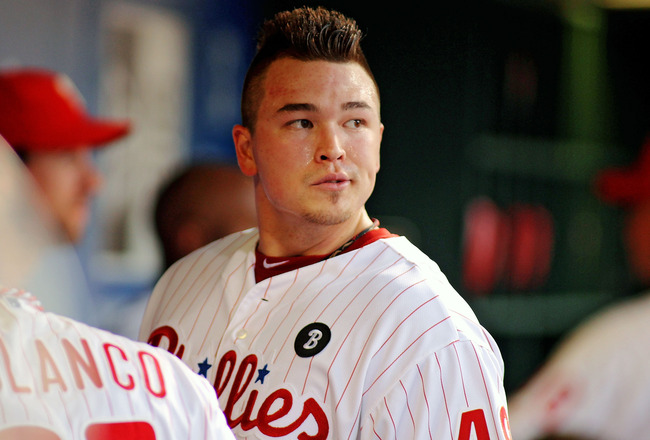 Last night was easily his most impressive outing of his career, pitching his first complete game and doing it by surrendering just three hits and two runs. At the same time, he walked just one, and that came with two outs in the 9th, while striking out 5. His comeback cut fastball was Halladay-like, and his composure against the defending World Series champs is what impressed me the most. After surrendering a run in the first inning, it would have been easy for him to unravel. Instead he came back and gave up just one more run the next 8 innings. Vance now has a 2.02 ERA and 1.09 WHIP and a 7-1 record. The man is just killing it right now.
I know that 7-2 victory was all about Chase and Vance. But now that that is out of the way, I'd like to take the opportunity to officially call for every Phillies fan alive to shut up already and leave Raul Ibanez alone.
All season long there's been a steady chorus of Raul hate. He's too old. He can't hit anymore. He's too slow. He's not a good fielder. His time is up. Nevermind that he's the consummate professional and a streaky hitter who can literally carry an offense at times. Nevermind that he's a standup guy and possibly the most respected everyday player in the locker room. And nevermind that lately Raul has been playing fantastic baseball.
A couple weeks ago, when Raul went 3-for-3 and accounted for every Phillies run in a victory over the Red Sox and then hit a walkoff against the Braves, I let my feelings on Raul
be known
. Given that I really like the guy, maybe it makes me a little more defensive of him. But at this point, I think it's safe to say it's time to leave Raul the hell alone.
Ibanez is not done. He's not washed up. Sure, he's old, and yes, he'll have his slumps … same as he's always had in his career. But the man knows how to play the game, and right now he's playing it damn well. Sure, Vance and Chase were the stars last night, but Raul played as integral a part in that victory as the both of them. He's the one who followed up Howard's first-inning RBI double and Shane Victorino's walk with a
three-run blast
to give the Phils the lead. He's the one who made a
nice sliding catch
and then one-upped that with an
even better catch
in the 9th. And he's the guy who is and should be manning left field for the Phillies the rest of this year.
Maybe you're tired of his streakiness and think he's too old. Maybe you hate that he's another left-handed bat. And maybe he isn't quite the player he was a few seasons ago. But Raul is still getting it done, and it's about time everyone got off his back and leaves him alone. Just enjoy him for what's sure to be his last season in Philadelphia and thank your lucky stars that you've been privileged to watch one of the classiest guys in baseball these past few years.