During the early innings of last night's MLB All-Star game, when Roy Halladay was breaking faces as per usual,
Phil
(Giants fan)
Ed
(Braves fan) and
I
(take a guess) were trading jabs about each others' teams and debating which of our teams were going to benefit with home-field advantage in the World Series. That friendly debate led to a conclusion we could all agree on: The National League most definitely has all the best starting pitching staffs in baseball right now.
Don't get me wrong, the American League has its share of dominant starting pitchers, no question about it. Hell, just the all-stars that were unavailable for the AL last night read like a Cy Young ballot: CC Sabathia, Justin Verlander, Felix Hernandez, John Lester, James Shields, David Price. And then you add others like Jered Weaver, Josh Beckett, Gio Gonzalez, Michael Pineda (who looked filthy last night), Ricky Romero, the list goes on. The AL has a bunch of individual studs. But when you take a step back and look at each American League team's staff and compare that to some of the NL counterparts, it's clear who comes out ahead.
I mean think about it, you'd be hard-pressed to find one team in the AL with three legit studs in their rotation, while the NL has a few teams that can claim that and a few others that aren't far from it. Sure, the Red Sox have Beckett and Lester, but there's not much to fear after that. And Beckett always seems to get hurt these days. In fact, he tweaked something while warming up last night and didn't pitch.
The Mariners have Felix and Pineda, then a bunch of average guys. The Yankees have CC, and Phil Hughes is alright, but does anyone fear him? And can Bartolo Colon really keep this up? The Angles have Weaver and Haren, and Ervin Santana has potential, but Santana is hardly ace status and Haren always seems to struggle as the season wears on. The Rangers have a very good C.J. Wilson and the surprising Alexi Ogando, but those two aren't quite aces yet.
Honestly, the only team with three guys that really strike fear in you is the Rays with Shields, Price and Jeremy Hellickson, but Hellickson is still green and the Rays are a third-place team.
Conversely, the National League has three staffs that really blow anything the AL can throw out there, as far 1-4, out of the water.
Philadelphia Phillies
The first and most obvious staff to mention is the Philadelphia Phillies. Three of the team's starters were named all-stars this year, led by NL starting pitcher Roy Halladay, who just so happened to pitch two perfect innings last night, followed by Cliff Lee and Cole Hamels. There simply isn't another trio this accomplished on any other roster in baseball. Halladay is a two-time Cy Young winner and reigning NL Cy Young winner, with a perfect game and playoff no-hitter on his résumé. Cliff Lee is a former Cy Young winner who has been dominant in every playoff game he's pitched with the exception of last year's World Series. And Cole Hamels, who leads this staff with a 2.32 ERA, is an NLCS and World Series MVP who looks like a perennial Cy Young candidate.
As good as the staffs that follow are, none have three players with those credentials. And right now, all three are about as good as it gets in baseball. Hamels and Halladay are tied for second in baseball with 11 wins. Halladay leads the NL in complete games and innings pitched and is second in strikeouts. He also has a 2.45 ERA and 1.02 WHIP. Lee has 9 wins himself, four of those being complete-game shutouts, which leads all of baseball. He's also third behind Clayton Kershaw and Halladay in strikeouts in the NL, and he has a 2.82 ERA and 1.06 WHIP. Hamels is 5th in the NL in strikeouts, and he leads the league in WHIP at 0.93 while leading the Phils with a 2.32 ERA. So yeah, these guys are good. Really good.
And that's without even mentioning former 20-game winner Roy Oswalt, who has suffered this season from personal issues and injury. But Oswalt's always been a money second-half and playoff pitcher, and if he comes back healthy, this rotation gets that much better. It's pretty frightening.
Atlanta Braves
If you want to know how the Atlanta Braves have the second best record in the NL (behind the Phillies) and the third best record in baseball, look no further than their pitching. As great as the Phillies' rotation is, Atlanta's right now is even deeper, throwing out five really good starters at you: Jair Jurrjens, Tommy Hanson, Tim Hudson, Brandon Beachy and Derek Lowe.
Jurrjens started out the season on disabled list, yet he's tied for the MLB lead in wins with 12. The guy has has started 16 games this year, winning 12 and only losing 3. Oh yeah, he also leads the NL in ERA at 1.87, second only to Jered Weaver's 1.86 in baseball. He's not the strikeout-type pitcher some of the other guys are, but Jurrjens is pitching as well as anyone, rarely allowing a batter to make solid contact on anything.
Meanwhile, young, hard-throwing righty Tommy Hanson has continued his quick maturation. Currently, Hanson is 10-4 with a 2.44 ERA, good for fourth in NL, and his 1.02 WHIP is third in the league. Hudson isn't quite having the season as his younger teammates, but he's a damn good pitcher and a veteran that any team would love to have. Youngster Brandon Beachy has been a pleasant surprise, starting 12 games and going 3-1 with a 3.21 ERA and 1.08 WHIP. And Derek Lowe is this team's fifth starter. Try and wrap your head around that. Sure, Lowe isn't having a great season, currently sitting at 5-7 with a 4.30 ERA and 1.38 WHIP, but how many teams can claim their fifth starter is a former No. 1 or No. 2 and typically an excellent playoff pitcher? I certainly can't think of any.
When you add in the awesomeness of lefty reliever Jonny Venters and closer Craig Kimbrel, who leads baseball in saves, the Braves aren't going anywhere, no matter what their offense does.
San Francisco Giants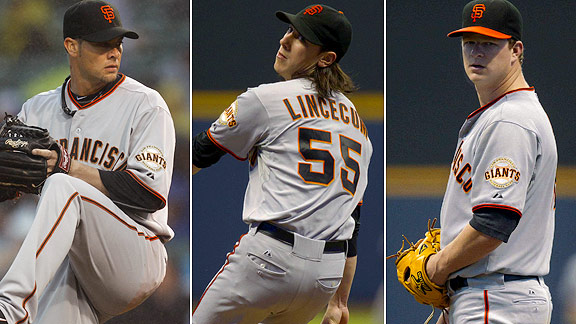 And of course, who can forget the reigning World Series champions? I know I just said the Braves have maybe the deepest rotation in baseball right now, but there's a chance San Fran's rotation is even deeper, because the Giants actually have six starting pitchers on the roster. Tim Lincecum already has two Cy Youngs and he's just 27 years old. Then you add Matt Cain, Ryan Vogelsong, Jonathan Sanchez and youngster Madison Bumgarner and you have talent all over the place. Oh yeah, the Giants also have a former Cy Young winner ready and available when needed in Barry Zito. That's a lot of pitching.
Lincecum leads the staff with 132 strikeouts, and while the rest of his numbers aren't great by his standards — 7-7, 3.06 ERA, 1.20 WHIP — they're hardly bad. It's just that he's set such a high standard that you expect even more. But he's the unquestioned ace of the NL West-leading Giants and a guy you wouldn't hesitate to hand the ball to in a big game. Cain has had similar numbers as Lincecum, with his 3.06 ERA and 1.10 WHIP, and he leads the Giants with 8 victories. Again, he's not having his best season, but he's still pitching well and the doing more than his share for this team.
Then there is the surprise of all surprises, Ryan Vogelsong. On a staff that includes Lincecum, Cain and Sanchez, Vogelsong is the one leading the way in ERA, posting a 2.17 ERA, second only to Jurrjens in the NL. He's 6-1 this year and made his first all-star game at age 33. The former Phillie prospect and Kutztown player is having the season of his life. It may be a fluke, but the Giants will certainly take it. Sanchez has been his typical wildly effective self. He has an unimpressive 1.42 WHIP, and his 3.81 ERA isn't exactly where you want it to be, but the guy has as good a stuff as anyone on this staff. Plus, his wildness makes batters even more uncomfortable facing him. And Bumgarner, who came into the season with high expectations, started out about as awfully as you can. Currently, he's 4-9 with a 1.34 WHIP and 3.87 ERA. However, he's pitched much better of late, and you have to think the young lefty is only going to get better, which is not good news for the rest of the league.
And if he doesn't, there's always Barry Zito. The man has not been the same pitcher he was in Oakland since migrating to San Francisco with that ridiculously huge contract, but this year Zito has started 6 games, going 3-1 with a 3.18 ERA and 1.09 WHIP. He's basically a spot starter with the potential to move into the regular rotation when needed. Think about that, San Fran's sixth starter is a former Cy Young winner. Damn.
Just try and tell me there's an AL team that can stack up 1-4 or 1-5 with these staffs. There isn't. And then there are other teams with pretty damn good starters as well. The Brewers have a pretty good staff that many thought would put them in contention if Zack Greinke wasn't having such an off year, considering they have Greinke, Yovani Gallardo and solid guys in Shaun Marcum and Randy Wolf. And if you think about what the Cardinals could have next year with a healthy Adam Wainwright and a bounceback by Chris Carpenter, along with Jaime Garcia and Kyle Lohse, not to mention the potential of, yes, the Nationals next year with Stephen Strasburg and Jordan Zimmerman to build around, it's clear that the NL these days has the deeper staffs.
We'll see what that means come October and November, but it's pretty clear that the National League is the home of the best starting pitching staffs right now.