Thursday night, the new-look Flyers' 2011-2012 regular season officially begins up in Boston against the defending Stanley Cup champion Bruins. The roster turnover was fast and furious this offseason for the Orange and Black, with more than a few shocking twists.
One of the more surprising signings was the addition of 39-year-old former superstar Jaromir Jagr, who has not played in the NHL since the 2007-08 season with the New York Rangers.
Jagr is unquestionably one of the game's all-time greats. As Mario Lemieux's sidekick in the early '90s, Jagr helped lead Pittsburgh to back-to-back Stanley Cups. He's led the league in points five times, assists three times and has a Hart Trophy to his name. As it currently stands, Jagr is 9th all time in points, entering his inaugural season in Philadelphia just one point shy of 1,600 for his career.
This preseason, he's looked fantastic, providing the type of command on the power play the Flyers have been lacking for years and looking rejuvenated after some time playing in his native country. But his signing stuck out to me because it has been somewhat of a common practice for the Flyers to go out and acquire aging superstars — or all-star caliber players — well past their primes during my lifetime.
So on the brink of Jaromir Jagr's Flyer career getting underway, I thought it would be interesting to look back at a few of the high-profile, past-their-prime players the Flyers have brought in over the past two decades.
Dale Hawerchuk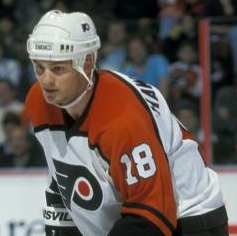 During his days in Winnipeg, Dale Hawerchuk was a perennial 100-point scorer, reaching the NHL as a teenager and becoming a captain. The guy finished in the top 10 in scoring four times and is in the top 20 in all-time points and assists. He was inducted into the Hockey Hall of Fame in 2001.
As the Flyers were maturing from an up-and-coming franchise into an Eastern Conference power behind Eric Lindros and the Legion of Doom, the Flyers acquired the 32-year-old Hawerchuk in March of the 1995-96 season from the St. Louis Blues in exchange for Craig MacTavish, who had the distinction of being the last NHL player to not wear a helmet, being grandfathered in to the old rules.
After being bounced in the Eastern Conference Finals in painful fashion by the eventual Stanley Cup champion New Jersey Devils the year before, the Flyers brought in Hawerchuk in a quest to take the next step. And after the trade, Hawerchuk fit in quite well, notching 20 points in 16 games. But the Flyers would get unceremoniously eliminated in the postseason by John Vanbiesbrouck and the Florida Panthers in the second round.
Hawerchuk, after having played 15 seasons, played one more year in Philadelphia, posting 34 points and a plus-9 rating in 51 games for the 1996-97 Flyers team that made it all the way to the Stanley Cup Final, where they were swept by the Detroit Red Wings. Hawerchuk contributed with 2 goals and 5 assists in the postseason, but he was hardly the player he was during his days in Winnipeg and Buffalo. Hawerchuk did provide a spark in '96, and he was a part of that Eastern Conference champion team in '97, making his acquisition worth it.
Paul Coffey
Elected into the Hockey Hall of Fame in 2004, Paul Coffey was the epitome of an offensive defenseman. He is the guy who many of today's offense-first defensemen looked up to. In fact, only the great Ray Bourque had more points, assists and goals than Coffey as a defenseman.
Having the privilege of breaking in with the great Edmonton Oilers of the 1980s, Coffey won three Stanley Cups alongside Wayne Gretzky and Mark Messier and another in 1991 alongside Lemieux and Jagr in Pittsburgh. He was a three-time Norris Trophy winner for the league's best defenseman, winning it back-to-back seasons in the 80s and then winning his last a decade after he won his first.
A year after the Flyers traded for Hawerchuk, they made another splash by dealing Kevin Haller and a first-round pick to bring in the smooth-skating Coffey. I vividly remember it because my father actually took me to his very first game as a Flyer, a
5-0 win
over the New York Islanders.
Philadelphia was abuzz that night, with people donning shirts that read, "I like my Coffey Black, with a hint of Orange." And Coffey could not have had a better debut. He dished out 3 assists in the shutout and finished as a plus-3 according to the box score, though I swear I recall him being a plus-5 that night. Then again, I was just 12 years old, so I may have "misremembered."
Coffey, at age 35, was not the player he once was, but he still provided a nice offensive boost from the back end, putting up 26 points in 37 games and finishing as a plus-11. He was considerably less effective during the postseason, however. Father Time started to rear his head, as Coffey was a minus-3, though he did have 9 points in the 17 games on the way to losing to the Red Wings. Unfortunatelly, the postseason was a sign of things to come.
Coffey played one more uneventful season in Philadelphia, posting 29 points in 57 games and finishing as a plus-3. Not terrible, but nowhere near his Norris Trophy and perennial all-star level. Like Hawerchuk, he did play a role in getting the Flyers to the Stanley Cup Final, but he had very little left in the tank following that 37-game regular-season run when he first came over.
John Vanbiesbrouck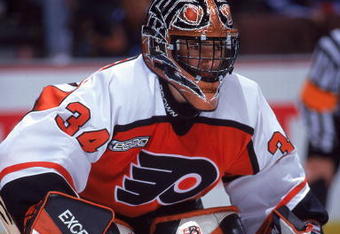 No one will mistake John Vanbiesbrouck as Patrick Roy or Martin Brodeur, but he was a very good goaltender with a long list of accomplishments. In just his second full season in the NHL, Bieser won a league-high 31 games for the New York Rangers and took home the Vezina. He led the 1995-96 Florida Panthers all the way to the Stanley Cup Final with an absolutely insane playoff performance before losing to the Colorado Avalanche. And he consistently finished in the top 10 in goals against and save percentage during his prime.
Beyond that, Vanbiesbrouck made a career of killing the Flyers. The only problem is he kept killing them after he was signed as a free agent in the summer of 1998. That offseason, the Flyers were searching for a solution in net after Ron Hextall and Sean Burke were miserable in the 1998 playoffs. The debate was rampant between that year's two top free agent netminders: Vanbiesbrouck and Curtis Joseph. The Flyers went after Bieser and got their man.
In actuality, Vanbiesbrouck was better than he's given credit for during his time in Philadelphia. His win totals and goals against averages are actually quite good in the two seasons he spent in Philadelphia, going 27-18-15 with a 2.18 goals against in his first season and 25-15-9 with a 2.20 goals against in 1999-00. But his pedestrian save percentage that hovered around .904 drove fans nuts, and the Flyers were eliminated in the first round by Toronto in 1999 — though Vanbiesbrouck was actually really good in the series, posting a .938 save percentage and 1.46 goals against.
However, the next year Bieser was supplanted by rookie Brian Boucher late in the year, who got the Flyers all the way to the Eastern Conference Finals. And that was all she wrote for Bieser. He played one fantastic playoff series, but ultimately he was not all that was promised.
Adam Oates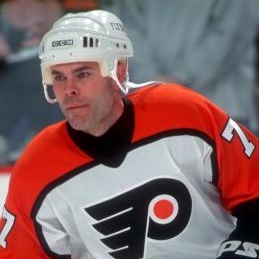 Adam Oates is 6th all time in assists and 16th all time in scoring. The man made a career of producing points, topping the 100-point plateau four times in his career and leading the league in assists three times. He also posted 156 points in 163 career playoff games, which is all to say Adam Oates was a very good offensive player.
So when the Flyers were looking for a veteran offensive rental for what they hoped would be another Cup run, they traded a first, a second and a third for Oates in March of 2002. Oates was coming off back-to-back seasons in which he led the NHL in assists, and through 66 games in the 2001-02 season for Washington, he had 57 more. He seemed like the perfect fit.
He was not. Oates did post 10 points in the final 14 games of the regular season, but he also skated to a minus-2 and looked out of sync. Age had finally caught up to the 39-year-old. The Flyers then were embarrassingly eliminated in just five games in the first round by Ottawa, with no one doing anything of consequence, Oates included. And that was it for him in Philadelphia, just 14 regular-season games and five postseason contests in which he recorded a grand total of 12 points. Not worth it.
Tony Amonte
Tony Amonte was one of the better goal-scorers of his day, topping 30 goals 8 times in his career and 40 goals three times. He was a five-time all-star and one of the best American-born players in the league. And at the trade deadline in 2003, the Flyers traded two draft picks and a forgettable player to reunite Amonte with his former Chicago Blackhawks teammate Jeremy Roenick. As has been the theme with everyone else, Amonte, at 32, was starting to decline but still a productive player. He was coming off consecutive seasons of at least 20 goals and 30 assists in Chicago, and had 36 points in 59 games for Phoenix when the Flyers traded for him.
Amonte acclimated very well as first just as Coffey had, scoring 7 goals and dishing out 8 assists in his 13 games after coming over from the Coyotes, though he managed just one goal in 13 games that postseason as the Flyers lost in the second round to Ottawa.
The next year, Amonte's last in Philadelphia, he was very productive, especially for a 33-year-old whose numbers began to trend downward. Amonte notched 20 goals and 33 assists in 80 games and was a plus-13. And in the playoffs, he had 8 points and was a plus-7 in 18 games for a Flyers team that eventually lost a heartbreaking series to the eventual Stanley Cup champion Tampa Bay Lightning in the Eastern Conference Finals.
What followed was the lockout and then the transition for the Flyers, and Amonte was gone. But he certainly was a key contributor for Ken Hitchcock and the Flyers.
Peter Forsberg
Peter Forsberg is easily the most interesting case of the past-their-prime all-stars. For starters, he was actually drafted by the Flyers way back in 1991 before being traded with a slew of players for the top overall pick, Eric Lindros, who refused to sign with the Quebec Nordiques.
We all know what happened after that. Lindros was a terror on the ice, winning a Hart Trophy and leading the Flyers all the way to the Final before concussions and a rocky relationship with Bobby Clarke derailed his career. Forsberg meanwhile won two Stanley Cups with the Avalance and became one of the absolute best players in the world.
Forsberg won the Calder Trophy in 1994-95 and took home Hart Trophy in 2002-03. He was a five-time all-star, led the league in points and assists in his Hart Trophy season and goes down as one of the all-time greats. In fact, the only thing that could stop him was injuries, which unfortunately he suffered often.
Still, when he played, he was a magician on the ice, so signing him in the 2005 offseason at age 32 was well worth the risk for the Flyers. In his first season for Philadelphia, some 14 years after he was drafted by the franchise, Forsberg posted 75 points in just 60 games, was a plus-21 and led the Flyers to the playoffs, where he put up 8 points in 6 games. Sadly, the Flyers only played six games, getting bounced by the Sabres in the first round.
The next season disaster struck in Philadelphia, as the team plummeted to its worst season in franchise history, turned on Hitchcock and finished with the least amount points in the NHL. Forsberg still managed to notch 40 points in 40 games, but with the team in a rapid rebuilding mode during that terrible season, the Flyers traded Forsberg to Nashville for Scottie Upshall, Ryan Parent and two draft picks.
Forsberg certainly didn't deliver the team results he did for the Avalanche, but he was brilliant when he played. Hard to fault the Flyers for signing a guy who was considered the best player in the world at the time.
Petr Nedved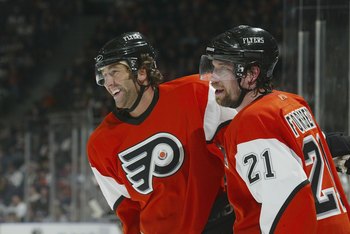 Nedved was an enigmatic personality. He was drafted second overall in 1990, but he never reached the superstar status expected of him. Yet he did have several very productive seasons, which is why I included him here. Nedved was a creative offensive player who scored at least 20 goals in 7 straight seasons and 8 overall with the Penguins, Rangers and Canucks. Four times he topped 30 goals, including his career high of 45. He was a very talented player with the puck on his stick.
So during Forsberg's first year, the Flyers brought in Nedved in January in exchange for Dennis Seidenberg. Unfortunately for the Flyers, Nedved's productive offensive years were well behind him. At 34, he basically had nothing left at all. In 28 games he had just 14 points and was a minus-8 after the trade, and the next season he struggled even worse, posting just 7 points in 21 games and skating to a minus-20 before the Flyers got rid of him. Everything about that season was a disaster, and Nedved was no exception.
So there you have it. The reviews are mixed all across the board as far as the Flyers bringing in past-their-prime stars. Hopefully Jagr will be more of the Amonte/Hawerchuk mold and not the Oates/Nedved. I know this much, I'm excited to find out.