Don't look now, but your 2011-12 Philadelphia Flyers are on pace to go 82-0 and this season. Maybe Mike Richards and Jeff Carter were the problem all along. Who knew?
Obviously, I'm kidding. As we are all way too familiar with at this point, hockey is a long, long season, one that can go from dominating the league to stumbling into the playoffs in a blink of an eye. But it's hard not to be encouraged by the first impression these new-look Flyers gave us, defeating the very team that eviscerated them in the playoffs en route to hoisting the Stanley Cup 2-1.
The game did not exactly start out as one would hope … in fact, it didn't even start remotely on time. The Bruins understandably held a ceremony to raise the banner for last season's champions, which is all well and good. But said ceremony was obnoxiously long, to the point where what seemed like a dozen people spoke, and it delayed the drop of the puck by more than a half hour. I have absolutely no problem with Versus televising this and the Bruins celebrating their championship. I'd expect the same thing if the Flyers were to ever win a Stanley Cup again. What I do have a problem with, a big problem in fact, is that the NHL and Versus insisted on telling me that the game started at 7. The puck didn't drop until 7:35 at the earliest. That's bullshit. Just tell me there will be a pre-game ceremony and that the puck will drop at 7:20 or 7:30, not 7. That's all I ask.
Also, fuck Boston, for real.
From there, things didn't exactly get a whole lot better. The Bruins came out and physically imposed their will on the Flyers early, the same way they did in the 2011 postseason. It really was looking like deja vu. And when Tyler Seguin sprung Brad Marchand, who streaked behind Kimmo Timonen, on the power play for the season's opening goal, I thought we may be in for a long night. I also thought about how much I really, really hate Brad Marchand. He may be my new least favorite player in the league now that Sean Avery is unemployed and Max Talbot is a Flyer (that still doesn't seem right).
Just try and tell me with a straight face that that guy doesn't look like a rat. You can't. The man has a rat face.
But after about the 10-minute mark of the first period, the Flyers looked to get their feet under them and even the play. Before it was all said and done, the Flyers started to take it to Boston. And then on their first power play of the year, Claude Giroux dazzled with a highlight-reel goal on a great pass by Jaromir Jagr.
It was Jagr's 1,600th career point, and the first of hopefully many in his Flyers career. Didn't take long for him to have an impact on the man advantage. And honestly, all game long, the chemistry between Jagr and Giroux was remarkable. It looked as though those two had been playing together all their lives despite the fact that Jaromir is almost old enough to be Claude's father. If Jagr can stay healthy and motivated all season, that line of Jagr, Giroux and James van Riemsdyk has the potential to be otherworldly.
That goal got the Flyers on the board with just 50 ticks left in the period, and just 47 seconds later, another newcomer made his presence felt, as Jakub Voracek turned and fired on a puck out front to beat Tim Thomas with just three seconds remaining, 2-1 Fly guys.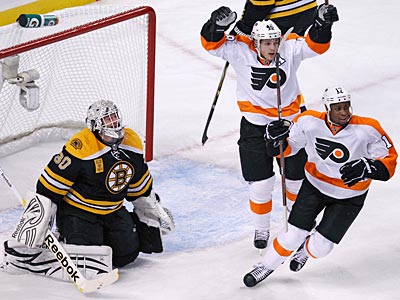 At the intermission, I was informed that the Flyers somehow did not score a single goal all season in the final minute of any period last year. I find incredibly hard to fathom, not scoring once in the final minute of any period in 82 regluar-season games and all the postseason contests, but apparently that was so. Then they went out and did it twice in the first game this season. Go figure.
That would be the end of the scoring on the night, but the game had plenty of action. The Flyers really stepped it up defensively after the initial push by the Bruins, holding Boston to just 12 shots through two periods. And when the team needed its new high-priced goaltender to come up with a big stop, he did.
Bryz looked to be as advertised last night. His defense limited the Boston shots early, and in the third period, as Boston was furiously trying to come back, he stonewalled the Bruins on all 11 shots. Only once all night did he even remotely have trouble with a puck, but he quickly pounced on it. I don't foresee too many problems in net this year, which is exactly why Bryzgalov was brought in.
Speaking of his defensemen, they were stout as always. Chris Pronger looked to be just fine, leading the Flyers in ice time, while Mezsaros, Coburn and Carle looked like their normal selves. And Timonen, despite getting beat on Boston's lone goal, was outstanding, doing a great job of shutting down the Bruins all night and even making a stick save on a would-be game-tying goal.
I really love watching that guy play hockey. His style is so understated, but he's so god damn good.
I have to admit, the team looked really sound fundamentally and played a good game. The newcomers fit in very nicely, with Max Talbot doing a great job killing penalties, Wayne Simmonds showing his strength and determination, and Voracek scoring in his Flyers debut.
But most impressive of all to me was the work of rookies Sean Couturier and Matt Read.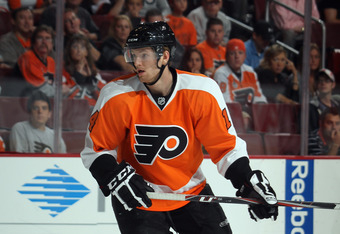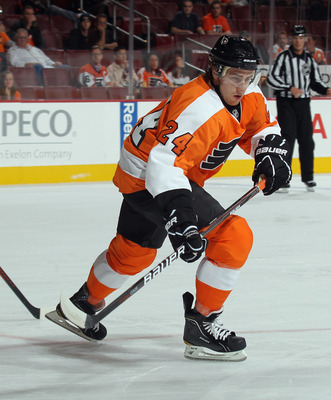 When the Flyers traded away Jeff Carter and Mike Richards, then let Darroll Powe walk and finally waived Blair Betts, I was admittedly concerned with who in the hell outside of Max Talbot and Claude Giroux was going to penalties. Enter the 25-year-old Read and 18-year-old Couturier.
Last night, Peter Laviolette used the two rookies all game on the penalty kill, to the point where in the third period, they saw more PK time than Giroux. Talk about confidence from the head coach, and why not? The youngsters did a great job. Couturier was often out there with Talbot, and that duo did a hell of a job to help the Flyers maintain their lead and win the game. Really strong debut for those guys.
And really strong debut from the team. Though I do have to point out that this team could potentially be the worst face-off team of all time. Claude is probably their best guy in the circle, and he's only OK. Briere is terrible, as is Talbot, and who knows what we'll get from the young guys. Last night it was a huge problem, as the Flyers only won 33 percent of the draws. That's gonna annoy the hell out of me, because I am
big on faceoffs
. The centers better work on that.
I do have to say that I disagreed with the commentary from Eddie Olczyk and Pierre McGuire regarding that hit by Zdeno Chara on Claude Giroux that wasn't called a penalty. I know Giroux kind of turned at the last minute, but Chara absolutely drilled him from behind right in the numbers a few feet from the boards. Last year, that was called boarding damn near 100 percent of the time, and it's why JVR jumped to the defense of his teammate to take on Chara and why Braydon Coburn sped in to do the same. I thought it should have been called.
Also, I found it extremely odd that when they mentioned that Zac Rinaldo was similar in stature and fearlessness to Rob DiMaio, they didn't even mention that DiMaio was a former Flyer as well. They only discussed his days as a Bruin.
Seems like they should have mentioned that DiMaio played for both the Flyers and the Bruins, not just the Bruins.
Regardless, I really enjoy listening to Doc and Olczyk call a game, and Pierre doesn't annoy me as much as he seems to annoy other people. Though I can't wait to hear Jim Jackson, Keith Jones and Bill Clement call games this year.
It's hockey season, everyone, and the new-look Flyers started it off on the right foot.