I'm not even going to attempt to break down the Sixers' mind-bending 92-83 victory Friday night to even up the series with the Celtics at two games apiece. The Sixers were down 14-0 to start the game, down 15 half and felt like they were down even more, yet somehow managed to win. I watched the entire game, and I'm still not entirely sure how it happened.

Nothing about that game made sense. I mean, Andre Iguodala even became supremely clutch, scoring five straight points and essentially putting the game out of reach. It was stunning, crazy and inexplicable, so there's no reason to do anything but marvel at this oddity of a game and enjoy.



However, there is something worth discussing here that everyone can make sense of - Doug Collins' blind loyalty twoard starting Elton Brand.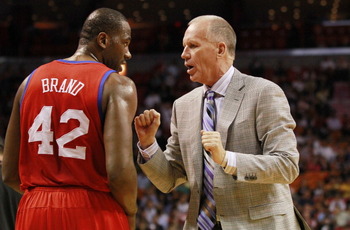 It was brought up during the broadcast by Doris Burke. Burke was discussing how well Lavoy Allen has been playing in the series, particularly noting how Kevin Garnett, who absolutely killed the Sixers in the first three games, struggled most when Allen was on the floor guarding him.

With that in mind, Burke said Doug Collins was going to try to manage Allen's minutes to mathc up with KG to have Allen out there whenever Garnett was on the floor. This makes a ton of sense, for obvious reasons.

Here's the thing ... Garnett starts the game. He is a starter for the Celtics. Lavoy is not a regular starter for the Sixers, and he was not out there to start game 4. This despite Collins' admission that he wants Allen out there whenever Garnett is out there to neutralize him as much as he can.




So why wasn't Allen out there to start? Because Doug Collins won't even consider starting the game with Elton Brand on the bench because he just couldn't do that to the guy. Burke said she asked Doug point blank if he has considered sitting the struggling Brand down and starting Allen, and he said not for a second.

Not for a second? Really? How does this make any sense to anyone? Listen, I respect the professionalism and hard work of Elton Brand as much as anyone. I wasn't a fan of the signing and didn't like him prior to becoming a Sixer thanks in large part to being a former Blue Devil. But since he's been here, he's been the utmost professional, never complains and goes about his business. Last year, he was quietly the team's best player. But let's face it, it's the end of the line for Elton Brand. He has absolutely no lift anymore. He can't consistently hit his jumper like he used to. His neck and other injuries have rendered him damn near useless on the court.

Meanwhile, Allen has been battling and giving Garnett fits when they're matched up. Collins even admits this. Yet he won't start Allen over Brand out of some misplaced loyalty. Burke found this admirable. I found it offensive.

A coach's job isn't to be the most loyal guy in the world. It's to put his team in the best position to win. Elton Brand was on the floor over Lavoy Allen as the Celtics were jumping out to a 14-0 lead. Lavoy came in and helped reverse that and cut into the lead for a short while. He's the guy who should be out there to start at power forward, not the broken-down Brand.

Everyone who has watched the Sixers this postseason and especially this series knows this. Hell, Doug Collins even knows this. But he won't pull the trigger on making the move that is so obvious it hurts to see it ignored.

Again, I respect Elton Brand to no end. He won me over, even though his contract has been an albatross and I think the Sixers should use the amnesty clause on him this offseason. And I love the passion Collins brings, the way he keeps his team fighting to the very end, the way he loves Philadelphia and the franchise that drafted him No. 1 overall, the way he's brought some excitement back to professional basketball in this city. But this is an area where Collins' loyalty to start Brand is putting the Sixers in a bad spot.

I know the minutes played and who is on the court come crucnh time are more meaningful than who starts and who comes off the bench, and Allen has rightfully been seeing the floor more than Brand. But maybe the Sixers wouldn't get themselves in these big holes if Collins made the switch from Brand to Allen in the starting lineup.

Then again, maybe not. Who am I to really say? After all, the Sixers are already farther along in the playoffs than anyone thought they'd be, and somehow they are just two victories away from the Eastern Conference Finals, somehow, some way.