Last night, I attended my first Phillies game of this slow-starting 2012 season. I might as well have just stayed home in my warm, dry living room, because what I witnessed was a travesty of logic by Phillies manager Charlie Manuel.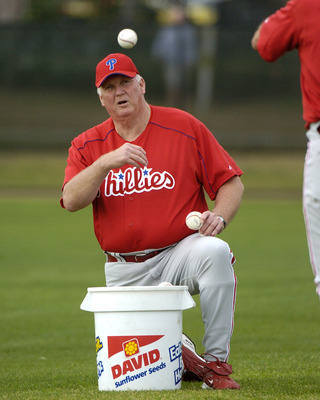 Things started out all well and good, with the Phillies scoring a run in each of the first two innings to take a 2-0 lead. Roy Halladay was mowing down Mets and cruising, even if he was throwing a decent number of pitches.
Then in the 6th, after getting two quick outs, Roy thought he had Mets leadoff hitter Andres Torres struck out. The home-plate umpire disagreed. I couldn't really tell if it was a strike or not from my seats, but Halladay was peeved. And he let it get to him. As in, he lost his cool, then lost his command, then lost Torres for the dreaded two-out walk.
Then some guy I never heard of with a long name singled, followed by David Wright smoking a double down the third-base line to tie the game. Roy went from a perfect 6th with a shutout intact to allowing the Mets to pull even in a matter a minutes. Not good.
However, the Phils came storming back an inning later, with Juan Pierre getting a leadoff walk pinch-hitting for Halladay, followed by a Jimmy Rollins single. Off to a good start. Here's the thing, because Charlie Manuel inexplicably batted the struggling John Mayberry second, a guy who probably hasn't bunted once in his entire MLB career was up in a clear bunt situation. It was an odd choice to hit Mayberry second to begin with, seeing as both Shane Victorino and Placido Polanco are much more prototypical two hitters, where Mayberry is much better suited for hitting down in the order (well, prior to this year, when he hasn't been suited to hit anywhere).
Now it all came to a head. The Phillies needed a bunt. John Mayberry most likely cannot bunt. And while he did square around at first, he ultimately swung away, flying out to shallow right and not even moving one runner, let alone both. Dumb move number one by Charlie. But hey, at least Mayberry made two very fine plays in the field.
The good news is that Shane followed with an infield single to load the bases with one out. Excellent. All the Phils needed now was for Hunter Pence, a guy who has power and certainly is capable of hitting it to the outfield, to hit a fly ball that didn't even have to be all that deep with Pierre on third. Instead, Pence hit a dead double-play ball because he's an undisciplined hitter. And while at first he was called safe by beating out the throw (he looked out to me in real time anyway), the run was wiped off the board as Victorino was called for being out of the base path on his breakup attempt or something. Or maybe the call was overturned. They don't tell us anything at the game, obviously, and Twitter was of little help.
Either way, double play, inning over, game still tied. Fantastic. Dumb Phillies baseball at its best. And it was only just beginning.
After Antonio Bastardo got through the 8th with no damage, the Phils started to get cooking again. Ty Wigginton led off with a single. Carlos Ruiz followed with a nice bunt that turned into a bunt single when the pitcher fell down. Then Polanco, who conceivably could have done this in the previous inning had he been hitting second, laid down a perfect sacrifice bunt to get Ty to third and Ruiz to second. Here's where Charlie made another stupid move.
We've all seen that Freddy Galvis cannot hit. Roy Halladay is almost his equal in average this season. So with Galvis up, naturally Charlie would pinch-hit for him right? Bring in Pete Orr and force the Mets' hand. That way, they can decide whether or not they want to take their chances with Orr or walk him to load the bases to bring the force at home into play. Instead, Charlie keeps in Galvis and the Mets wisely decide to pitch to him. Freddy has one of the most awful at-bats I've ever seen and grounds into a fielder's choice out by hitting the ball about 30 feet right back to the pitcher. Two outs. Awesome.
But wait, it gets even better. Laynce Nix stepped into the on-deck circle and was announced as the pinch-hitter. As expected, the Mets then brought in a lefty. Obvious, but sometimes those are the breaks. Nix is the team's best RBI man on the bench, he was brought in for this very type of at-bat, so you take your chances with him, right? I mean, the guy is one of the few Phillies actually hitting over .300 and he has 10 RBI in 50 plate appearances. He's the guy you want up there.
That is, unless you're Charlie Manuel, who decided to "go by the book" at the stupidest time ever. When the Mets brought in the lefty, Manuel replaced Nix, his best bench hitter, at least powerwise, and completely wasted him in a tie game in the 8th. And who did he replace him with? Erik Kratz, a 31-year-old who had a cup of coffee with the Pirates, where he sucked, and an even shorter cup of coffee with the Phils last year.
He's a career minor-leaguer. And since he's been called up, he hasn't gotten a single hit, entering the game with a .000 average in a couple appearances. Let me make this as clear as possible: Charlie Manuel wasted his best bench hitter in a tie game in the 8th in a clear RBI spot against a division opponent in favor a career minor leaguer who quite literally cannot hit. A braindead toad could not have made a dumber decision. Shockingly, Kratz struck out to end the inning. And by shockingly, I mean expectedly.
We all know the rest. The new closer came in in a non-save situation, sucked and gave up a home run to some scrub, a guy who had never had a Major League hit before in his life. Game over. After five years of being spoiled beyond belief, we have been reminded in this early going of what being a Phillies fan has been like the majority of my life, and the majority of their existence. Minus Utley and Howard and with an aging roster, they just aren't the fun, enjoyable team they've been the past half decade. That doesn't mean they can't turn it around, but right now watching the Phillies is like pulling teeth. And the dumb decisions by the manager aren't helping.