It wasn't that long ago that this stocky catcher who grounded into a ton of double plays and wasn't much of a threat at the dish came up to split to time with a cache of unimpressive catchers for the Philadelphia Phillies.

As two-time all-star and 1999 Gold Glove winner Mike Lieberthal's career was winding down, Phillies fans were falling in love with the underdog story of Chris Coste and the absurd mustache of Sal Fasano. That was the summer of 2006, and that same season, one Carlos Ruiz, a former infielder with little catching experience, came up and made his Major League debut in limited action.




Not much was made of the then-27-year-old backstop from Panama. The Phillies certainly weren't overly impressed with him, otherwise they would not have gone out and signed Rod Barajas in 2007 to be the starting catcher, with Coste as the backup. But pitchers notoriously hated throwing to Coste, and Barajas was a colossal bust. As in arguably the worst catcher in Phillies history. He's certainly the worst one I remember.




That opened the door for Ruiz, who played in 115 games and became the starter, mainly because the pitching staff absolutely loved throwing to him. In just his second year in the majors, Ruiz was already becoming excellent at calling a game. At the same time, he hit a respectable .259 with 54 RBI.

With that breakout performance, the starting catcher job was Ruiz's in 2008. But while he continued to be stellar behind the plate, he had an atrocious season in the batter's box. Ruiz, or Chooch as his teammates began calling him, hit a dismal .219, had a dreadful .320 on-base percentage and an even more dismal .300 slugging percentage. He hit just 4 home runs and drove in just 31 RBI in 117 games, while grounding into an absurd 14 double plays. The man just couldn't get the job done with the stick. But his defense was so stellar and his backup, still Coste, was losing his short-lived MLB talents. Thus, Ruiz was the man tabbed to handle the staff in the 2008 postseason.

Then a funny thing happened during that 2008 postseason. Not only did Ruiz help Cole Hamels become a household name and NLCS and World Series MVP, Brett Myers become stable, Jamie Moyer continue to defy age and Joe Blanton become unbeatable, but he began to come through with huge, clutch hits. Who will ever forget his walkoff swinging bunt to win game 3 of the World Series? Philadelphia fell in love with Chooch, who was integral to the Phillies becoming World Fucking Champions.




From that moment on, Ruiz has owned the catcher position here in Philadelphia and has done nothing to lose that spot. In 2009, he returned to his rookie year form at the dish - still not a great hitter, but respectable for No. 8, especially one who handled the pitching staff so well. And he continued to be clutch in the playoffs, earning the nickname El Senor Octubre. Cliff Lee came to Philadelphia via trade and turned in a couple of his most impressive streaks of his career throwing to Chooch, including his absurdly dominant 2009 postseason run.




Lee gave Ruiz a ton of credit for his success, and he wasn't the last star pitcher to do so. The following season, the Phillies brought in the great Roy Halladay. Pitching to Ruiz, Halladay, who had already won a Cy Young in Toronto, did a couple things he'd never done. First, he threw a perfect game against the Marlins. Then he made the playoffs for the first time, and in his postseason debut tossed a no-hitter against the Reds, giving a Chooch a huge hug.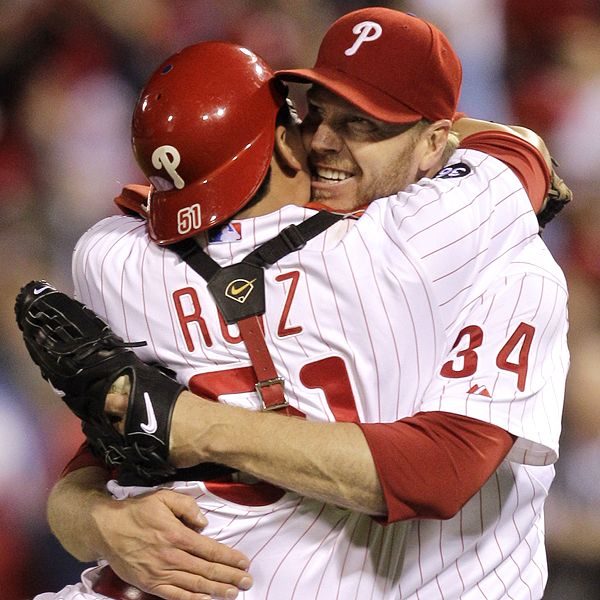 Halladay took home the NL Cy Young in his first season in Philadelphia, and he gave a ton of the credit to Ruiz, a catcher he said he rarely ever has to shake off. The bond grew strong between the two. Real strong.



That same season, Ruiz did something no one expected. He became a disciplined hitter, one who stopped swinging at everything and started working counts. And what a difference it made. Ruiz incoceivably became a .302 hitter and quite literally became as difficult an out as the Phils had on their roster, a huge luxury for the 8-hole hitter.

Last seaosn, he continued to impress, batting .283 while still doing a marvelous job with the talented Phillies pitching staff.

And so far in 2012, with the Phillies desperately needing someone to step up offensively due to the absence of Chase Utley and Ryan Howard, Ruiz is turning in his best season yet at the age of 33. As of today, Chooch is leading the Phillies by a large margin with a .363 average, .405 OBP, .619 slugging percentage and 1.024 OPS, blowing his career marks out of the water in the early going. He leads the team in hits and RBI, truly flourishing at the plate and behind it. So much so that there isn't a catcher on the planet having a better season.

Ruiz leads all MLB catchers in average, slugging, OPS, hits and RBI. He's second in home runs and on-base percentage. And his defense hasn't dropped off a lick. The man has gone from an afterthought, late-season call-up, a guy who wasn't supposed to amount to much, into the best catcher in 2012 thus far. He's transformed from an unknown to the most beloved player on the team. He's gone from a good defensive catcher with little offensive game to an excellent hitter capable of winning a Gold Glove at the same time.

All of the sudden, the Philadelphia Phillies are Carlos Ruiz's team. He's the one keeping this team afloat and giving fans a reason to still tune in. He's the one leading the way. Who would have ever thought that just a few short seasons ago?