Last night, there was an air of excitement at Citizens Bank Park that has been absent pretty much all season long. The return of Chase Utley brought about an anxiousness and bout of raw energy that had been slowly dissipating with the early-season struggles and injuries.
And the decibel level only ratcheted up even more when, almost as if scripted, Utley homered deep to right field in his very first plate appearance of 2012, the prodigal son returned to save the save season.
The place was ready to explode, Wheels and McCarthy were flabbergasted and Twitter was blowing up. Chase is back. Maybe this team isn't dead in the water after all.
Then when Carlos Ruiz, easily this team's MVP this year, followed it up with a homer of his own, there were visions of revitalization and winnings streaks dancing all over Phillies' fans heads.
The juice was back in the lineup, Chase was here to save the day, with Ruiz continuing to lead, and both Ryan Howard and Roy Halladay on their way in the near future. Given all the despair this year for the Phils, fans were ready to embrace anything, ready for some small amount of hope to cling to. Chase provided that, and Chooch gave reassurance that better days were ahead.
Then the bullpen happened. For some insane reason, the Phillies decided to compensate for Sunday's double header screwing up the rotation for yesterday by tossing out a bunch of bullpen pitchers instead of calling up some guy from Lehigh to throw 5 innings. You know, because the Phillies' bullpen has been so awesome this year.
As you can imagine, this did not turn out well. At all. And to make matters worse, the game swung on the stupidest pitch of the season to date. The very next at-bat for the Pirates, Raul Valdez did everything in his power to throw all that momentum and excitement Chase and Chooch had created right out the window.
He began with the ultimate no-no, walking the leadoff batter. Then after Ruiz bailed Valdez out by gunning down Casey McGehee on the base paths, he went and walked Neil Walker. Great start. Still, he managed to strike out Pedro Alvarez because Pedro Alvarez strikes out all the time, two outs. After surrendering a single to Jose Tabata to put two on with two out, up came the 8-hole hitter, Michael McKenry. McKenry worked a full count with the pitcher on deck. Naturally, any pitcher on the planet would know not to throw a strike, hope McKenry chases but if not, the pitcher comes up with the bases loaded and two outs. Any pitcher except Raul Valdez, that is. Because Valdez stupidly threw a meatball, which McKenry crushed for a three-home home run to give Pittsburgh the lead and suck all the life out of Citizens Bank Park.
Fantastic. Valdez quite literally did the only thing you absolutely cannot do in that situation, and it killed the Phillies. From there, the wheels fell off completely, which is to be expected given the game was in the hands of this pathetic bullpen the entire way.
Joe Savery came in and matched Valdez's futility by surrendering a homer to McGehee and even giving up a god damn RBI single to opposing pitcher James McDonald. Savery, with the help of Michael Schwimer, allowed Pittsburgh's lead to balloon to 8-2 in true Phillies fashion. Nothing like having three minor-league pitchers entrusted with the first five innings of the ball game instead of, you know, just one minor leaguer that is actually a starter. I still can't believe that there isn't some guy in Lehigh, some starting pitcher that could have gone out there and given a better effort than this pathetic bunch. But there must not be, because Charlie Manuel and Ruben Amaro made no moves in that department, handing the ball to terrible pitcher after terrible pitcher instead.
However, the game was almost salvaged. Looking a lot more like the team from the past five seasons than the team so far in 2012, the Phillies staged a furious comeback, led of course by Chase and Chooch. Two runs in the 6th gave the Phils life, and in the 7th they made their move. Hector Luna reached on an error to lead things off. Jimmy Rollins followed with a triple to make it 8-5. Juan Pierre followed with a single to plate Rollins, 8-6. Chase made it back-to-back singles, putting runners on first and third with no outs, and Chooch came through yet again, making it three singles in a row and four straight hits to plate Pierre, 8-7 Phils with runners on fist and second and no one out. This was the prime opportunity to tie it up or take the lead and have something to build on.
So of course, Hunter Pence struck out with what can only be described as a horrendous at-bat, flailing at balls nowhere near the strike zone because he is a painfully undisciplined hitter.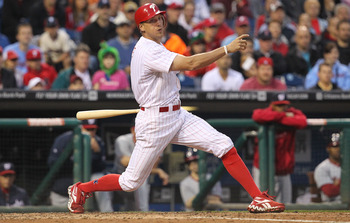 I mean, it was just a brutal at-bat in a huge spot. Listen, I know everyone in Philadelphia was clamoring for Pence last season and instantly fell in love with the guy due to his quirkiness, his catchphrase and the way he hammered the baseball for the Phillies last year. And he's a good player, no doubt. But he is just a stupid, stupid player. A guy who has absolutely no clue about situational baseball, no clue about the strike zone and no clue how to play the outfield. He's incredibly talented and aggressive, and he's most certainly a good player, but he drives me fucking crazy. Last night was exhibit A.
That at-bat single-handedly killed the rally, as Shane Victorino continued to be worthless from the left side of the plate with a fly out and Jim Thome striking out to end the threat. Runners on second and first with no outs in a one-run game in the 7th, and Utley and Ruiz never even moved a base. Situational baseball, the Phillies suck at it.
That sequence was pretty much the game at that point, because the Phillies then handed the ball to Chad Qualls, also known as the worst free-agent bullpen signing in Phillies history, and that includes Ryan Franklin.
Qualls predictably got hit around, surrendering three runs to put the game out of reach, including a bomb by Andrew McCutchen. McCutchen also made an absolutely ridiculous catch to top off his night. As I was watching, I concluded that I'd trade the entire everyday Phillies roster for McCutchen. That guy is good.
The Phillies, well, they are not. With that predictable but nonetheless disheartening loss, the Phillies are once again 9 games out of first and 7.5 games out of the wild card. Their bullpen is a collection of minor-league talent and washed-up veterans, plus Jonathan Papelbon. They still are horrible at situational hitting, and their defense is shoddy anymore.
Now, there's still time to right the ship, still reinforcements on the way, but let's be real, this team cannot do a damn thing with a bullpen this pathetic and a lineup with so many limited players. Ruben simply didn't do enough to fill out the roster from top to bottom. This team still has the starting pitching with Hamels and Lee and Halladay on the way. It still has players who can hit. But it is a flawed team, one that doesn't instill a lot of hope here in 2012 given the way things have gone so far.
Last night, we briefly had a glimpse of that elusive hope. Chase and Chooch led a furious charge and a furious comeback. But they couldn't overcome a terrible bullpen and flawed roster, and it's going to take a lot for the Phillies to compensate for those things the remainder of the season.