Yesterday news broke that the Texas Legends of the NBA D-League were ramping up their season-long pursuit of Allen Iverson. The Legends had signed Delonte West and Rashad McCants, and had just had one of their players, Mike James, promoted to the NBA. The Legends had hoped that the prospect of playing in the D-League with guys with NBA experience combined with proof that they can put guys in the NBA would convince Iverson to join them as a stepping stone to an NBA return.
This would have been awesome on several levels. One, having Iverson on the same team as Delonte West has the potential to be top-notch entertainment, especially off the court, considering the personalities and histories of the two guys. Second, and more importantly, it would be awesome to see The Answer back on a court again, on American soil, and to see what he has left.
The rumor was tantalizing. See, I love Allen Iverson. He is my favorite athlete of all time. And I want nothing more than to see him finish his career in the NBA, to finish it the way a player of his caliber and accomplishments should finish it.
Unfortunately, it doesn't appear that it is going to happen. Today,
via Twitter
, Iverson turned down the of
fer. "I thank Donnie and Dallas for the consideration and while I think the D-League is a great opportunity, it is not the route for me." To say I was disappointed would be an understatement.
And now you will see me be as critical of Iverson as I ever will be. The Rev can attest to my love of Iverson and to the fact that I will argue for hours against those who dislike Iverson or fail to recognize his accomplishments and greatness. But I have a small beef with the man over the current situation.
Iverson has stated again and again that his dream is to finish his career in the NBA. He has said he still has what it takes to be a productive player, that he understands his past mistakes and is willing to play whatever role is asked of him, that he just wants to end his illustrious career in the NBA and help a team however he can. He continued his tweet turning down the offer with this ... "I realize my actions contributed to my early departure from the NBA, should God provide me another opportunity I will give it my all ... My dream has always been to complete my legacy in the NBA."
This is where, perhaps for the first time since the little 6-foot guard from Georgetown exploded onto the scene in Philadelphia and captured the attention and imagination of a young Sixers fan, I have a problem with Allen Iverson. To me it seems that if all this finishing in the NBA stuff were true, then this would be the perfect way to get there. He mentions "should God provide me another opportunity." Well it could be argued that this is that opportunity.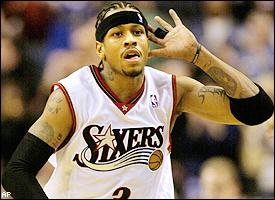 I understand that this is solely Allen Iverson's decision, and he has every right to do what he wants. And I understand that we are talking about a four-time scoring champion, an 11-time All-Star, a former MVP, and that maybe he feels above the D-League, or maybe he feels embarrassed to have to go there. I will never know the true reason why he turned down the offer, but it appears pretty evident that an NBA team isn't gonna just knock on his door and offer him a contract.
I just wish he could put his pride aside, or put aside whatever it is that led him to this decision, because I honestly think that this would be his best chance at making a return to the NBA. And I want nothing more than to see this warrior, this incredible little lightning bolt, this man who amazed and entertained and inspired me for over a decade, to finish his career in the proper way, in the NBA.