In the coming weeks/months, with basketball and hockey going the way of football and nothing happening except the dog days of summer, I'll be publishing my own personal lists of my five favorite and five least favorite players of the four major Philadelphia sports franchises.

Read the first installment here.
With Brett Myers facing hip surgery that could potentially end his season, everyone and their mother is writing about the Phils needing to get another starter, especially going all in to try and persuade both the Padres and Jake Peavy to ship the 27-year-old ace to the Phils. And that's 100 percent true. They do need to get at least one other good starter, especially with Brett's situation, and yes, I would mortgage the farm for Peavy, if he'd come. But enough of that. There are plenty of sites covering that.
No, today, since it's Friday and I'm feeling like doing what I want, and since the Sixers are in the news with their coaching search, I've decided to tackle my favorite Sixers of my lifetime in part 2 of the Reverend Rankings. I eagerly anticipate your mocking responses.
1. Allen Iverson
Really, is there any explanation necessary? I don't think so, but here goes anyway. Allen Iverson is the single most controversial figure in Philadelphia sports during my lifetime. There's no two ways around it. For all the hoopla Terrell Owens created in his brief stint in Philadelphia, Iverson did it better for longer. He is, without question, the most polarizing Philadelphia sports figure of my lifetime.
Now, the naysayers love to point out how Allen Iverson was selfish, lazy, never
practiced
, couldn't co-exist with other scorers, dominated the ball, and on and on and on. All true. All valid. But those of us that grew up with the Sixers being truly one of the most putrid franchises in all of sports during our childhood, it's hard not to look at Allen Iverson in amazement, in awe.
Say what you will about his practice habits, but come game time, there has never been an athlete that has competed with every ounce of his energy every single second during every game more than Allen Iverson. Watch any game during his tenure in Philadelphia, and there's no way you can question his heart, his desire once that ball was tossed in the air.
The biggest little man to ever play this game took a franchise that was beyond dead first to the playoffs, then to the best record in the Eastern Conference, to the forefront of Philadelphia sports, a near impossibility, then to the NBA Finals. He won Rookie of the Year, the MVP, two All-Star MVPs; led the league in minutes played twice, steals twice, total points once, minutes per game 5 times (six if you count the year he was traded to Denver), points per game four times and steals three straight seasons while in Philadelphia.
He single-handedly transformed the perception of the Philadelphia 76ers. He is the greatest 76er of my era, bar-none, a surefire Hall of Famer, and the most exciting athlete Philadelphia has seen in decades.
And if that's not enough reason for me to love Allen Iverson, check these out:
2. Theo Ratilff
When the Sixers traded Jerry Stackhouse to the Pistons for Aaron McKie and Theo Ratliff, I was a little torn. I was elated that McKie, the Temple product and Philly native, was coming home, but I didn't know much about Theo beyond his athleticism, and being a Tar Hell fan as well, I was sad to see Stack go. Clearly, he had to, because he and Iverson didn't mesh, but still.
Well, turns out, this was a steal, and immediately, Ratliff became my second favorite Sixer with his insane leaping ability, tremendous hustle and dominant shot-blocking ability. During his time as a Sixer, there wasn't a better shot-blocker in the NBA, and no one could bounce back up a second time better than Theo.
The year Ratliff was traded to the Sixers, 1997-98, he finished 4th in blocks per game at 3.1. In 98-99, he was third at 3 a game, and fourth in 99-00 again at 3. Then, in the Sixers' run to the Eastern Conference Championship, Theo led the league in blocks per game at 3.7. Sadly, injured just before the All-Star game, which he was elected to, Theo was traded for Dikembe Mutombo shortly after, missing the glorious run. However, he was an integral part, establishing the Sixers as the best team in the East from the beginning of the season. He went on the lead the league in blocks per game the next two season as well, and he's a guy I absolutely love.
I was
elated
when the Sixers re-signed him, and if anyone has a No. 42 Theo Ratliff Sixers jersey, I will pay good money for it. For real.
3. George Lynch
I have an affinity for defense. This is no secret, and that certainly helps explain why Theo is my second favorite Sixer and, here, why George Lynch sits at three. Along with Aaron McKie (who just missed the list, by the way; I have him at 6), George Lynch was the Sixers' best perimeter defender, able to defend just about anyone on the court. As you can see pictured above, Lynch tangled with the likes of Tracy McGrady and typically the opposition's best offensive threat, especially if that threat was a small forward.
Lynch was a tenacious defender who also could hit the outside shot ("Lynchburg") and provide all the intangibles teams need to win. There was nothing glamorous about his game, but he was the heart and soul of Philadelphia's defense during his three seasons as a Sixer. Need a rebound? George has got it. A bucket? He could provide that. Steal? Check. Assist? Sure. Lock down defense? Absolutely.
After Lynch got injured in the 2001 playoffs, Larry Brown and Billy King traded him, the epitome of a Larry Brown player that "plays the game the right way," for Derrick fucking Coleman, the laziest piece of shit to ever lace up sneakers. This infuriated me to no end, because Lynch was a much better player than people think and could really get into the head of the players he guarded. Just ask Chris Webber.
4. Dana Barros.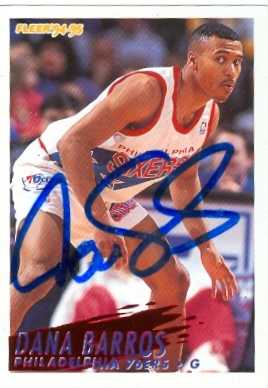 Dana Barros only spent two season as a Sixer, and the team was absolutely horrible. But being a short three-point gunner myself when I play basketball, I was instantly drawn to the 5-11 guard who could hit a shot from anywhere on the floor. Honestly, he was the only Sixer worth watching at the time. Sure, Clarence Weatherspoon was a nice, hard-working player, but exciting he was not. Barros provided what little intrigue there was for that team as a deadly three-point shooter (38.1 percent and 46.4 percent in his two season in Philadelphia) and dynamic scorer (20.6 ppg in 94-95).
For a guy with a girl's name, Dana was all right.
5. Hersey Hawkins.
Honestly, I was a little too young to really appreciate the Sixers during the Barkley/Hawkins era, but Hersey Hawkins makes this list for one reason and one reason only: He was a beast in
Tecmo NBA Basketball
.
Honestly, I would play this game on Nintendo nonstop as a youngster, and Hersey Hawkins, who really was an incredible shooter, was deadly from three in that game. If there's one thing you should know about me, it's that I absolutely love great shooters and great defenders when it comes to basketball. Or is that two things? Whatever. Hersey Hawkins was the shit.
There it is, my five favorite Sixers of my era.