With Jamie Moyer getting crushed last night in a 9-2 loss to the Dodgers, the Capitals completely shitting the bed in a horrendous 6-2 game 7 drubbing by Pittsburgh and the Nuggets taking apart the Mavericks 124-110 in one of those annoying games where the score always seemed be between 7 and 14 points in favor of Denver, there wasn't much excitement last night.
So I thought it would be a good time to address one of the Flyers' biggest needs. Of course, Paul Holmgren and company have a lot of work to do, most notably deciding on and signing a goaltender, and beyond that, the majority of discussions have centered on the defense. But the one area that's really not getting much play is this team's desperate need in the faceoff circle.
The Flyers were a completely dreadful faceoff team this season, winning just 48.3 percent of draws, 22nd in the league. That number got even worse in the playoffs, winning just 44.3 percent of faceoffs against the Penguins. Not a single Philadelphia center finished above 50 percent in the regular season, as Mike Richards led the Flyers at 49 percent. Jeff Carter was second at 48.3 percent. In the playoffs, no Flyer did better than 44.3 percent, and that number came from rookie Claude Giroux. Richards finished at 44 percent and Carter at 41.9 percent.
Certainly, these guys need to improve in that area, and as Sidney Crosby has shown, you can learn to win faceoffs. He came in as a youngster who couldn't win draws. Now he's one of the better centers in the league at winning them. If they work on nothing else this offseason, Carter, Richards and Giroux should devote a lot of energy to faceoffs. The failure to win them really cost the Flyers quite a bit this year, especially in the playoffs.
But no matter how much the guys improve, it would be wise, in fact, I think it's necessary, for the Flyers to bring in a proven guy who can win a draw when you need it. A guy who can be put out there for every major faceoff—a guy like Keith Primeau, Eric Lindros, Joel Otto and Rod Brind'Amour (who led the NHL in faceoff percentage yet again this year, by the way, at 61 percent).
The good news for the Flyers is there are plenty of guys out there they can get. In an ideal world, they'd be able to go after unrestricted free agents like Saku Koivu (54.1 percent, good for 15th in the league) and Keith Tkachuk (51.4 percent), guys who not only win faceoffs, but are all-star caliber players. Of course, with the salary cap, signing a guy like Tkachuk or Koivu is out of the question for the Flyers.
But there are some guys to be had at reasonable prices. Here's a list of the top 5 centers the Flyers should target for those elusive faceoff wins:
1. Radek Bonk.
The 33-year-old Nashville center should be tops on the Flyers' wish list. An unrestricted free agent in 2009, Bonk finished third in the NHL in faceoffs at 59.9 percent, trailing only Brind'Amour and Detroit's Kris Draper (60.3 percent). Assuming the Flyers make a few moves and give themselves a little cap flexibility, Bonk is a perfect fit. Last year he made just $1.4 million and for his career has averaged $1.6 million per year. Very reasonable price for one of the game's best faceoff men.
2. Samuel Pahlsson.
Pahlsson, an unrestricted free agent, is another guy who would be an excellent fit, and again, he comes at a very reasonable price, making just $1.4 million this past season, the same amount he has averaged for his career. Pahlsson won 53.5 percent of his faceoffs this season for Chicago, and at 31, the guy still has enough left in the tank to give some quality shifts on the fourth line.
3. John Madden.
Madden seems like he has bean a New Jersey Devil forever. That's because he has. The 36-year-old has been a thorn in the Flyers' side since 1998, and now, finally, he's hitting the open market as an unrestricted free agent. His price tag is a little higher than the two guys above, making $2.9 million last season, the same as his career average, but if the Flyers can generate enough cap space, he's the type of guy they could really use.
Madden won 51.6 percent of his faceoffs in the regular season and upped that to 54 percent in the postseason. He's a seasoned veteran with a ton of playoff experience, and his versatility and leadership would suit the Flyers well. Madden is an excellent penalty killer and has a scoring touch, and his age, playoff wisdom, Cup experience and respect across the league would really go a long way in the young Flyers' locker room.
4. Tomas Plekanec.
At 26 years old, Plekanec has a long career ahead of him. Given his age and the age of the Flyers, he'd fit in well as a guy who could grow with the team. Problem is, the Montreal Canadien is a restricted free agent, meaning Montreal can match any offer. The good news is Plekanec made just $1.6 million this past season and has averaged $1.8 million for his career. That's a price the Flyers could pay, but Montreal may not allow that to happen.
Plekanec won 50.6 percent of his faceoffs during the regular season, but he showed in the playoffs he can really turn it up when it matters. In the Canadiens' first-round loss, Plekanec won an astounding 66.7 percent of his faceoffs, tops in the NHL postseason. At 26, you'd think he'd only get better at them with age.
5. Mike Sillinger.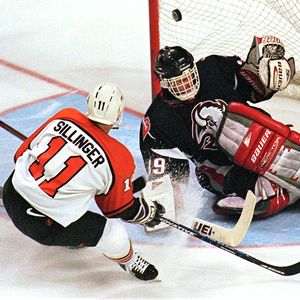 Former Flyer Mike Sillinger only played 7 games this past season due to a hip injury, but in those games, he was his dominant self in the faceoff circle, especially the last five games (I couldn't find any faceoff stats for his first two games, go figure). In those games, Sillinger won 73.3 percent of draws against Toronto, 64 percent against the Flyers, 52.6 percent against Pittsburgh, 50 percent against Toronto and 52.6 against the Rangers.
During the 2007-08 season, in 52 games, he won 56.3 percent of his draws, good for 8th in the NHL, and from 2000-01 to 2006-07, Sillinger won at least 55.9 percent of his faceoffs every year, finishing 3rd in 2007 (58.8 percent), 8th in 2006 (55.9), 9th in 2004 (56.8), 13th in 2003 (56.5), 8th in 2002 (57) and 3rd in 2001 (60.3). Basically, Sillinger is as good as it gets in the faceoff circle. He did make $2.2 million last year and has averaged $2.3 million during his career, and he is a guy, when healthy, that can be a very strong penalty killer. But in his advanced age, 37, and coming off an injury, his price should drop a bit as an unrestricted free agent. Again, with his experience and demeanor, he'd be a welcome addition to a young Flyers' locker room.
There you have it. Five guys out there that the Flyers could potentially get, all at fairly reasonable prices. And they should get one of those guys above if they have any hopes of making a strong push toward the Stanley Cup. Yes, the Flyers need a goaltender and help on defense, but they cannot overlook the importance of a dominant faceoff guy, especially after a historically bad season in the circle.