A week ago, Evan Turner finally cracked the starting lineup for the Philadelphia 76ers. And while he struggled mightily with his shot (1-12 for just 2 points) in the 97-93 loss in Milwaukee, he did collect 12 rebounds and dish out 4 assists … while also getting a jolt of confidence that's resulted in an immediate change to Turner's game.
In his second start, a 103-71 rout of the Celtics to maintain first place in the Atlantic Division and make a statement, Turner was the best player on the floor. He broke out with his best offensive performance of his career, scoring a game-high and career-high 26 points on 11-19 from the field, while hauling in 9 rebounds and dishing out 2 assists. Perhaps even more impressively, however, Turner completely shut down Rajon Rondo on the other end, limiting the talented Boston point guard to one of his worst outings of the season — 5 points and 8 assists on just 2-6 shooting.
And Turner has only grown from there. He followed that up with 16-12-6 in a win over Utah, and then lit up the Knicks yesterday, scoring 24 points on 9-14 from the field and nabbing a game-high 15 rebounds.
Since being inserted into the starting lineup one week ago, Turner is averaging 17 points and 12 rebounds. Take away that Milwaukee game, and he's averaging 22 and 12. All this really begs the question, what the hell took Doug Collins so long to get Turner in the starting lineup? It's a question Sixers fans have pondered for the past season-plus, as we watched the below-average Jodie Meeks continue to get too many minutes and the majority of starts in his place.
Now, it's safe to say there's no turning back for Evan. He's in the starting lineup for good, and he's earned it.
However, with the good news of Turner's rapid ascent and impressive play of late comes the other side of the coin — Jrue Holiday's struggles with Turner on the floor.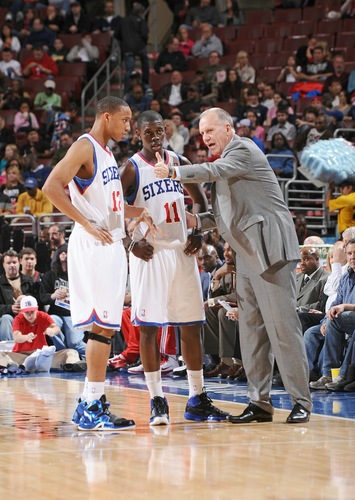 As Turner has turned his game up a notch and flourished in his starting role, Holiday has fallen off the face of the planet. Truth be told, more was expected out of Holiday in this his third season than he was delivering before the lineup change, but he was still slowly progressing, and most importantly, he was taking care of the basketball while running Philadelphia's offense. That has changed drastically since Turner has become a starter and seen increased minutes.
The reason is simple enough. Evan Turner is at his best with the ball in his hands. He's a playmaker himself, one who looks to get in the lane and create his own shot, or at times find his teammates. Being an elite rebounder at the guard position, he also likes to take the ball from end to end. That's Evan Turner at his best, and with Andre Iguodala also providing another strong ball-handler who can facilitate the offense, it's left Holiday hung out to dry.
Like Turner and Iguodala, Jrue is at his best with the ball in his hands. He is a point guard, after all. Yet with Turner needing the ball in his hands and playing so well, and Iguodala occasionally taking the ball up the floor himself, Jrue has been tasked with running off the ball and playing more of a traditional 2-guard role. The good news is that this role is not something Holiday is unaccustomed to. During his one season at UCLA, Holiday played out of position at two-guard, ceding the point guard duties to senior leader and current Indiana Pacers starting point guard Darren Collison.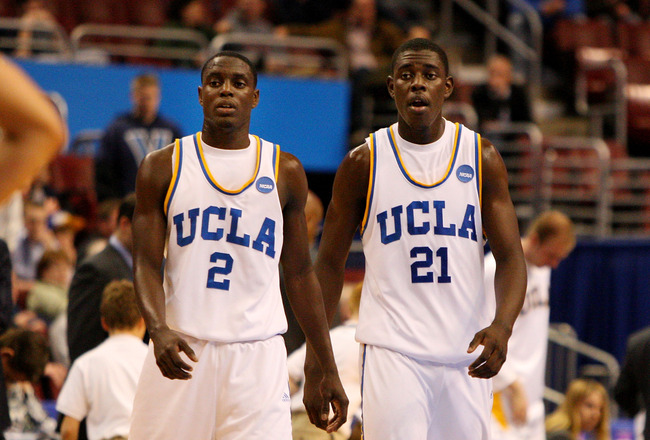 Here's the thing: During his one college season, Holiday did not quite meet expectations playing out of position. As a result, his draft stock dropped from a sure-fire top 10 pick to falling out of the lottery and to the Sixers with the 17th pick. Clearly, Jrue did't reach his potential playing two-guard at UCLA, and since he was expected to be one of the best point guards in his class coming out of high school, that made sense. Jrue Holiday was a point guard, he'd play point in the NBA, so with the switch back to the point at the next level, the sky was the limit.
But now, with Turner needing the ball in his hands, and Iguodala needing the ball in his hands, Jrue has been forced back to the role he didn't fully master at UCLA. He's miscast again, forced to run off the ball more than he ever has in his NBA career, essentially going from point guard to shooting guard. And much like his stint in Westwood, Holiday is struggling with his new/old role.
In the week that Turner has been starting, Holiday's numbers have plummeted. He's averaging just 10.5 points and 4.5 assists during that span, shooting a ghastly 34.7 percent, a number that gets even more troubling if you take out his one good shooting night — a 16-point game against Utah where he shot 7-11. Take out that outing, and his numbers are even more staggering: 8.7 points, 4.7 assists and just 26.3 percent shooting (10-38).
That's troubling news, no matter how you slice it. Now, it's been absolutely wonderful to see Turner thrive the past few games. He's been truly impressive, arguably the best Sixer since he's been inserted into the starting lineup. Suddenly, he looks every bit like the No. 2 overall pick that he was, the guy who dominated at Ohio State en route to being named the National Player of the Year. At the same time, it's difficult to watch the team's 21-year-old point guard regress while trying to adjust to Turner's style of play.
The good news is that it's so early in the process there's more than enough time for Holiday and Turner to get used to playing with one another. Given the talent of both, they could very well figure it out. Jrue certainly hasn't complained, at least publicly, and while he's struggling with his shot and looking like a forgotten man at times, he's still doing a decent job of taking care of the ball and setting up teammates in his now limited touches. However, it's hard not to look at Turner's style of play and see a clash with Holiday, which could have all sorts of future implications.
Clearly, just one week in, it's entirely too early to make any substantial long-term predictions. And it's been a blast watching Turner assert himself and start playing like the guy everyone expected him to be. It certainly will be interesting to see how it all plays out. Will Turner and Holiday be able to maximize their abilities playing side by side as the backcourt for years to come, or will it be more like a Stackhouse-Iverson situation, where their styles just didn't mesh?
I'm hoping for the former, because I really like Jrue and love what Turner brings to the table. These are two young, talented guards that could be building blocks toward becoming a consistent contender — but only if the two can co-exist.