I like Doug Collins. A lot. He's a done masterful job with the Sixers here, taking them from floundering in mediocrity with seemingly no end in sight to a team that is exciting, young and on the right path. Yes, they are still pretty mediocre due to their lack of any sort of superstar, but they play a fun brand of basketball, work hard and seem to like each other. That's all a credit to Doug Collins, no question about it.
Here's the thing, though. Right now, as the Sixers continue to fall back down to earth and are now in a three-team dog fight for the Atlantic division, we're beginning to see some of the reasons why a coach with as good of an overall record as Doug Collins (.533 winning percentage) has never lasted more than three seasons in one city. He toys with players' minutes (Evan Turner), stays loyal to guys who have no business getting that loyalty and throws out the playbook in the fourth quarter. Last night was just another example, as Doug Collins' bizarre (see stupid) coaching moves cost the Sixers a huge game against the Knicks as much as the team's horrid shooting did.
One of the glaring things about last night's 82-79 loss was that both Nik Vucevic and Lavoy Allen did not see a single second of action. This despite the fact that starting center Spencer Hawes, who just recently returned from an achilles injury and is still working his way into shape, was absolutely awful and played less than 20 minutes, and despite the fact that the Knicks absolutely abused the Sixers inside in the second half, turning a rebounding deficit of around five into outrebounding the Sixers by eight before it was all said and done.
This, quite frankly, makes no sense whatsoever. Granted, Elton Brand had a very good game, notching a double-double and doing some work on the defensive end with two steals and five blocks, but with Hawes struggling and the Knicks taking command of the paint, the two rookie bigs were nowhere to be found. Instead, Collins opted to go small most of the night, to dire consequences. It's almost as if now that Hawes is back, Collins has forgotten all the good work both Vucevic and Allen did while Spencer was hurt.
Admittedly, Allen's time was already decreasing before Hawes got back. That was due to a combination of his struggles offensively and Brand starting to find his game again. Still, the kid has played really hard and really smart when he's had the opportunity, and he still is a decent post defender and rebounder — something the Sixers really could have used last night. As for Vucevic, he showed a lot during the absence of Hawes, proving he has a lot of versatility offensively and moves well for a big man. Yes, he's had his ups and downs, which is to be expected for a rookie center. But he's given the team quality minutes really all season long. And yet, there those two were, wasting away on the bench as Hawes played as horrible of a game as he's ever played in a Sixers uniform and the Knicks took advantage of their size. It was beyond a baffling decision.
Hell, in that dreadful first quarter where the Sixers missed their first 14 shots with Hawes quite literally at the center of the struggles, I was calling for Nik or Lavoy to get in the game. I mean, Hawes couldn't even come close to hitting a shot, Tyson Chandler made a fool of him on consecutive blocks and you could just tell it wasn't Spence's night. Yet Vucevic and Allen never had their numbers called. I don't get it.
Then there's the use of the bench. In the first half, it was Thaddeus Young who helped kickstart the dormant Philadelphia offense. He wasn't shooting the ball well, but he was one of the rare Sixers attacking the New York defense and being active. So naturally, as crunch time came, there was Thad sitting on the bench as Jodie Meeks was out there in his place. I get it, Jodie had as good of a game as Jodie Meeks can possibly have. He hit a couple threes, even took it to the rim a few times, and clearly had his confidence going. But unless you absolutely need a three in the closing minutes, there's no reason that Jodie Meeks should be on the court in crunch time, especially over an active, versatile and far superior player like Thaddeus Young. Only for some reason, Doug Collins disagreed with that last night, as Young was glued to the bench for almost the entire fourth quarter. What the hell? No one wants to see Jodie out there over Thad. No one.
Oh, and there's also the whole fiasco that is the Sixers' fourth-quarter offense. Everyone who has watched the Sixers for more than a game or two knows that this team is at its best offensively when everyone is sharing and moving the ball. It's at its absolute worst when it tries to set up isolation plays with everyone else standing around. And yet more and more as this season wears on, Doug Collins increasingly puts the ball in Lou Williams' hands in isolation situations during the final quarter. More times than not, Lou is chucking up a shot, because that's what Lou does, and at least 50 percent of those are horrible shots to take. It's incredibly putrid basketball, made even worse by the fact that Collins keeps taking the ball out of his young, talented point guard's hands — even when Jrue Holiday is playing really well.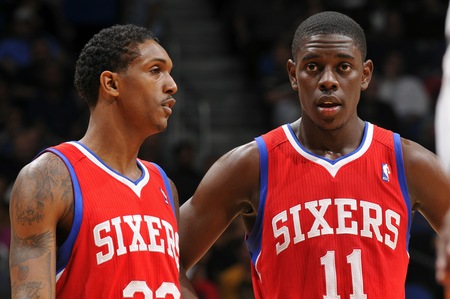 Last night was one of those nights. Holiday was arguably (definitely) the best player for the Sixers against the Knicks. He scored a team-high 16 points, dished out 6 assists to just 1 turnover, was one of the few guys actually going at the Knicks' defense and attacking the rim, and he played lock-down defense on Jeremy Lin. Basically, he was doing everything you could ask of him. So his reward in the fourth quarter was exactly what it's been nearly all year long — watching Lou Williams get the ball-handling duties as the offense stalls.
I don't understand it. I really don't. Jrue does a great job all game running the point, a great job taking care of the ball and being aggressive, a great job of getting the Sixers in the share-the-ball mode that brings out their best, and then once the fourth quarter rolls around, Collins turns Jrue into a shooting guard running off the ball and has Lou Williams dribble around for 15 seconds before looking for his own shot first, his own shot second and everything else third. Jrue needs the ball in his hands in that situation. Jrue deserves the ball in his hands in that situation. The team is at its best when Holiday is allowed to be the point guard, and he is the guy whom the Sixers are hoping to build their future around. The Sixers need to find out if he is that guy, need to find out if he can execute the offense when it matters most. But Doug takes the ball away from him every fourth quarter, and the Sixers look lost when they need buckets. That's just bad, short-sighted coaching, and it reared its ugly head again last night.
This is all without even mentioning Andre Iguodala and his late-game foibles. On three straight attempts for Iggy late in the game, he missed a free throw, blew an easy layup that would have made it a one-point game and threw up an airball. Good lord, why is he so bad in the clutch and increasingly worse at the foul line?
Regardless, last night was an ugly loss that cannot be blamed on any single player, no matter how bad several guys played. It was, however, another example of Doug Collins' increasingly baffling coaching moves of late. Maybe the pressure of that early-season success combined with a tight race and tougher schedule are catching up with Doug as much as they are catching up with the players. Who knows? What I do know is that Doug needs to get back to coaching the way he was during that torrid start, and maintaining his philosophy on both ends of the court for all four quarters, not just the first three. Because right now, as the Sixers are struggling to maintain any sort of consistency, no one is struggling as much as the coach right now.