Last night, Ilya Bryzgalov stopped all 28 shots he faced in a dominant 5-0 victory for the Flyers, notching his fourth shutout of the season and second in three games. It was also the third straight game in which Bryzgalov was named first star.
The shootout against the Florida Panthers was Bryzgalov's fifth straight impressive outing, a streak that has seen the Flyers win four in a row following a tough 1-0 loss out in San Jose, all while the injuries have piled up. First, James van Riemsdyk broke his foot. Then Kimmo Timonen and Andrej Meszaros were sidelined indefinitely. Next it was Jakub Voracek
getting demolished
by Niklas Kronwall, along with Jaromir Jagr leaving the ice. And most recently, even with Jagr's return last night, the Flyers lost yet another defenseman, as Pavel Kubina was scratched with an upper-body injury last night.
Yet, the Flyers have won four in a row thanks in large part to Ilya Bryzgalov. A few short weeks ago, I didn't think I'd ever write that sentence with a straight face this season. Prior to Leap Day, Philadelphia's 9-year, $51 million goaltender looked like a major bust, posting less than pedestrian numbers. His save percentage was below .900. HIs goals against average was hovering just below 3.00. And his confidence looked shattered. He was surrendering a flurry of weak goals and looked like he may be nothing more than another painful chapter in the
never-ending search for a franchise goaltender
.
Then a funny thing happened. After playing laughably bad in an overtime game against the Calgary Flames — surrendering 4 goals on just 21 shots, a couple of them just dreadful — the game went to a shootout. As we all know, the shootout has been an achilles heel for the Flyers ever since it was instituted, and it's only gotten more painful this season. The offense has had some trouble beating the opposing goaltender, no matter who it has been, and Bryzgalov has looked completely lost in the skills competition — as in, he literally could not stop a shot or win a shootout.
But on that night in Calgary, where the Flyers far outplayed the Flames, outshooting them 45-21 through three periods and an overtime, Bryzgalov finally picked up his teammates in that shootout the way his teammates had picked him up all season long. Somehow, some way, Bryzgalov stoned Olli Jokinen, then Alex Tanguay … and suddenly he didn't look so helpless anymore.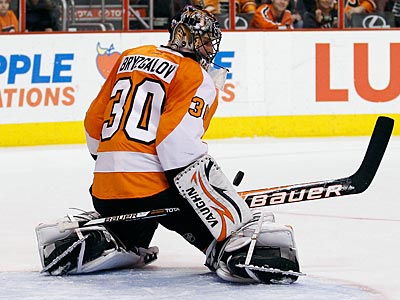 Yes, he did get beat my Mike Cammalleri, but it was the only goal that slipped by Bryz in that shootout. Claude Giroux followed with a goal of his own, Bryzgalov stopped two more shooters — Jarome Iginla and Curtis Glencross — and Matt Read beat Miikka Kiprusoff to give the Flyers a rare shootout victory.
At the same time, before we even knew it, it was the catalyst for Bryzgalov's seemingly overnight turnaround. While it's true that Bryz had some decent games since the all-star break, he still was painfully inconsistent, evident by the four goals on 21 shots he gave up before that shootout victory. But since he finally ridded himself of that goose egg in the shootout, he's been a completely different goalie — the goalie the Flyers thought they were getting when they signed him to such a massive and lengthy contract.
In the five games since that shootout win, Bryzgalov has stopped 142 of the 148 shots he's faced, good for an outrageous save percentage of .956, and has surrendered just 6 goals total, a 1.20 goals against average in that span aided by two shutouts. Prior to that, Bryzgalov's numbers were horrible. In the 43 games before Leap Day, he had a .898 save percentage and a goals against average of that was closer to 3.00 than 2.00. And the tipping point, it seems, was that shootout in Calgary.
Finally winning the silly skills competition seems to have lifted a weight of Bryzgalov's shoulders, and he's been incredible since — as good as any goaltender in the entire NHL. And boy, have the Flyers needed him. With bodies falling all around him, Bryzgalov has filled the void, allowing the Flyers to remain in the race for home-ice advantage in the first round of the playoffs. He's finally playing like the goaltender everyone expected him to be, a guy capable of carrying a team when he has to. Recently, he has had to, and Bryzgalov has answered the bell, turning his season around and propelling the Flyers to their current four-game winning streak.
It took him a while to get there, but on that night in Calgary, something changed in Bryzgalov. He's been a confident, positionally sound and nearly impenetrable netminder ever since. Who knew all it would take was finally breaking through in the shootout to get his mind right and his game back on track?