This season has not gone the way we have come to expect under Jay Wright. Villanova finished the regular season 12-18 and 14th in the Big East. Barring what would have to be called a beyond miraculous run at this week's Big East Tournament, the Wildcats will miss out on postseason play for the first time in 7 seasons. I fully expected this to be a somewhat down season for the 'Cats, but was thinking more along the lines of sneaking into the field of 68 or at least a trip to the NIT. Neither of those will be happening. And so all that is left for a fan to do is to look towards next season and for some glimmers of hope. Here are the few I could find and what I will be clinging to as I wait for next season.
The development of Mouphtaou Yarou.
The Rev and I have discussed the fact that Mouph's development had slowed or even disappeared during the course of the season, and there is evidence to support this idea. However, I will choose to look at his season to season improvement (4.5 pts and 3.7 rebs as a freshman, 8.4 and 7.1 last year, and 10.9 and 8.2 this season) and hope that this trend will continue into his senior year, allowing him to be an impact player for the Wildcats next season. One disturbing trend is that his FG percentage has declined each season since he was a freshman, but hopefully he will put in the work this summer to reverse that trend.
JayVaughn Pinkston.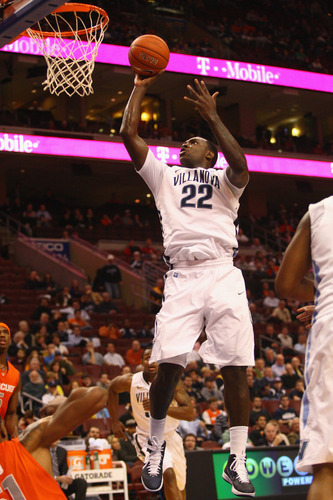 JayVaughn came to the Main Line as a highly touted recruit last season, only to be suspended for the entire year because of an off campus incident. He redshirted and began this season with freshman eligibility. Pinkston didn't show much early in the season, and this combined with the fact that he doesn't really look like a basketball player had me concerned that he wouldn't be what Jay Wright hoped he would when he recruited him. However, Pinkston finished the season averaging 10 points and 5 rebounds, decent numbers for a freshman in a big time conference. Even more encouraging were a few select performances, most notably his 23 and 11 against Seton Hall (sadly 'Nova's most impressive win of the season) and his 28 and 14 in a comeback win over Providence after Maalik Wayns went down with a knee injury. If JayVaughn can continue to mature and put up games like that more consistently, 'Nova has a much greater chance of returning to the type of program we now expect them to be.
The 2012 recruiting class.
Highlighted by two four-star recruits, Ryan Arcidiacono and Daniel Ochefu, the class has been ranked as a top five group. Arcidiacono is a 6'3" point guard out of Neshaminy and Ochefu is a 6'9" center from Westtown. If coach Wright and the Wildcats can manage to add five-star Amile Jefferson and/or four-star Torian Graham to an already promising class Villanova will have the talent to start another long streak of NCAA tournament appearances and an opportunity for some very special seasons.
Maalik Wayns was a bright spot, pretty much doing what was expected of him. He averaged 17.5 points and 4.6 assists and was named second-team All Big-East. More reason for hope lies in the fact that not one senior played significant minutes for this team. Maalik and Mouph will return as senior leaders next season, and five freshman (Ty Johnson, JayVaughn Pinkston, Darrun Hilliard, Markus Kennedy, and Achraf Yacoubou) all averaged over 10 minutes a game, gaining invaluable experience. Next season should certainly be an improvement, and a few years down the line there is potential for the Wildcats to be a very dangerous team.