Mercifully, the 2012 Philadelphia Phillies have an off day today after getting swept by the Florida Marlins over the weekend. Yesterday's 5-2 loss was the Phils' fifth straight L, as they continue to fall further and further behind in the standings.
It's become a season of despair. Not many fans can even muster up much hope in the return of Chase Utley and soon-to-be (hopefully) returns of Ryan Howard and Roy Halladay. The season has been that bad, something we have been spoiled enough to not endure the past five seasons, but something that Phillies fans are also pretty well-versed in over the years. The troubles of the team have been hashed and rehashed time and time again all over the place, so there's no need to go into depth about them again here.
However, with the season now at its halfway point in now year four of the Ruben Amaro Jr. era as Phillies general manager, I thought it would be interesting to take a look at RAJ's moves since taking the helm from Pat Gillick following the last Philadelphia team to be crowned
World Fucking Champions
.
2009
Following the championship in 2008, the Phillies had a lot of housekeeping to tidy up. While the core of the team was still fairly locked up, RAJ had plenty to deal with in his first offseason as the man in charge. His first and biggest move of the offseason came in December 2008, when he signed Raul Ibanez to a three-year contract that everyone thought was too long for an already old, streaky hitter who wasn't so great in the outfield. Raul was taking the place of Pat Burrell, who literally road off into the sunset leading the parade down Broad Street in his final farewell to Philadelphia.
As we all know, Raul started out white hot, then slumped, but overall was pretty good in 2009. After that, not so much. As predicted, his contract appeared to outlive his usefulness, as Ibanez became a platoon player who struggled quite a bit in his final season before heading to the Yankees here in 2012. Not a terrible signing, but also not exactly the best foresight giving such an old guy a three-year deal.
That same offseason, RAJ tendered one-year contracts to Joe Blanton, Chad Durbin, Ryan Madson, Cole Hamels, Greg Dobbs, Ryan Howard, Shane Victorino and Jayson Werth, all key contributors to the championship that the Phils needed to bring back. Before the calendar flipped to 2009 officially, Amaro also signed Eric Bruntlett and Clay Condrey, not to mention acquired Ronny Paulino from Pittsburgh for Jason Jaramillo.
Once the new year rang in, RAJ got to work. He singed Werth to a two-year deal (well worth it), Durbin to a one-year deal (necessary at the time), Madson to a three-year deal (excellent signing), Victorino and Blanton to one-year deals, Hamels to a three-year deal (at a bargain, great move), Dobbs to a two-year deal, Jamie Moyer to a two-year deal (not so good) and inked Chan Ho Park to a one-year contract.
We all know Werth, Madson, Victorino and Cole were well worth their deals, big contributors necessary for the team. Moyer almost had to be brought back given the championship, but giving a guy who was that old two years just because backfired, as Moyer eventually lost his starting position down the line and became pretty cranky about it.
Blanton has been a disaster the past two years, but he was huge in getting the Phils to the World Series, so can't kill Ruben for that one. Durbin same thing, I like the one-year deal. And Chan Ho was excellent in his bullpen role during his one year in red pinstripes.
In February, RAJ also extended Howard three years and just as importantly released Adam Eaton. Can't argue with either of these moves.
March saw RAJ flip the recently acquired Paulino for left-hander Jack Taschner, while also signing Rodrigo Lopez to a minor league contract.
Of course, even bigger than the Ibanez signing, RAJ made his move at the trade deadline, trading Carlos Carrasco, Lou Marson, Jason Donald and Jason Knapp for Cliff Lee and Ben Francisco in a move that can be considered nothing short of awesome.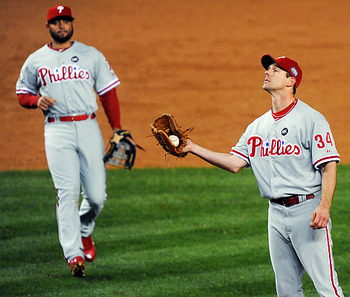 Lee came to Philadelphia, dominated and put forth one of the most impressive postseason pitching performances of all time, despite the Phils coming up short to the Yankees in the World Series.
Following up the acquisition of one Cy Young winner, RAJ also then signed Pedro Martinez in the middle of the month, with Pedro pitching surprisingly well for a guy who had been away from the game for a while.
The Phillies again won the NL East and then the pennant, looking to repeat. If it wasn't for a down year by Hamels following his NLCS and World Series MVP postseason in 2008, the Phils very well may have repeated. They did not, losing the Yanks in 6, but it's hard to argue with Ruben's first year on the job. There were a few old guys he signed for too long, but he also stole Lee from Cleveland and helped the Phils return to the World Series. Off to a pretty good start.
2010
After signing a few bit pieces, like Wilson Valdez, Brian Schneider, Ross Gload and Juan Castro, not mention bringing Placido Polanco back in another deal that was too lengthy but did sure up the team, RAJ went for broke. Roy Halladay had been the apple of Ruben's eye ever since he became GM, with rumors swirling throughout 2009 that the Phils would be the team to pry him away from Toronto. The hitch was the Phils didn't want to give up their top prospects, Kyle Drabek and Domonic Brown. But after the Phils were bested by the Yankees, Ruben was determined to get his man.
So RAJ went ahead and pulled the trigger, trading Travis d'Arnaud, Kyle Drabek and Michael Taylor for the great Roy Halladay. Incredible move, no matter how you slice it. The Phils went out and got one of, if not the, best pitchers in baseball to join forces with Lee and Hamels … or so we thought.
Instead, we were left dumbfounded, as the following day RAJ traded fan favorite and playoff MVP Cliff Lee to Seattle for Phillippe Aumont, Tyson Gillies and Juan Ramirez, three minor-leaguers who have yet to do a damn thing. Ruben broke up the three-headed monster Phillies fans were salivating over before it even had a chance to get together, and it was the single worst trade since the turn of the millennium for the Phillies. Don't get me wrong, getting Roy was awesome, proven by his Cy Young season, perfect game and playoff no-hitter. But to trade Lee for really no reason — RAJ claimed it was to restock the farm system, as well as a financial move — was devastating.
I will never fully forgive Amaro for dealing away Cliff Lee after just one short half season and one playoff run of brilliance.
To make matters worse, RAJ also signed Danys Baez, who was Chad Qualls before Chad Qualls was Chad Qualls. That means he sucked donkey balls, in case you were wondering. He also signed the million-year-old Jose Contreras, who was good until his arm fell off.
He also inked Ryan Howard to a five-year, $125 million contact, a deal that was questioned immediately and labeled by some as one of the worst contracts in baseball.
Of course, Ruben wouldn't stand pat at the trade deadline. In almost an admission that he screwed up by shipping Lee out west, he called up old pal Ed Wade and swung a deal to bring Roy Oswalt to Philadelphia, dealing J.A. Happ and two minor leaguers for Houston's ace.
So much for "restocking the farm system" and saving some dough.
Either way, the Phils flourished and won the NL East yet again, finishing with the best record in the National League and placed squarely as the favorites to win it all with Halladay, Hamels and Oswalt leading the way. Instead, the Giants' rotation of Tim Lincecum, Matt Cain and Jonathan Sanchez stifled the Phillies on their way to the World Series in the NLCS, continuing the postseason regression under Rubes. While it was another really good season, you can't help but wonder what would have happened had Lee been teamed with Halladay and Hamels for an entire season. Of course, Lee would not have helped the Phillies' offense agains the Giants so maybe it wouldn't have mattered anyway.
2011
2010 was the end of the line for Moyer and Dobbs, both of whom were not good at all in 2010 for the Phillies. Signed for too long. That offseason also saw Jayson Werth head down to D.C. by signing a massive deal with the Naitonals, one the Phillies were wise not to match but nonetheless creating a hole in right field. Durbin was also gone to free agency, wisely.
But let's be honest, no one cares about any of that. All anyone cared about is that somehow, some way Ruben was able to reel back in the one he sent packing, as Cliff Lee shunned bigger dollars and longer deals from the Yankees and Rangers to head back to Philadelphia and finally put together the dream rotation Phillies fans had wanted: Halladay, Lee, Hamels, Oswalt, Blanton.
It was a coup that made the Phillies everyone's favorite for the World Series.
The season was going according to plan. The pitchers were brilliant. The only real trouble was the hole created by Werth, since Domonic Brown was unsteady, and the continued decline of Raul Ibanez. But that was all settled when John Mayberry flourished playing part time to spell Ibanez and RAJ went and got Hunter Pence to be the right-handed right fielder the Phils needed.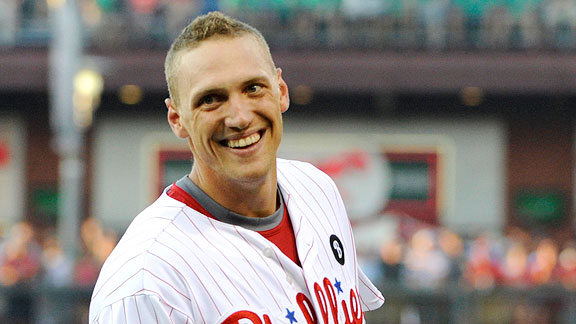 Hunter took off, the pitching was outstanding and the Phils won a franchise-record amount of games, running away with the division and heading into the postseason as the dead-on favorites. Instead, they got bounced in the first round by the eventual champions, the St. Louis Cardinals, as the offense struggled yet again and Lee blew a lead that turned the series around. Not good.
To make matters worse, Ryan Howard ruptured his achilles on the final at-bat of the season, the roster was aging, the bullpen in flux and Ruben did pretty much nothing to address the situations. There was a lot of tinkering needed for the 2012 season, tinkering that Ruben seemed to completely ignore.
2012
The biggest move RAJ made was to sign Jonathan Papelbon to an exorbitant contract. Sure, it sured up the closer's role with Brad Lidge losing his effectiveness and heading to Washington and Ryan Madson testing the market, but it also cost a ton of money, money that could have been spent more wisely elsewhere. Instead of trying to reconnect with Ryan Madson after he initially refused an offer from the Phillies, he went and splurged on Papelbon as really the only big move of the offseason. Madson meanwhile signed just a cheap, one-year deal with the Reds, a deal that would have been much more manageable for the Phillies. Of course, Madson is out for the year due to injury, but who knows if that happens if he comes back to Philadelphia.
Anyway, after the Papelbon signing — and Papelbon has been the one lone bright spot in the bullpen this year — RAJ didn't do much to help the team. He brought back Jim Thome, which is a great story and all since everyone loves him, but Jim Thome is useless in the NL. It was proven given he sucked before getting hurt, then finally hit the crap out of the ball as a DH in interleague play, but then couldn't get back out there because he can't play the field. Thus he has already been traded to Baltimore.
He also traded for Ty Wigginton, a good move, and then tried to sure up the rest of the bench with Laynce Nix, Hector Luna and Juan Pierre. But he also traded utility man Wilson Valdez, who was valuable with his glove, particularly backing up Jimmy Rollins at shortstop, giving really no insurance behind Rollins, who was re-signed to a three-year deal despite his age and declining numbers.
Then to try and fill out the bullpen, RAJ signed Dontrelle Willis, who got cut before opening day, and Chad Qualls, who was recently traded after sucking and being demoted, while also attempting to rely on the ancient, injured Jose Contreras. Not a good plan.
Worse, Amaro had no plan in place for holding the fort while Howard was/is out. Maybe he was hoping Thome, Wigginton and Nix — who has been hurt — along with Mayberry would suffice, but that hasn't happened. Also, he once again seemed blindsided by Chase Utley's absence, something that is inexcusable at this point. That meant the Phillies had to go with light-hitting Freddy Galvis and then light-hitting Michael Martinez/Mike Fontenot to try and replace the team's three-hole hitter. Terrible.
And he also assumed Mayberry/PIerre could be everyday players despite one only succeeded one season in a platoon role and the other nearing the end of his carer. All this while piecing together a makeshift bullpen that has been one of the worst in the league.
Yeah, this has not been a good year for RAJ at all, and it's showing in the standings. Now, I'll concede that the injuries and poor performances have done him no favors, but it's hard not to put a lot of blame at Ruben's feet.
In his tenure, he's been aggressive and certainly tries his best to win it all every year, but he hasn't exactly been flawless. The deals to get Lee, Halladay and Oswalt were brilliant. So was the move to get Pence. But it's been offset by a habit of signing old guys to contracts that are too long and not focusing on filling out a well-rounded roster. Now it's all catching up to Ruben, and it has put the Phillies in the precarious position of trying to decide if they should be sellers here in 2012 or hope that a full, healthy roster can turn things around, if not this season than next.
Adding to the complications is the impending free agency of Cole Hamels, which only makes the trade talks swirl even more.
Ruben certainly has been bold as the GM, but just as the Phillies have regressed each postseason, RAJ has seen his stock start to fall as well with shortsighted moves and an aging roster.