The Phillies are bad. There are no two ways about it. This is a bad, bad baseball team. I don't care if it's because of injuries, mismanagement, bad luck or underachieving — the bottom line is the 2012 Philadelphia Phillies are just not a very good baseball team.
Only bad baseball teams start a month off with a 1-6 record. Only a bad baseball team celebrates its heart and soul player's return by losing six straight. Only a bad baseball team goes 1-10 in the final 11 games heading into the all-star break, including getting swept at home to close out the first half of the season.
This weekend was the rotten cherry on the shit sundae that is the 2012 Philadelphia Phillies.
I had the unfortunate pleasure of not only attending one of these horrific losses to the Braves, but two. Lucky me.
Friday, as word spread that Ryan Howard was going to make his 2012 debut and bat cleanup, I started asking around to see if any of my friends wanted to go to the game. I received a steady of stream of "no" replies for various reasons: work, family obligations, Kyle Kendrick pitching. I was slightly disappointed, mainly because the return of Howard at least provided something to get excited about in this struggle of a season. Then again, it was hot as balls out and the pitching matchup clearly favored Atlanta, with the accomplished Tim Hudson taking on Kendrick.
However, literally a few minutes after I received the final bout of declines, I get this text:
Are you going to coldplay?
Oh yeah, Coldplay was playing at the Wells Fargo Center Friday night. I completely forgot. And no, I wasn't going to Coldplay, why do you ask?
I scored some Phils tix … they are free and everyone else is at coldplay
me:
Well I'll go to see Howard strike out 4 times
Pretty much exactly what I said to someone 5 min ago
So that was that. I was in, excited to see Ryan Howard's season debut with tempered expectations because how can you have anything but tempered expectations with this team.
I headed down to the ballpark with a caravan of friends who were attending the concert at the WFC, tailgating for a few hours before the game. We headed in and watched in amazement as Kyle Kendrick matched Tim Hudson pitch for pitch, shutting out the Braves for 7 full innings — not to mention the fact that Ryan Howard didn't even strike out once. In fact, Howard looked pretty good in his debut, going 2-for-4 with double.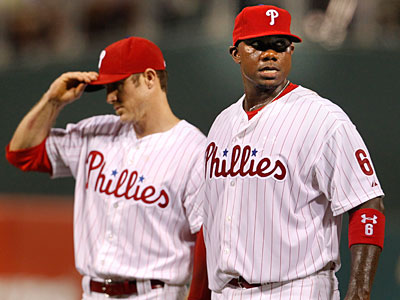 Still, I have to say that I'm not entirely in favor of plopping Howard right back into the four hole. The first reason is that Carlos Ruiz has been brilliant in that spot, just as he has been all season no matter where he's hit, and leaving Ruiz there breaks up the lefties and allows the lineup to go Rollins (sh), Victorino (sh), Utley (lh), Ruiz (rh), Howard (lh), Pence (rh), Pierre (lh), Polanco (rh), or something to that effect. Also, you have to think that even with all his rehab time, Howard may still be missing a little bit of power without his legs completely under him yet. Just seems to make sense to me, but Charlie is sticking to his guns here.
Anyway, back to the game. After the Phillies wasted a rare awesome outing by Kendrick by getting shut down by Hudson, in comes Antonio Bastardo to start the 8th. Bastardo is the embodiment of the 2012 Phillies. This time last season, Bastardo was one of the most unhittable relievers in baseball. When he came into the game, he was shutting the opposition down. This year, he's been far from perfect, struggling with his command and looking nothing like the guy we saw in 2011.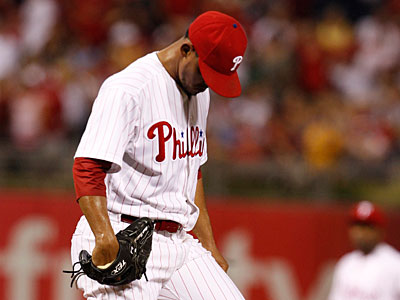 Naturally, Friday night was one of his bad nights. He surrendered a leadoff single, then proceeded to walk two of the next three batters to load the basses with one out. This is where a manager has to make a tough decision — leave in my best left-handed reliever with Freddie Freeman and Brian McCann, two lefties, coming up, or make a move. Charlie left Bastardo in, and he proceeded to walk in a run, his third walk in four hitters, 1-0 Braves. As Freeman approached the plate, I said to my buddy somewhat tongue-in-cheek, "He's gonna walk this guy, and McCann is going to hit a grand slam to right." The only reason I said that, besides McCann always seeming to kill the Phillies, is because
I witnessed McCann hit a grand slam in Citizens Bank Park
a few years ago in a long, rain-delayed game, which has been seared into my memory forever.
However, at this point, after surrendering a single and three walks to give Atlanta the lead, you almost had to take Bastardo out, even with the lefty-lefty matchup. Charlie did not, and wouldn't you know it, Brian McCann hit a grand slam to essentially put the game away — only it was to straightaway centerfield, not to right. So yeah, I've now seen Brian McCann hit two grand slams in Citizens Bank Park. Fantastic.
After the Phillies' fruitless at-bat in the 8th, we decided to head to the bar and then head home, a night out in the scorching heat just to see another anemic loss.
Thankfully I was spared attending Saturday's game on an ungodly hot day where temperatures topped 100 degrees, especially since the Phils lost yet again, this time 6-3, with McCann hitting yet another home run. I'm starting to think that guy likes hitting in CBP.
I instead spent my Saturday drinking all day and night with friends and enjoying myself to the fullest.
But I could not in good faith turn down a ticket to yesterday's game, no matter how much my brain told me I should. So I headed down to the stadium for the second time in three days with a couple of friends for one of the thinnest Sunday crowds in a long while. The seats in our section were sparsely populated, and for the first time in really forever, Ashburn Alley was not a giant mass of people. It was an odd scene, to be honest. Thankfully the clouds were blocking the sun and it was a cool 93 degrees, a huge improvement from the oppressive triple digits on Saturday, so that helped the mood a little.
We settled into our seats, and I noticed that Placido Polanco and Shane Victorino were not in the lineup for the final game before the all-star break. I know Shane has been struggling and Polly banged up, but with four days off coming up, I thought it was kind of absurd to not have those guys in the lineup, especially when the man taking Shane's place in center was some guy named Jason Pridie, a career minor leaguer.
When we saw Pridie, we immediately asked ourselves, "Who?" I then proceeded to ask how this guy could possibly be playing centerfield for a team with one of the highest payrolls in baseball and proclaiming that Jason Pridie shouldn't even exist. I emphatically stated that Shane should be playing, struggles or no struggles.
So of course, in his first at-bat, Jason Pridie absolutely crushed a home run to right, giving the Phils a 2-0 lead.
Moral of the story? I'm an idiot. Or clearly I motivated Pridie to prove me wrong. I'll go with that second one.
The lead wouldn't last however, as Vance Worley gave up a bomb to our old friend Dan Uggla to tie it at 2 apiece. However, Pridie wasn't done shoving it in my face, scoring Hunter Pence in the very next at-bat on an RBI double, 3-2 Phils.
Sweet. Maybe they'd actually get away with a victory, I thought. But Brian McCann had other plans, driving in Martin Prado in the 5th to tie the game, then hitting his third home run in three days in the 7th complete the Atlanta sweep. Ugh.
You know things are bad when a career minor leaguer supplies the entire offense in a divisional game at home, the final game before the all-star break, a game the Phillies desperately needed to win just to stop the bleeding. But it didn't happen. They got swept, because they are a bad team.
Because they are so bad, the highlights come from elsewhere. For instance, this:
Some hooligan strategically placed a sticker on the beer stand. Well done.
The other highlight came when we went to get our final round of beers in the 7th. Turns out, we came up a quarter short for three beers at a cash-only stand, the same stand we had been hitting up all day. The guy, who we had tipped pretty well a few times, let us slide on the quarter. It was the best moment of the day.
That's what it's like as a Phillies fan here in 2012. We were spoiled the past five years, and now we're back in familiar territory. The team is in dead last in the division, 14 games out of first and 10 games out of wild card contention. They have lost four in row, 10 of 11 and just got swept at home to remain the NL East's doormat.
They are terrible, and it would take nothing short of a miracle to turn things around, even with all the big names and millions of dollars out there on the field. This past weekend just emphasized that. The Braves took the Phillies out to the woodshed, gave them a beating, and then swept them under the doormat. Now it may be time for some cleaning of their own.