That's really the only way to describe the transgressions of the Phillies this weekend against the Braves. Friday night, I was on hand to take in what turned out to be the best starting pitching performance by the Phils all weekend.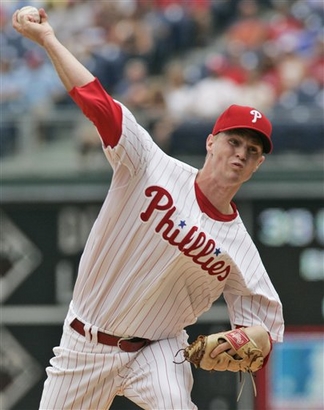 Kyle Kenrick pitched his game, forcing the Braves into contact and surrendering just a single run. You would think I'd be ecstatic by his performance, but the few beers in my system accompanied by the complete lack of anything resembling an offense soured that greatly. Through eight innings, Kendrick had gone through six innings with just one run across while J.C. Romero and Chad Durbin each worked shutout stanzas, yet I was completely pissed. This "incredible" hitting team had three fucking hits. At home. Against the Braves. It was awful.
And just when it looked as though it couldn't get any worse, Brad Lidge completely imploded, yielding five runs without recording an out. When Brian McCann launched his grand slam, I got the fuck out there and hit the bar. It was a shitty game made even shittier by the fact that my friend and I lost $15 apiece in washers to a Braves fan and a Cowboys fan before the game. They were fags.
Saturday, I had the luxury of missing almost the entire game because I was at a party at a golf course. My roommate, who the pleasure of watching Cole Hamels put forth his worst effort of his career, sent me a nice update of just how awful Hamels was. Shit, 9 runs in one inning? That's pretty awful—and baffling for Cole. But really, what the fuck was he in there for that long to give up 9 runs? Seemed suspect.
Oh well, I thought. Glad I missed it. And then … my cousin calls me. I'm baffled because the stupid fuck is at the same party as me. I answer and ask, "Why the hell are you calling me when you have to be in a 50-foot radius of where I'm standing?" He says, "Come upstairs, the Phils are winning 10-9!" What the fuck? There's a TV upstairs in the bar and I'm forced to mingle with the family? I hate family parties. Of course, I ran upstairs and said fuck it about the party. I missed the comeback fireworks, but I watched the Phils close it out. I'm still pissed about it.
After such an incredible comeback, I naturally thought they'd lose on Sunday. After all, I had tickets, which I bought for my cousin, dad and grandfather. It was my grandfather's first trip to Citizens Bank Park, and what do you know? Joe Blanton decides to replicate his first start by completely sucking, giving up two in the first, and then a freakin monsoon descends upon the stadium. Of course. I finally get a chance to repay my grandfather for all the games he's taken me to over the years and we get an almost two-hour rain delay. Awesome.
When the rains finally relent, and a few fans have been arrested for running on the rain-drenched field, we get the great pleasure of watching Adam Eaton complete butcher the craft of pitching. I can't for the life of me figure out why on earth he gets paid so much money to be so bad at his job. Where do I sign up? I would have rather climbed on top of the foul pole with a 10-foot metal rod in my hand during the lightning display than be subjected to Adam Eaton. In just two innings, he gave up three runs and two homers. That's when the locals got restless and I declared, "Third place, here we come!"
Here's where I should I have remembered, oh, I don't know, the game before. Turns out, the Braves bullpen really, really sucks. Like almost an Adam Eaton level of sucktitude. They're awful. All it took was a Chris Coste homer to get back in the game, and three batters later, Shane Victorino continued his assault on Atlanta pitching, tying the game with a three-run jack. As soon as he hit, it started slapping the shit out of my cousin in excitement. Looks like the wait might be worth it after all.
Burrell added a homer in the fifth, and suddenly the Phils were winning. Another five-spot in the sixth, highlighted by Shane Victorino completely blowing up McCann (who left the game with what had to be a concussion—I'd show a clip but everything sucks with RedLasso down) and Jayson Werth's homer to give the Phils outfielders the trifecta on the day, along with a solo shot by Jimmy in the seventh, put the game out of reach … or so it seemed.
Once Rudy Seanez, who made his debut against Babe Ruth in 1925, came in the game, the Braves took a page of Philadelphia's book by posting a five-spot of their own, aided by Ryan Madson, who also sucks quite a bit lately. You've got to be kidding me.
Luckily Lidge continued his perfection in save situation and averted disaster. But another wart for this team reared its ugly head. The Phils have relied on their bullpen far too much this season, and some of them are either starting to wear out or simply aren't as good as they showed early on. Oh yeah, and Adam Eaton still sucks. Even if he did get a win on Saturday. That's why I was really excited to read
this.
If it was up to me, this would be a no-brainer. Adam Eaton has been awful since the day he arrived in Philadelphia. Rudy Seanez, while ancient and pretty terrible of late, at least pitched really well early on. Eaton must go. Stat. But hey, he did work a walk yesterday to load the bases. That's something.