On Saturday night, I received a text asking if I was interested in going to the Lions-Eagles game at Lincoln Financial Field yesterday. Naturally, I accepted, prepared to see the most frustrating division-leading team in the NFL take on one of the most undisciplined teams in the league.
It had the makings of a odd day to begin with, and an odd day it was indeed.
For starters, the temperature in Philadelphia was already in the 60s when I awoke, and it reached the 70-degree mark in the second weekend of October, a rarity in these part. It was a beautiful, bright, sunny day, truly short-sleeve weather. Couldn't ask for a better day to take in a game.
That is, if you could get to the game to begin with, which was a giant pain in the ass thanks to one of the most poorly run and patently absurd public transportation systems in the country.
If you live in or around Philadelphia, you've surely come across the overly optimistic
I SEPTA Philly
campaign, with commercials and ads from supposed everyday SEPTA riders praising Philadelphia's public transportation system. As an everyday SEPTA rider myself, I cannot help but laugh at the absurdity of it all, seeing as SEPTA is one of the dirtiest and inanely operated systems I've encountered in my lifetime. For christ's sake, SEPTA doesn't even have a smart card system, and it's 2012. That alone is evidence enough.
Anyway, thanks to the brilliant planning of SEPTA, the Market-Frankford el was consolidated to one track yesterday afternoon, meaning both eastbound and westbound trains were running on the same track. Thus, the trains were delayed and running behind as the westbound train had to wait for the eastbound train to pass by and vice versa. This was done on a Sunday on which the Eagles were hosting the Lions. Thousands of Philadelphians take the el and the subway to the Linc on an Eagles home game Sunday. The game has been scheduled for months. And yet SEPTA decided it was a good time to delay everyone. I can't make this stuff up.
As a result, not only was I waiting at the Girard platform for longer than usual, but I then was stopped and was left waiting on a motionless train for more than 15 minutes at 5th Street.
So what typically is a 20- to 30-minute trip tops from my door to the stadium took a solid hour. Philly most assuredly does not love SEPTA, trust me on that one.
Thankfully, we had left plenty early to do a little tailgating. It was a gorgeous day, and good times were had pregame. That, however, is when the good times ended because honestly, despite the one touchdown drive in the first half, the highlight of the game was the pre-game festivities.
From there, the game devolved into an ugly battle between two incredibly stupid football teams. You all saw the game, so there's no point in breaking down the play by play. But there are a few things worthy of discussion.
For starters, can we talk about how poorly coached and undisciplined these two football teams are for a minute? I mean, look at Detroit. The Lions committed 16 penalties yesterday, accounting for 132 yards. Sixteen penalties. In one game. Sixteen penalties and a turnover. That's a recipe for disaster, right? At least a recipe for a loss … Only the Lions wound up winning, because the Eagles out-dumbed one of the dumbest teams in the league.
How? In typical fashion: turnovers, horrid game-planning and baffling adjustments.
Let's take these in order, shall we? First, the turnovers, namely Michael Vick. Once again, the Eagles turned the ball over without any regard, as Vick threw two absolutely atrocious interceptions and also was involved in the lost fumble thanks to miscommunication with center Dallas Reynolds. Oh, and he also fumbled earlier in the game, but managed to recover his own fumble.
The one the Eagles actually lost happened due to confusion between Vick and Reynolds. I can't say with 100 percent certainly who was at most fault, though looking at the replays you do see Vick lift his leg slightly, which is typically the indication to the center that the quarterback is ready for the snap. It wasn't an exaggerated lift, which is the norm, but he did lift it slightly. On Monday Night Football a week or two ago, this happened, and Steve Young explained that he thought it was the fault of the quarterback for lifting his leg at all. If Young's logic is correct, I'd have to say this was a little more on Vick than Reynolds. Either way, it resulted in a turnover, one of three.
The other two were totally on Vick no matter how you look at it. His interceptions were not dropped or tipped. They were not miscommunication with the receivers. They were just poorly thrown balls at inopportune times, mistakes you simply cannot make on a weekly basis and expect to win. Finally, it caught up to Philadelphia and cost them.
Listen, I know that Vick is being hampered by an atrocious offensive line and that the play-calling isn't doing him any favors. But at the end of the day, the quarterback is responsible for the offense and especially taking care of the football. Right now, there isn't a player in the NFL who can even remotely enter the conversation with Vick as being the most careless with the football. It's like he doesn't think turnovers are a big deal at all. Through six games, Vick has turned the ball over 13 times. That's more than two turnovers a game by the player who has the ball in his hands more than anyone else. Frankly, it's a miracle this team is even .500 with a statistic like that.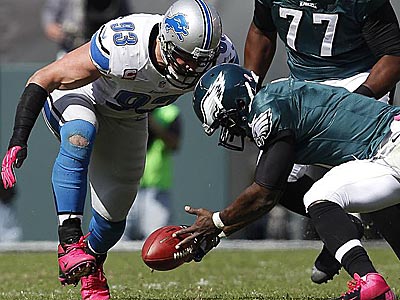 Bottom line: Michael Vick is careless with the football, and he compounds it by making mental errors on top of that. Take the back-to-back sacks he took in overtime to essentially hand the game to the Lions. On the second, Vick had plenty of time to get rid of the ball, plenty of room to roll out and throw it away. Instead, he tried to do more than is humanly possibly and took a devastating sack. Michael Vick just does not play intelligent football. Truthfully, he only has for a seven-game stretch two years ago. You tell me which Michael Vick is the real one.
Now let's get to the ridiculous offensive game plan by Marty Mornhinweg and Andy Reid.
Heading into yesterday's game, the Eagles' two biggest offensive problems were clear as day: a struggling offensive line and a quarterback who cannot stop getting hit and turning the ball over. The easiest way to cut down on the pressure of the offensive line and cut down on the number of hits and potential turnovers for your quarterback is to come out and run the football. This allows your offensive line to actually push forward and attack defenders, giving them a little more aggression and confidence, and also gives your QB a little bit of a break. When you have one of the premier running backs in the NFL, all the better. Come out and pound the football. Feed it to your best player and ride with him.
Of course, we all know how much Andy Reid and Marty Mornhinweg hate to do this. Even though LeSean McCoy does typically get his touches, rarely do the Eagles come out and establish the run early to make things easier for Vick and the patchwork offensive line. They tend to lean on Shady more in the second half, which is all well and good when things are going well. However, it makes no sense to continually ignore your best offensive player to start a game, particularly when your offense is struggling, yet the Eagles keep doing it.
On the opening drive, a three and out, McCoy didn't get a touch. He then proceeded to get a grand total of seven carries the entire first half, despite the Eagles struggling to do anything until McCoy capped off a nice nine-play, 79-yard drive with a two-yard touchdown reception. In all, McCoy had just 14 rushing attempts. That is not enough, even if the Eagles were struggling to run block.
Of course, the Eagles did manage to take the lead before halftime and take a 10-point lead with five minutes remaining in the fourth quarter after three Alex Henery field goals and a 70-yard touchdown pass from Vick to Jeremy Maclin, with the Lions inexplicably deciding not to cover Maclin at all.
At that point, the Eagles looked poised to escape with another baffling victory despite those three turnovers, and a large contingent of fans seemed to think the same. At least, it seemed that way, because following Maclin's score, the Linc emptied. And I mean emptied. I've never seen an Eagles crowd dissipate so quickly with that much time left on the clock. And those who fled for their cars were actually lucky, since they didn't have to witness the Eagles completely unravel in those final five minutes.
That brings us to the bad adjustments portion of the game. For the majority of the game, the Eagles employed a scheme that saw Nnamdi Asomugha shadowing Calvin Johnson on nearly every play, and Nnamdi was having arguably his best game as a Philadelphia Eagle. Through three quarters,
the game's best receiver had one catch for 28 yards
. Nnamdi was all over him. Calvin really couldn't get open. Asomugha finally looked like the guy the Eagles thought they were signing. I was marveling at his play all game.
But then, with the Eagles trying to protect a 10-point lead late, Juan Castillo suddenly switched up his entire defensive scheme. While it's true that the underachieving defensive line could not get to Matthew Stafford to save their lives yet again yesterday, the defense wasn't playing poorly. Then, all of a sudden, Castillo decided to dial up the blitz … and even more baffling stop having Asomugha shadow Johnson on every play.
Several times in the fourth quarter, Dominique Rodgers-Cromartie found himself matched up with Megatron, and seemingly every time that happened, Stafford went Johnson's way. The result? Five catches for 107 yards in the fourth quarter alone for Calvin to finish with 135 yards on the day, and almost all of those catches coming with DRC covering him, not Nnamdi.
Finally, Asomugha was utilized the way he was in Oakland for nearly an entire game and was actually living up to his reputation, and Juan takes him off his assignment at the most critical juncture of the game. It just made no sense, and it's a big reason why the defense fell apart in the fourth quarter. I didn't understand it then, and I don't understand it now. If I was Asomugha, I'd be upset too.
Give Detroit credit for overcoming their own mistakes and capitalizing on Philadelphia's. But also admonish this team and its coaches.
Every year, it gets less and less fun being an Eagles fan, and it's largely because they just make it so hard to like them. The offensive line is a complete joke right now. There literally isn't one lineman playing well at all. Demetress Bell stinks. Dallas Reynolds stinks. Danny Watkins looks like he just isn't strong enough to play in the NFL. Evan Mathis has struggled. And Todd Herremans is playing the worst football of his Eagles career. Howard Mudd has a lot of work cut out for him. The absence of Jason Peters and Jason Kelce has really hurt this unit to a point that looks beyond repair right now.
And it's not much better on the other side of the ball. This defensive line that ran roughshod over the league last season and looked like the biggest strength of the unit in first three weeks has been completely nonexistent the past three weeks. As in, the Eagles, with Trent Cole and Jason Babin and a slew of alleged pass rushers, hasn't gotten a sack since there third quarter of the week three loss to Arizona. Jim Washburn's unit has been underachieving for weeks, and it continued yesterday. You can count the number of times the line even got close to Stafford yesterday on one hand. It was a pathetic showing once again. Perhaps the wide nine has been figured out. Whatever the case, Washburn needs to correct things in a hurry.
The good news is that the Eagles are just a game behind the New York Giants in the division and have already defeated their rivals up north. Plus, the Birds have a bye week coming up, meaning that I don't have to watch this team I hate next week and also that they have extra time to figure things out moving forward. And as infuriating as Andy Reid is, he always has his team prepared following the bye week.
The bad news is I wasted hours upon hours of my life yesterday. First, it was the horrifying trip to the game. Then it was the four-hour overtime loss itself, with the game not even ending until 5 p.m. And then of course, there was the trip home, which was even more horrible than the ride there.
You see, SEPTA runs special game day express trains on the subway during sporting events in South Philly. Catching the express, I only have to take it to the second stop at City Hall before transferring over to the el. It's literally a two-minute ride. I mean, it's usually only a two-minute ride.
However, as the subway took off, it suddenly stopped at the Ellsworth-Federal station, not one of the express stops. And I don't mean stopped to let people on and off. I mean stopped, stopped. Then there was announcement that there would be a slight delay. According to SEPTA, a slight delay is 20 minutes. Express train my ass.
So there we sat. And sat. And sat. All of us miserable, and all of us just wanting to get the fuck home and try to forget about that ugly loss. Again, it took me another hour to get from the stadium to my house thanks to SEPTA being SEPTA.
So yeah, I SEPTA Philly too, and from the bottom of my heart I'd like to say fuck you, SEPTA. Fuck you for real.
I'm not sure what infuriates me more these days, the Eagles or the public transportation in my city. Dumb and dumber indeed.