Ever since Daryll Clark's departure upon graduating following the 2009 season, Penn State has had a rough time with the quarterback position. The past two seasons in particular, the flip-flopping between heralded recruit Rob Bolden and former walk-on Matt McGloin had taken over as the focal point and created the biggest division among Penn State fans — not to mention the hopes held out for Paul Jones.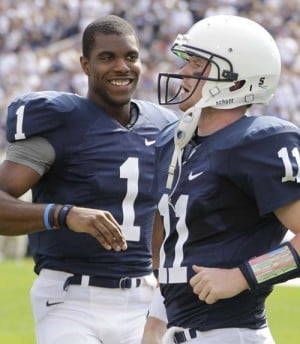 Bolden seemed to posses the superior physical traits, whereas the offense just seemed slightly more competent with McGloin at the helm. Either way, neither guy impressed that much playing in the offense coached by Galen Hall and Jay Paterno. Bolden, following a few promising starts his freshman year, never developed and looked progressively worse, while McGloin had flashes of decency, but nothing more. It looked as though Penn State was going to be locked in a quarterback controversy for the foreseeable future as the new coaching staff came in, at least until the next highly touted recruit, Christian Hackenberg, makes his way to campus.
However, once Bolden decided to transfer to LSU following the Penn State sanctions and Paul Jones flamed out at QB, the new head coach gave McGloin the keys to the offense with little behind him. For the first time, now as a senior, the Penn State offense was Matt McGloin's and Matt McGloin's alone. For many Penn State fans, myself included, that was a terrifying proposition, mainly because during his sophomore and junior seasons, McGloin looked to outsiders as a guy with walk-on talent attempting to play the game like Brett Favre — bad decisions and all.
After all, McGloin entered his senior seasons with just a 54 percent completion percentage in his career and an unimpressive 22 to 14 touchdown-to-interception ratio. Given the departures of his top receivers and his star tailback Silas Redd, many people projected another struggling Penn State offense just like the Nittany Lions had in 2010 and 2011, even with O'Brien and his offensive acumen now in town.
Turns out, O'Brien and McGloin have been a match made in some sort of bizarro-world heaven.
As if overnight, under the tutelage of O'Brien, McGloin has gone from a shaky, overconfident quarterback to arguably the best passer in the entire Big Ten. Following Saturday's brilliant performance in a dismantling of Penn State nemesis Iowa in Iowa City, in which McGloin was 26-38 for 289 yards and two touchdowns, McGloin leads the conference with 255.4 passing yards per game, is second only to Taylor Martinez in completion percentage and has 14 touchdown passes to just two interceptions.
It's as if he's an entirely new player, nothing like the guy who would make mind-numbingly putrid decisions at inopportune times we've seen the past two years.
It goes to show you just what a vote of confidence from the coach can do for a guy, allowing himself to go out and play without having to look over his shoulder.
Even more importantly, though, it shows just how brilliant of a coach Bill O'Brien is. With former quarterbacks coach Jay Paterno tutoring McGloin, there was little to no development, and the offense looked inept. Now after just one spring and summer with O'Brien, McGloin is playing nearly flawless football, and he gets better each and every week. That can't be a coincidence. Bill O'Brien is the real deal.
And with his help, now McGloin is not only a competent college quarterback, he's one of the best signal-callers to date this season in the Big Ten. Saturday was just more proof on how far McGloin has come in a short time. In leading the Nittany Lions to their fifth straight victory, McGloin had perhaps the best game of his Penn State career, literally playing a near perfect football game. If anything, his numbers should have been even better if it were not for a number of drops, and his opening touchdown pass to Jesse James was a thing of beauty, the type of play I didn't think Matt McGloin was even capable of making.
Heading into the season, there may not have been a bigger Matt McGloin detractor than myself. I just didn't think he was good enough to pull an offense that had struggled mightily the past two seasons out of the cellar.
So far, I couldn't have been more wrong. Outside of his struggles against Northwestern — struggles he overcame by the way to lead the Nittany Lions to a dramatic come-from-behind victory — McGloin has been absolutely brilliant in this his senior campaign. He's no longer forcing throws and trying to do more than he's capable of. He's going through his reads, calling plays at the line, deciphering defenses, commanding the huddle and playing some of the best football in the entire conference.
I don't know where the Matt McGloin of the past two seasons has gone, but I couldn't be happier that the Matt McGloin of 2012 is here. If just a few months of Bill O'Brien can transform a player like McGloin and an offense like the one he inherited — minus its biggest playmakers — into one of the most productive units in all of college football, there may be more to look forward to for Penn State football than anyone could have imagined when Bill O'Brien was named head coach just a few short months ago.