With the preseason complete and the season opener less than a week away, let's take a look at some of the bright spots from the preseason, as well as at some of the lingering questions. The Sixers put up a 6-1 mark this preseason. It's only the preseason and coaches are resting certain players on given nights and are playing with their line-ups daily as they try to find the combinations that work and define players' roles. So that 6-1 mark doesn't hold a whole lot of water, but I still find myself being encouraged by it anyway. Regardless, onto the bright spots ...
The play of Maalik Wayns.
The Roman Catholic and Villanova product was signed by the team as an undrafted free agent prior to training camp. As training camp unfolded, you started hearing more and more reports that Maalik was raising eyebrows. As a fan of Villanova, the Big Five and Philly basketball in general, this had me excited. And as the preseason games began, he didn't disappoint. He got more minutes than presumed back-up point guard Royal Ivey. He averaged 10 points and 4 assists, and put up a 19-point game. He even showed some consistency with his shot, shooting 46% from the floor and 42% from three. Most importantly he showed an ability to run the offense and to use his speed in the open floor.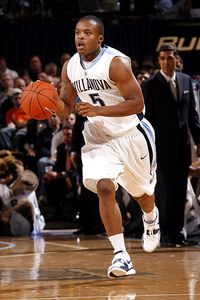 The three-point shooting.
For as long as I can remember, the Sixers have been less than remarkable at shooting from long range. Sure they had Kyle Korver for a while, but because Korver could literally do nothing else on the court besides shoot, he was more of a liability. With the additions of Jason Richardson, Nick Young and Dorell Wright, the Sixers now have a group that can consistently knock down the long-range shot. Even Jrue Holiday has shown some improved consistency from three this preseason. With the slashing ability of Holiday, Wayns and Evan Turner, and Andrew Bynum commanding double-teams in the post, that bodes well for the Sixers.
And a few questions ...
When will Andrew Bynum be able to get on the floor?
And when he does, can he stay there? The Sixers knew that Bynum's health was a concern when they traded for him. It seems that every time a report comes out on the Sixers, Bynum's timetable for return has been pushed back. I find that trend to be unnerving, but I think the plan to be cautious now and let him get pain-free before he plays is the correct approach. I would much rather he miss a little time at the beginning of the season instead of rushing him back and having him go down mid-season and miss extended time or miss time in the postseason. Bynum and the Sixers continue to insist that he is improving and that this is all cautionary, and we all hope that is the case. I can't wait to see him out there.
Will the defensive intensity be there?
The Sixers went through a huge overhaul this offseason, and I wonder if the defensive mentality they had last year will be lost. They added a lot of potent offensive players, as well as traded Andre Iguodala, their best defensive player, who just so happens to be one of the best on-the-ball defenders in the entire league. Having an anchor and shot-blocking presence like Bynum in the middle should certainly help, and hopefully Holiday and Turner can bring that gritty defensive attitude that the team had last year.
How will Jrue Holiday and Evan Turner progress?
As for Jrue, I don't think there is much to worry about. From last year's playoffs and into this preseason, he really seems to be coming into his own and developing into an elite-type point guard. Hopefully we see that trend continue this season. As for Turner, well not so much. As a number 2 overall pick, there are obviously high hopes and expectations attached to Mr. Turner. He showed glimpses of getting it together last season, but this preseason has not been encouraging. His preseason averages of 9 points, 6 rebounds and 3 assists aren't terrible, but you certainly want more from someone in which you invested the number 2 overall pick in the draft. More discouraging was his 34.5 shooting percentage and the fact that he just looked kind of uncomfortable and out of sorts. I'll be watching to see if he can find his stride this season.
It's safe to say that the Sixers have a fun team this year. They have worked their way back to relevance. They have a stud center and a young and exciting core. They should be a good team, a team that is fun to watch. And it will be fun to watch them try to take the next couple of steps over the next few years.