The 2012 edition of the Philadelphia Eagles has been an unmitigated disaster. The team is 3-6 and has lost five straight games for the first time under coach Andy Reid. They are a mess at every level, from front office all the way down to the field. They've fired their defensive coordinator, even though all logic would have told you that the former offensive line coach should never have been hired to that position. The on-field product is consistently outplayed in every facet of the game.
The Eagles have been around for a long time, far longer than I have, so I can't speak to the teams from before my time, but I began to wonder ... is this the most disliked Eagles team in the history of the franchise?
Let me start at the the top. This current Eagles ownership has been accused in the past of doing just enough to keep the team competitive, but not enough to take that last step. Just enough to keep the butts in the seats and the TV ratings up and all that merchandise moving off the shelves. While that isn't really the issue with the 2012 team, ownership is still drawing the ire of the fans because of continued disappointments and because they appear to be downright delusional. They continue to insist that the Eagles are the "gold standard," and while they are busy talking about it other teams like the Patriots and Steelers and Giants have decided they would just go ahead and win multiple Super Bowls.
The front office and specifically the scouting are an absolute joke. There have been power struggles between general manager and head coach. Even worse, this team's draft record is putrid. Management and coach have this "we are smarter than you and we are going to prove it" attitude. They try to prove it with mind-blowing draft picks. Well guess what guys, you aren't that much smarter than everyone else.
My favorite/most frustrating example is the draft of 2010. The Eagles had a glaring need at the safety position. They traded up to the 13th position. Sitting there waiting to be drafted was Earl Thomas, a stud safety out of Texas. I became excited when I saw the move to trade up, I was sure Thomas was going to be the pick. Then the pick came in. Brandon Graham. Well since then, Graham hasn't really done much of anything, while Earl Thomas has already been to a Pro Bowl. Oh, and in case you haven't noticed, the Eagles safeties still suck. If you need another example, see Danny Watkins.
The 2012 Eagles feature a coach who has been here for 14 seasons. He has done a lot of good things during his tenure. But he has failed miserably in big games, going 1-4 in conference championships and losing his only Super Bowl appearance. He is one of the best in the game at preparation leading up to games, but one of the worst at in-game decision making. He continues to drive fans mad with his play-calling, his mind-numbing inability to manage the clock, and his inability or unwillingness to make in-game adjustments. Add in his broken-record post-game press conferences (I must have heard "I've got to do a better job" 6,000 times over the past 14 years) and you have a coach who has worn out his welcome with the passionate and loyal fan base.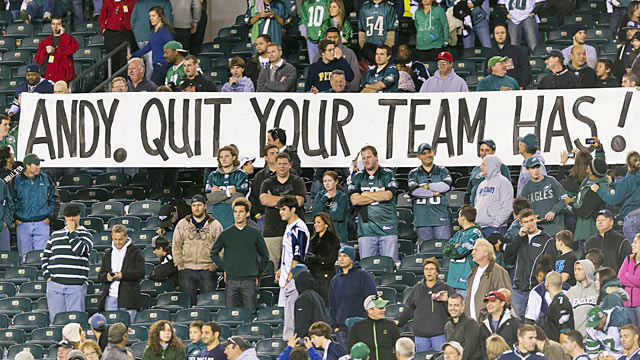 The players on this team have seemed to adopt their coach's post-game ways. Week after week we hear things like "We've got to play better" or "We are a better team than we are showing right now," and then the following week they come out and play the same mistake-filled game they had the week before. The team has high-priced free agents who have grossly under-performed (see Nnamdi Asomugha). And they have Jason Babin more worried about what the fans are yelling from the seats than doing his job and maybe actually getting a sack once in a while. Not the best way to keep the fans on board while the season crumbles around you, Mr. Babin. Maybe you should leave the Twitter alone for awhile.
The team has a polarizing quarterback in Michael Vick. There are those who love Mike Vick for his athleticism, his fearlessness and effort, or for the story of redemption that he is trying to write. But even his most staunch supporters (a group that I will admit I am a part of) can't defend his erratic and inconsistent play this season. And for every fan who is a member of that group there are two who are on the other side. They hate Mike Vick. They hate him for his lack of being a prototypical quarterback, for his decision-making issues, for mistakes he has made in his past. This contingent has been out in full force this season as Mike has regressed from the flashes he had shown in 2010.
All of this manifests itself with a wildly inconsistent product on the field. The most frustrating thing about it is that they continue to make the same mistakes over and over again. Turnovers, especially in the red zone. Bone-headed penalties at the worst possible times. Some of the worst tackling you would ever see on an NFL field. Complete meltdowns in coverage. Ridiculous play-calling and usage of timeouts. And the same old lines from coaches and players following each loss.
It really is a comedy of errors. Combine all these factors with the yearly frustration of a championship-starved fan base, and the frustration and anger have come to a boil. All these factors could actually make the 2012 Philadelphia Eagles the most disliked team in franchise history.