With the news that the Philadelphia 76ers signed 22-year-old, fourth-year point guard Jrue Holiday to a four-year, $41 million extension last week, there's been a lot of questions about whether or not this was the right move for the Sixers.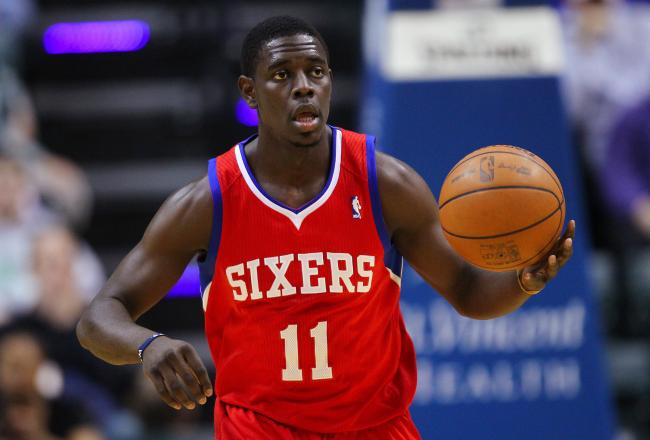 The majority of Sixers fans I know and have read seem to like the deal, banking on the 22-year-old progressing and getting better to enter the upper half of point guards in the league. Then there is the other school of thought, where some believe
Jrue is what he is and not worth the contract
. Personally, I lean toward the former over the latter, but I think it's an interesting topic of conversation.
In fact, my buddy Dan and I had the following quick email exchange:
Dan: I'm not sure: on one hand, he and ET suck together for some weird reason and I'd rather have Steph Curry 50% of the time and he got less money. On the other, he's still only 23 or something and it's not crazy considering shitty players like Demar DeRozan routinely get $40mm in the NBA nowadays. I guess I'm just not convinced that he's a PG that can lead a team to the finals and hate the idea of locking up money in anything that's not going to get you to the promised land.

Me: I kind of feel the same way to be honest. I like Jrue and think he has potential, but he hasn't really shown it yet. But it's definitely a "friendly" contract, if you will, given the NBA landscape. I guess the hope is he and Bynum can create the foundation. We'll see.
At face value, I tend to agree with Philadunkia's Steve Toll — although without nearly as negative of an outlook — that Jrue hasn't been anything close to an elite point guard. Truth of the matter is, he's been kind of a disappointment the past two seasons on the whole. The numbers Toll shares reveal as much, putting him the lower half of Eastern Conference point guards and the fourth best in the Atlantic Division. Through three seasons, Holiday simply hasn't been the point guard both the fans and the front office hope he one day can be. Every time he looks like he's about to "make the jump" to the next level, he seems to regress. That's certainly worrisome for a guy now in his fourth year in the league.
Yet I find myself having a cautiously optimistic view on Jrue. The main reason is that watching the Sixers the past three seasons, neither Eddie Jordan nor Doug Collins really have given Holiday the reins to the offense. Jordan was a notorious flop here in Philadelphia, doing little to help along his rookie point guard, and Collins, thrust into a difficult situation, relied on his veterans Andre Iguodala and Lou Williams to do the bulk of the ball-handling and help build a winning culture. Even last year, as Holiday asserted himself as the clear starter at point and a guy out there late in games, Collins still often put the ball in the hands of Williams and Iguodala come crunch time.
Admittedly, this can be seen as a sign that Collins doesn't trust Holiday in those situations, which very well may be true. But as the Sixers gave the Heat a battle two years ago and then flew out of the gates last season, Collins was not looking so much at development as winning games, thus he put the ball in the hands of the veterans in the fourth quarter. Personally, I thought this strategy was a flawed one, given that the Sixers had no realistic shot of competing for a title, even with a team that was one game away from the Eastern Conference Finals last season. But that's the way Doug went, for better or worse.
This year, with both Andre and Lou gone, the keys have finally been handed over to Holiday full time, especially with his backups being undrafted rookie Maalik Wayns and journeyman Royal Ivey, and no point forward on Iguodala's level around. Finally, he is the one running the show out there, and that's where real development comes for a young point guard, particularly for one who played out of position as a shooting guard during his one year of college.
Now, it remains to be seen if Holiday is actually capable of being that guy. In an ideal world, the Sixers would let the season play out and then make a decision from there. That would be the best course of action in a bubble. But the NBA doesn't work in a bubble, and given that Holiday is only 22 years old and is considered a guy with a lot of talent, there is a team, or teams, out there willing to overpay him — and overpay him big time should he have a good year. That's the gamble the Sixers had to take into consideration. If Holiday matures into the point guard they think he can and they let him go to free agency, someone would have come in with a much bigger offer, handcuffing the Sixers. At that point, they would either have to let him walk or pay him even more than the four years and $41 million they are now.
Of course, we have no idea how this is going to play out, but I feel that paired with Andrew Bynum, it was a move the Sixers were prudent to make. That statement could come back to haunt me, and that contract could come back to haunt the Sixers. I sincerely hope it doesn't.
Through the first four games of the season, the reviews are mixed on Holiday. The good news is that now as the primary ball-handler every time he's on the court, his assists numbers are way up from his career five a game to 9.5 so far, putting him fourth in the league here in the early going, trailing only Rajon Rondo, Chris Paul and Brandon Jennings. At the same time, his turnovers are way up as well, averaging five a game through four contests. That's not good.
Last night was a microcosm of that, as Jrue put up an impressive 14 points and 12 assists in a disgusting-to-watch 77-62 victory over New Orleans, but he also had seven turnovers, which you simply cannot do on a night-to-night basis.
At times this season, just like at times throughout his short career, Holiday has looked incredibly impressive. Then there are moments when he isn't really running the offense, instead hoisting early shots that seem ill-advised or turning the ball over in sloppy fashion. However, in this remarkably small sample size, I have seen progress. The assists are a good indicator, and as time moves on as the primary decision-maker, you'd like to believe he'll cut down on the turnovers and get a better feel for running the offense the more he's out there. That's the hope I have and the hope the Sixers have.
But right now, that's all it is: hope and potential. But as the naysayers have pointed out — and I have as well at times — Jrue hasn't fulfilled that potential. And that could mean he is potentially flawed, and potentially not the guy fit to run a championship-level team.