Last night, I attended the Philadelphia 76ers' 2012-13 season opener against the Denver Nuggets with silver fox and a friend of ours.
The game itself was mostly supposed to be about
Andre Iguodala playing in first real game as a Denver Nugget right back here in Philadelphia
, against the only NBA franchise he had known prior to being dealt in the blockbuster Andrew Bynum-Dwight Howard trade. His return and reception were billed as the biggest storylines, even more so than the new-look Sixers since Bynum is out of commission at the moment as he mends his knee.
And while
Iguodala's reception
was a smattering of cheers and a larger contingent of boos, as
Jrue Holiday predicted
, the Iguodala storyline quickly faded in this one — though there was one hilariously enthusiastic kid sitting at the end of our row who started saying "Boo Andre, boo Andre," about 20 minutes before tipoff and never relented. Pretty funny stuff.
brick
However, the return of Andre Iguodala was about as underwhelming as it gets, mainly because Iggy played one of the worts games of basketball I have ever seen him play in his entire career. I don't know if he was pressing and trying to do too much to sort of show the Philadelphia fans and Doug Collins that he really is a star or he was just having one of those hideous offensive shooting nights that drove us nuts during his time as a Sixer, but Andre was bad. Real bad. As in almost comically bad, to the point where I wouldn't have wanted him on my team under any circumstance last night.
Not only did he shoot an abysmal 5-13 from the floor, including going a woeful 0-4 from deep (yeah, Andre, that's why Doug didn't want you launching those), he was way off. He didn't just miss shots, he missed them badly. I mean, it looked like he had never shot a basketball in his entire life, to be honest with you. Beyond that, he didn't even really stuff the stat sheet the way normally does. It was an all-around pathetic showing by Iguodala in his Denver debut, in front of his longtime fans no less. Booing him wasn't even necessary. Frankly, fans should have been cheering every time he had the ball because it was beneficial for the Sixers.
In fact, that was kind of the story of the entire game for Denver. The Nuggets, a
trendy team
that
some people even consider a dark horse for the Finals
, looked completely lost on offense without the injured Danilo Gallinari in the lineup. Corey Brewer was laughably terrible, to the point where I was ecstatic when he had the ball. Ty Lawson was contained early. Iggy was a complete non-factor. Ditto Jordan Hamilton and Kenneth Faried. Hell, Wilson Chandler was trying to do things on offense it was so bad for Denver.
Truthfully, the only Denver Nugget who looked like he could do anything in the first half was that other former Sixer, Andre Miller. Miller, playing his typical old-man game, just seemed to do whatever he wanted, getting the rim the way only wily old men do, finding passing lanes and creating the few chances the Nuggets had.
But the Sixers jumped out early and never looked back, playing the type of basketball that is completely opposite from what we're used to. With Jason Richardson, Nick Young and Dorell Wright rotating in and out, this team just guns it. There is no shot these guys won't take, no moment when the three isn't' a viable option. And it's damn exciting to watch, at least when the team is winning and hitting those shots. Last night, they were in the first half, which allowed the Sixers to build a lead.
But it wasn't the shooting, or even the impressive first half of Jrue Holiday, or the woeful night for the Nuggets that allowed the Sixers to kick off the season with an 84-75 victory. Actually, those same entities flipped midway through the third quarter, and the Sixers were dangerously close from letting their lead get away. Wright and Richardson went cold from beyond. Jrue started forcing stupid shots early in the clock and playing really dumb basketball. And Ty Lawson finally kicked things into gear. Before you knew it, a 14-point lead had shrunk to three.
However, there was one guy there to save the day: Spencer Hawes and his ridiculous haircut.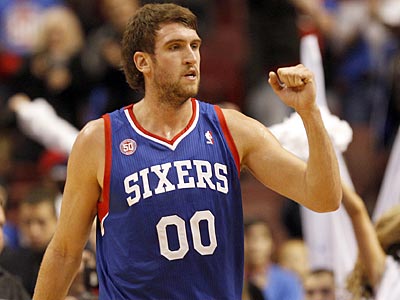 In a game that featured two young, exciting point guards, a game that featured Andre Iguodala returning to Philadelphia, a game that featured a hard workers like Kenneth Faried and a talent like JaVale McGee, a game that included former No. 2 overall pick Evan Turner — who was invisible by the way (credit Iggy for some of that, at least) — it was Spencer Hawes who was head and shoulders the best player on the court. I mean, he was better than everyone else out there by miles. It was stunning to see, even more impressive than his early-season dominance last year.
Hawes had one of the most impressive games of his life, scoring 16 points and nabbing 12 rebounds on 6-11 shooting and even hitting 2-3 from beyond the arc. But it was so much more than that. He added five devastating blocks, which felt like 15. He was literally defending the rim with his life, altering countless shots beyond the five he blocked. Hawes was also all over the place on both ends of the floor, picking up two steals, hustling his ass off and simply outworking everyone out there.
By the time the fourth quarter rolled around and Hawes threw back yet another intimidating — yes, I said intimidating — block, the Wells Fargo Center was in a total uproar, first starting the absurd and yet wholly appropriate "M-V-P! M-V-P!" chants, followed by a deafening chorus of "SPEN-CER HA-WES! CLAP, CLAP, CLAP-CLAP-CLAP!" It was not even remotely what I expected heading down to the game, and it was everything that makes basketball great.
The crowd was electric from the start, anticipating a new season with new players and a new philosophy, not to mention amped up to go all out against Andre Iguodala. The game, even with all its sloppiness and poor shooting, was exciting. And Spencer Hawes put on a show that no one really expected. It was as fun as a season opener gets.
The game was supposed to be about Andre Iguodala returning home. Instead, it was about an oafish-looking 7-footer with an absurd haircut making all those fans who wished the Sixers would not have re-signed him this offseason stand up and cheer his name in unison. The NBA is back in Philadelphia, and I could not be happier about it — or happier about the very friendly (four years, $41 million)
Jrue Holiday extension
.
This season is going to be fun.