Anyone who knows anything about college basketball knows the importance, tradition and success of the Big 5. For Philadelphians, it's a source of pride, and heading down to the Palestra to see a Big 5 battle was a right of passage for decades — albeit one that's fading with the new arenas and money grabs for each of the respective schools.
The Big 5 is college basketball in a nutshell. The passion. The intensity. The pride. The hatred. The rivalries. The bragging rights. The camaraderie. It's all there within a few measly miles of each other — Tobacco Road times three (if you add in Drexel for the City Six, that is).
While the ultimate prize has been oh-so-elusive for the Big 5 teams — the last championship for the city came in 1985 when Rollie Massimino's Villanova Wildcats upset the Patrick Ewing-led Georgetown Hoyas — the Big 5 has produced some of the all-time great players, historic figures and winning schools.
The names are endless: John Chaney, Ed Pinckney, Aaron McKie, Eddie Jones, Kerry Kittles, Jameer Nelson, Delonte West, Guy Rodgers, Mark Macon, Paul Arizin, Lionel Simmons, Michael Brooks, Fran Dunphy, Tom Gola, Chuck Daly, Jack Ramsay — you could go on for days.
Beyond that, you have two of top 10 all-time winningest programs with Temple sixth behind the likes of Kentucky, Kansas, North Carolina, Duke and Syracuse, and Penn sitting 10th. Which is all to say that the Big 5 has a rich history — one that is so rich that there has been at least one Big 5 representative in the NCAA Tournament for 35 straight years.
Well guess what? That streak is incredibly in peril this year. While
ESPN Bracketologist (and St. Joe's man) Joe Lunardi does have La Salle and Villanova currently in the dance
, they are by no means locks, and the likes of Temple and St. Joe's need something close to resembling a miracle to get themselves in. The Quakers have absolutely no shot.
The team with the best case right now, believe it or not, is La Salle. The Explorers have the best record of all the Big 5 teams, sitting at 18-6 overall and tied with Butler at 8-3 for third in the improved Atlantic 10 — thanks to the additions of VCU and Butler. And La Salle has built a strong case thanks to defeating the newest A-10 teams, knocking off then No. 9 Butler at home and following it up immediately by defeating VCU on the road. The problem is La Salle has absolutely zero good out-of-conference wins. The only real tough opponent they played outside the A-10 is Miami, who crushed them — just as they have damn near everyone, Duke and North Carolina included. Adding to that lack of a definitive out-of-conference victory, the Explorers also somehow suffered embarrassing defeats to Central Connecticut State and Bucknell, not to mention losses to Charlotte and UMass.
So while the Explorers have a god shot to get in, they cannot afford to slip up down the stretch. That's no easy task with a difficult game against Big 5 and conference foe Temple Thursday, not to mention two more road games to close out the regular season — the last one coming against a 19-5 Saint Louis squad that trails only VCU in the conference standings.
Without question, Villanova is the other team that has the best shot at the tourney. Their 17-10 record is boosted by
one hell of a week
in which the Wildcats knocked off then No. 5 Louisville and then No. 3 Syracuse in the span of a few days. But will those wins alone be enough, particularly given the tough remaining schedule for Nova? The Cats close out the season by hosting No. 17 Marquette Saturday, followed by back-to-back road games against Seton Hall and No. 20 Pittsburgh, then home again to host No. 11 Georgetown in the season finale. Villanova could easily lose all of those games, in which case you can kiss the NCAA tournament goodbye barring an unforeseen run in the Big East Tournament.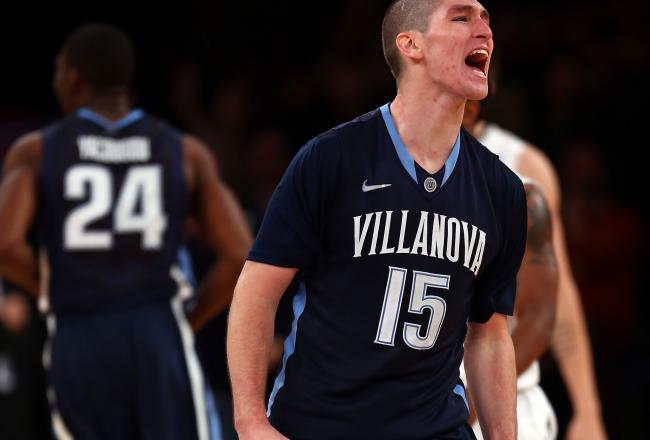 And again complicating matters, Nova has had some major hiccups along the way. They lost three in a row to Alabama, Columbia and La Salle. I repeat, they lost to Columbia. They also had another three-game losing streak, dropping games at Syracuse, against Pitt and at Providence. In fact, Nova lost both games against the Friars, a team that is just 14-11 on the season and 6-7 in the conference.
Hell, it looked like the Wildcats might completely blow up their tourney chances last night, when they came out and played horrifically uninspired basketball in the first half against Rutgers before righting the ship in the second half. Again, Nova is already a bubble team as is — far from a lock, and in more danger than even La Salle at this point.
Then there is the curious case of Temple.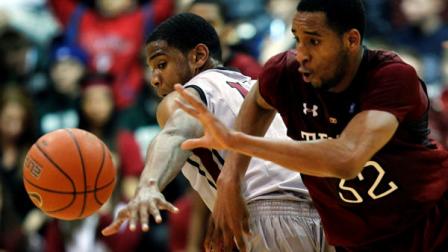 The Owls have basically been the class of the A-10 since Fran Dunphy succeeded fellow Big 5 legend John Chaney — and as we all know the Owls were also dominant during much of Chaney's tenure. This year, while the team definitely lost key contributors, there was no reason to think they wouldn't be a tournament team yet again. Only right now, they are on the outside looking in, on the wrong side of the bubble.
It's been a baffling year for the Owls, just as it has been for the entire Big 5. Somehow, a team that started 8-1 with its only loss coming at then-No. 2 Duke lost at home by 10 points to something called Canisius. It made no sense, particularly considering immediately after that inexplicable, embarrassing loss, Temple went up and topped No. 3 Syracuse and looked every big like a legit NCAA tournament threat. Then the Owls traveled to Lawrence and damn near upset then-No. 6 Kansas, and everyone thought Temple was going to be a handful come tournament time. Then they lost a tough one at Xavier, hardly an embarrassing defeat, but it was precursor of struggles to come.
Temple lost to St. Bonaventure, then lost by double digits to Butler and dropped games to St. Joe's and Duquesne. Not good. Even the victory over UMass over the weekend took everything the Owls had. As Fran Dunphy said, this team simply was overrated. Now Temple sits at 17-8 overall and 6-5 in the conference. It very well may take another run to the A-10 Tournament title for the Owls to keep their tournament streak alive.
As for St. Joe's and Penn, the hopes of a tournament birth are all but gone. In fact, the Quakers have absolutely not shot with their dismal 6-18 record. There will be no dancing for the Palestra inhabitants this year. As for the Hawks, it's going to be an uphill battle that quite frankly won't happen.
St. Joe's is 14-10 overall and 5-6 in A-10 play. And while they did beat Notre Dame, Xavier and Temple, the Hawks have also lost to Fairfield, St. Bonaventure, Dayton and UMass, not to mention dropping games to bubble teams Villanova and La Salle.
Coming off a 20-win season last year, the Hawks were supposed to take a step forward and become a tournament team in 2013. Instead, they have regressed, failing to live up to any sort of expectations. As a result, the Hawks have to win out to even get consideration, and probably need a very, very deep — as in winning it all — A-10 tournament run to actually get in. The outlook is not good.
And if you go ahead and add in Drexel, another team that many thought could be the best in the city this year, playing horrid basketball and sitting at 11-15, there are no surefire NCAA Tournament locks for any Philadelphia team.
It's as if not a single team in the city can figure out who exactly it is. Every one of them has been up and down, at times looking impressive only to slip up or get embarrassed by seemingly inferior competition. And it very well could cost the Big 5 and Philadelphia their dancing shoes for the first time in a long, long while.