A funny thing happened to me over the past two years. You see, like a lot of Philadelphia sports fans, particularly Eagles fans, I was of the belief Andy Reid should be fired. I had this belief as far back as 2003, when the Eagles lost their third straight NFC Championship game, getting embarrassed by the Carolina Panthers one year after closing out the Vet in the most appropriate way possible — by getting Joe Jurevicius'd and Ronde Barber'd out of participating in the Super Bowl.
I was at that game. After the first drive, it sucked. Also fuck Warren Sapp.
But back to the last two years. You see, over the last two years, even as the Eagles stumbled and bumbled their way to mediocrity and worse, Andy Reid went from the top of the list all the way down the bottom of Philadelphia professional sports coaches as far as drawing my ire is concerned. In fact, it got to the point where I was having an easier time
pulling for Andy Reid
and
appreciating
all he's done.
That is not to say I thought Andy Reid deserved to be retained as Eagles coach. He was fired, and rightfully so — honestly probably too late. But for all his faults, at least we knew what they were and he was called out on them. We could all see what was wrong with Reid and his teams as the wins began to come less and less, to the point where you didn't have to argue with anyone over his shortcomings.
That leads me to this post right here. With Andy gone, there is no coach that is universally criticized by his supporters and detractors alike any longer in Philadelphia. The closest thing right now is probably the debate of the hire of Reid's replacement, former Oregon Ducks coach Chip Kelly.
Personally, I'm a fan of the Kelly hire. It's different. It's creative. And it's forward-thinking. I'm willing to give him a shot. But there's not much to argue over yet, seeing as he's never coached a down of football at the NFL level — and his success out west has been pretty much praised across the board. We're in wait and see mode with Kelly, as far as I'm concerned.
That leaves the other three coaches, the men who are at the helm of the Sixers, Flyers and Phillies. So let's take a look at them all, and present all the issues I have with each.
Doug Collins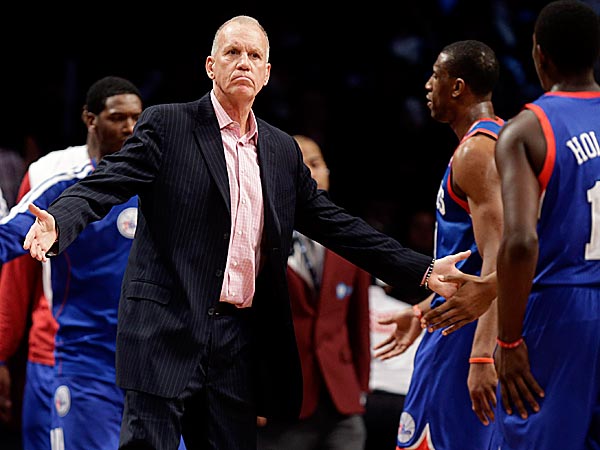 I love Doug Collins the NBA analyst. I really like what I know of Doug Collins the person. And I very much like that Doug Collins was an all-star player for the Philadelphia 76ers before I was a born and that he really seems to love the city I call home.
I do not, however, like Doug Collins the basketball coach. I just don't. And I really wasn't all that enthused when the Sixers signed him to a four-year contract — especially since he's never lasted more than three years at any of his previous stops. These were
my exact words
when he was hired:
I have no idea if this hire is a good thing or a bad thing. It certainly isn't an exciting one. And it's actually kind of sad, because Doug is an awesome analyst. TNT will surely miss him.
Truthfully, things have never gotten better, even with the Sixers making the playoffs and even winning a series last year. All of Collins' hallmark deficiencies have cropped up during his tenure as the head coach of the team that drafted him No. 1 overall: his reluctance to trust young players, his love affair with veterans who cannot play, his lack of progressive vision … the list goes on.
I hated the way
he handled Jrue Holiday
with Andre Iguodala and Lou Williams around, rarely trusting his young point guard with the ball until this season, with Andre and Lou finally gone. I hated the way he
yo-yoed with Evan Turner and stunted Jrue's progression
. I really, really hated the way
he toyed with Nik Vucevic and Lavoy Allen
before
completely ignoring them
because the soft and laughable Spencer Hawes was back.
Don't get me wrong, I give Collins
credit where credit is due
and even
defended him
at times.
But any progress the franchise has made the past two seasons has been far too short-sighted, to the point where you could argue it hasn't been progress at all.
Players have struggled with what their roles are
.
Blind loyalty
has set young players back.
Not demanding
his team gets the ball to hot players has cost the Sixers games.
His complaints have given his players excuses
. And his love affair with D-League talents Royal Ivey and Damien Wilkins have put more talented players such as Dorrell Wright (albeit an underperforming better talent) out in the cold.
Simply put, there is a reason Doug Collins has never lasted more than three years at one spot, and it's because he quite frankly isn't that great of an NBA coach. Don't get me wrong, he's a fine hire as a short-term stopgap, which is what he should be here in Philadelphia. But he's not the type of guy who is going to help a team mold into a contender. He left the Bulls, and shortly after they became a dynasty. He left the Pistons, and not too long after they became a mainstay under Rick Carlisle and then champion under Larry Brown. He left the Wizards, and they became a regular playoff team after.
I think this should be Doug's final season in Philadelphia as well, because the team needs someone with more vision and passion for the future. He's done wonders this season with Jrue Holiday, but it makes you wonder if this day could have arrived sooner had he entrusted him with the direction of the team earlier. The rest of the roster is stagnate and not getting any better under Collins. Evan Turner is a lost puppy most of the time, probably due to a combination of his own shortcomings and his power struggle with Collins. My fear is the Sixers will let him stick around one more season based of last year's playoff victory and this season's lost promise sans Andrew Bynum and now missing Thaddeus Young, the only other player outside of Holiday really worth a damn.
Truth be told, you don't hear the uproar about Collins outside the real intent observers —
The700Levels
and
Liberty Ballers
of the world — but you should. The Sixers have been stuck in neutral ever since Larry Brown jumped ship, and they haven't really moved out of that under Collins at all. Outside of Holiday, there's not much to be optimistic of, and that includes Doug Collins.
Peter Laviolette
Conversely, when the Flyers fired John Stevens and replaced him with Peter Laviolette, I couldn't have been more ecstatic. Admittedly, that was partly because I
did not like John Stevens
as a head coach whatsoever. But it was also because Laviolette was a good coach in Carolina who won a Cup, and he had the type of fire I like to see out of my coaches, especially hockey coaches. There was just
something about Lavvy
that drew me in, just like it drew in every Philadelphia fan.
When his team showed up flat, he
laid into them
. He wasn't afraid to challenge his guys yet still get the most out of them. And he's a veritable Philadelphia quote machine.
And of course, he helped get the Flyers to within two wins of hoisting their first Stanley Cup since the 1970s, thanks in no small part to his
legendary timeout
.
However, even with all the success and fire of Laviolette, he has his flaws. Like Collins' handling of Holiday and Turner, I didn't really like the way Laviolette
held the oft-injured James van Riemsdyk back
in the postseason two years ago when he was the best Flyer on the ice, one of
several baffling decisions
he made that postseason.
Then last season, after the Flyers retooled their team, they had a penchant for starting slow — an issue that lasted all season and cost them dearly in the playoffs, and a habit that has continued
at the start of this season
. It was an issue that he never corrected, which is the job of the coach no matter how much the players must execute. Further, this team has been one of the most undisciplined in hockey for years, they've had egregious defensive breakdowns on an almost nightly basis and the power play, save for the time spent with Chris Pronger manning the point, has been maddeningly inconsistent. These are all issues that are recurring themes under Lavioliette, recurring themes that never seem to get corrected.
Most Flyers fans won't want to hear this because they like Laviolette — hell, I like him too — but it's reminiscent of Andy Reid and his continued failures with clock management, use of timeouts and lack of in-game adjustments. Laviolette definitely has that "Philadelphia attitude" that the fans love so much, but he also has glaring blind spots as a coach. There's no reason this team should come out flat as often as it does, no reason they can't play more disciplined hockey and stay out of the box, no reason they can't play more responsibly defensively. Yet they never do. Add on top of that the mostly inept work in the face-off circle under his tenure — though admittedly they have been better in that regard of late — and it always seems to be the same issues, issues the coach has to correct. Frankly, I'm getting tired of waiting around.
It's difficult for me, because I actually love Laviolette's passion and it's clear he's a good coach. He won a Cup, took the Flyers to one of their own, and the team has had success. But it won't get the Flyers over the hump, especially with some key players who propelled them to that Eastern Conference Championship — Mike Richards, Jeff Carter, Chris Pronger, Simon Gagne, Matt Carle — gone, unless Laviolette can prove he can correct these recurring mistakes. As we saw with Reid, that's easier said than done. And if it doesn't happen soon, I'm not sure it ever will.
Charlie Manuel
I'll keep this short with Manuel because, frankly — even though he has his own glaring flaws — it's hard to go too hard on Charlie. After all, he is the skipper who helped the Phillies become
World Fucking Champions
, and the Phillies have had unprecedented success under Charlie. All those NL East titles, playoff appearances, two World Series stints and a World Championship. It's hard to be too mad at Manuel, even after last season when the Phillies failed to make the playoffs. Hard to blame Charlie for the major injuries to Chase Utley, Ryan Howard and Roy Halladay, among others, that derailed the season.
I will say, however, that as we all know, Manuel makes some completely baffling moves. They are too long to even attempt to list. His insistence on never using his closer outside of a closing role (or at least until the 9th inning) has cost the Phillies countless games. His and his front office's lack of patience with Domonic Brown has left us all wondering what in the hell Brown is or can become. He has repeatedly wrote line-up cards that don't make sense, took a while to get the hang of the double switch and hasn't exactly always handled pitchers well. His flaws are only going to get more glaring as the roster ages, the way people focused on those shortcomings before 2007/08.
But, the players still do love playing for Charlie, and they've won a shitload of games under him. In fact, he's steered the most successful run Philadelphia Phillies history. After all, this franchise is the losingest franchise in North American sports history, but under Manuel, the Phillies have been consistent winners — something that seemed unfathomable to me as a child.
Truthfully, with the players he's had, it's hard to blame Manuel for the playoff woes of 2010 and 2011, when the team simply couldn't hit, not mention the unforeseen egg laid by Cliff Lee. And in 2009, they were beat by a better New York Yankees squad, and things may have been different had Cole Hamels not been experiencing an NLCS and World Series MVP hangover from 2008.
Still, Manuel definitely gives you some head scratchers, and with the team lacking more power than it ever has, fielding the shakiest defense in his tenure and needing to win games in more diverse ways, Manuel is going to have to do things that go against his nature, or the Phillies will struggle to keep pace with the Nationals, Braves and the rest of the National League whether they're healthy or not. So the spotlight is only going to hotter on Manuel's seat in the dugout. I have a feeling he doesn't' mind, but does that mean the Phillies will win? We're about to find out.