Roy must have been a little rusty to start, giving up a run in the first inning. He quickly corrected himself, finishing his first start as a Philadelphia Phillie with a tidy 7 innings pitched, 1 run, 6 hits, 2 walks and 9 strikeouts, picking up the win in an 11-1 rout.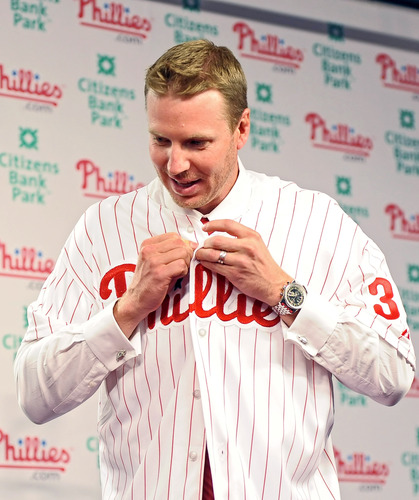 Oh yeah, our newest Cy Young pitcher also had an RBI single, going 1-4 at the dish himself, already making him a more productive hitter than Eric Bruntlett ever was. Like I said, the guy is good.
And his teammates are good too. Take, for instance, the newest Phillies third baseman, same as the old third/second baseman, Placido Polanco. Polanco and his enormous dome went 3-5 with a grand slam and 6 RBI. Not bad. Jimmy Rollins added a 2-for-4 game with two runs, a triple, a steal and two walks. Ryan Howard hit a bomb, going 2-for-6 and driving in Chase Utley on said two-run home run. And every Phillies starter got at least one hit, with everyone but Roy crossing home plate. Pretty nice opening day at the ballpark.
Of course, Roy Halladay had some of his spotlight stolen by Mark Buehrle, who did
this
in his start against the Indians:
Man, it's so nice to have baseball back.