This morning on way into work, my roommate sends me this text:
Sheldon and gocong going to Cleveland
Immediately, I reply:
Nnamdi for donny?
That's the first thing that popped into my head. Still, the deal hadn't been done yet, and the reports as to what the Eagles would get in return weren't very informative. But finally, the
deal is done
. The Eagles shipped off fan favorite cornerback Sheldon Brown and fan scapegoat linebacker Chris Gocong to Cleveland for the unimpressive though hopefully useful package of fourth-round and fifth-round picks, as well as seldom-used linebacker Alex Hall.
I'm 100 percent positive that not a single person is upset to see Chris Gocong go. In a word, he sucked. But to be fair, I don't think it was all Gocong's fault. In college, he was a pass-rushing beast. He was born to play as a stand-up defensive end or 3-4 pass-rushing linebacker. That's what he excelled at. Yet the Eagles inexplicably tried to convert him into a strong-side linebacker, failing to realize he was too slow to cover anyone, and too dumb to take correct paths to the football. It wouldn't shock me to see Gocong become an extremely effective pass rusher in Cleveland's 3-4 scheme. But I still couldn't be happier to see him go.
Sheldon is an entirely different story. There is no question about it, Brown was my favorite player on the Eagles defense last year. He's been a very good player for a very long time, solidifying the cornerback position since he was drafted in 2002. He burst on the scene as a rookie special team missile, completely demolishing a Cowboys returner on a kickoff, while wearing the bad-ass number of 39, before changing to 24. He went on to become a tackling machine and strong cover corner. For a few years there, his partner in crime, Lito Sheppard, was getting more interceptions and going to Pro Bowls. What many people outside of Philadelphia didn't realize is Brown was better, evidence by Lito getting those chances to get picks — defenses threw more to Lito's side, tending to shy away from Sheldon.
All Brown did was show up and play hard week in and week out — and play well. Really well. Numerous times he played at a Pro Bowl level, though never was rewarded with the honor. Last season was one of his finest, despite playing the majority of the year with a bad hamstring. He was a leader, the guy who took the torch from Brian Dawkins and did his predecessor and former secondary mate proud. Now he's gone, a former 2nd-round pick and one of the better corners in the NFL, for what amounts to much lesser pieces. Good starting corners aren't easy to come by.
Or are they? The J-E-T-S managed to pry away the incredibly talented Antonio Cromartie from the Chargers after a couple subpar years, joining forces with Darrelle Revis, the player everyone agrees is either the best or second-best corner in the entire NFL. And rumor has it, the other one in that conversation may just be on the market … and he's already been linked to McNabb and the Eagles in trade talks.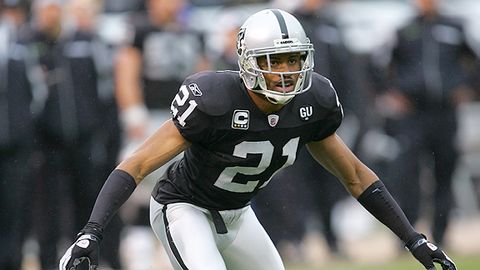 Now, I've been pretty quiet on the Donovan McNabb trade front. It's no secret, I'm a McNabb guy. I'd prefer to see him stay in Philadelphia, see him finish his career as an Eagle. And I certainly wouldn't wish upon him the fate of playing in Oakland for a crazy owner that has watched the league pass him by.
BUT, with this latest move, it's evident the Eagles are in some sort of rebuilding mode, albeit an express version. You don't trade a talented, valuable starting cornerback if you think you can win a Super Bowl right now, even if that player is unhappy with his contract. So it's pretty evident the Eagles are moving on, turning the page. They've released a number of veterans so far, and now have shipped a couple off. That leaves a hole at the other corner spot, though they do have Ellis Hobbs in the fold, along with newly acquired Marlin Jackson and that Joselio Hanson character that they think is better than he actually is. Kulp has an
excellent, level-headed breakdown
of the trade. Do yourself a favor and read it.
With all this unfolding, I think that if the Nnamdi Asomugha and No. 42 pick for McNabb offer is on the table or can be put on the table, it's a move that has to be done. That's a shitty situation for McNabb, no doubt. And I would certainly feel terrible for No. 5. He deserves better. But as much as I love the guy, my loyalties lie first and foremost with making the Eagles better. And if they think Kevin Kolb is ready and able (which the jury is still out on in my opinion, two starts isn't nearly enough to make an accurate assessment), I find it hard to believe a better offer would surface. An early second-round pick is a valuable commodity, and let's face it, you won't find any corner on the market close to as good as Nnamdi. Hell, you won't find anyone not named Revis that can even enter the conversation of approaching his ability at the position.
Landing Asomugha would immediately bolster a questionable secondary into one of the best in the league, especially if the Birds can upgrade the free safety position in the draft. It would give the Eagles two Pro Bowl cornerbacks, and easily the best duo in the entire NFL — even better than Revis and Cromartie. Think about it: Asomugha is so good and so respected that he typically takes away an entire side of the field. That would mean opposing offenses would have to throw more at Asante Samuel's side, one of the best big-play corners in the league and an interception machine. Or they'd be forced to attack Nnamdi more than they'd like. Or the wide receivers would be rendered useless. One of those three. Of course, that still leaves tight ends and running backs to run wild on pass routes against the Philadelphia linebackers and safeties. Though the Eagles could and should look at the draft to get a better cover linebacker and/or safety. It would be like skipping the rebuilding process, or at least taking the EZ Pass lane.
Though, all of this is conjecture at this point. For all we know, the Oakland deal is nothing more than rumor and hearsay. McNabb may not, though it looks like he will, go anywhere. And the Eagles could very well not do anything to replace Brown, which most certainly results in a pretty big downgrade as of right now. One thing is for sure: Sheldon will be missed. He was a leader, a worker, a physical presence on a team and defense that seemed to lack that overall last year. And he was literally the only defender I completely trusted to make tackles (well, Trent Cole too). It was a hell of a ride, but more proof of an era that is coming to an end.
"If you wanna be a one-man show, play golf."
Oh, and Chris Gocong sucks.