There was a lot on everyone's plate last night: the Flyers having a chance to eliminate the Devils and move on to the second round, the Phils taking on Atlanta with old man Moyer on the hill, the NFL draft and the craziness that is the Eagles during the event, not to mention the NBA playoffs and other NHL playoff games. It was a sports fan's dream.
In our house, we had the NFL draft set up on the top TV muted, with the Flyers taking precedence on the bottom TV with Jim Jackson's and Bill Clement's voices coming through the speakers. There were questions about just how the Flyers, even up 3 games to 1, were going to be able to finish off the second-seeded Devils without Simon Gagne and Jeff Carter. The answer was really quite simple — keep doing what they've done all series, all season against New Jersey.
When this team made it to the playoffs with that dramatic, improbable shootout victory over the Rangers on the final day of the regular season, it was evident the Flyers
got the perfect match-up
in the first round. Yes, Flyers fans of my generation have the haunting memories of New Jersey and specifically Martin Brodeur dominating the Flyers, but the roles were completely reversed this season. Philadelphia defeated Jersey in five of the six games during the regular season. They were simply better than the Devils, overall records and seeding be damned. And that showed in this series, with the Flyers eliminating the Devils in five games. Now shockingly, it is Philadelphia that is the first team to advance to the next round, the same team that underachieved most of the season, fought through injuries to not one but two starting goaltenders, found a way to scratch and claw its way into postseason play. The same team some people suggested was better off missing the playoffs altogether and rebuilding. The same team virtually no one thought would make any noise in the playoffs. Now they're the first team to advance. Unreal.
The formula was actually pretty simple for the Flyers. Play smart, strong defense, take away space, block shocks and have one or two players dominate. That's exactly what the Flyers did. The two best players in this series weren't Martin Brodeur and Zach Parise, or even Ilay Kovalchuk and Travis Zajac/Dainius Zubrus/Patrick Elias/name any other Devil. Not even close. No, the best two players from game 1 to game 5 wore Orange and Black, one up front, the other the last line of defense. Claude Giroux took his game to another level for the second straight playoff series. It began last year, when he was hands down the single best Flyer in the opening round loss to the Penguins.
That led to speculation that Giroux was primed for a breakout 2009-10 season, set to tear up the score sheet and help fill the goal-scoring void left with the departures of Joffrey Lupul and Mike Knuble. Claude definitely had a very good regular season if you watched him on a nightly basis. All the skill, all the poise, all the tenacity he displayed late last season and in the playoffs was there. His passing and vision otherworldly. But it didn't translate on the scoreboard. Playing most of the season with rookie James van Riemsdyk, who was also expected to do more scoring, and Arron Asham, Giroux had just 47 points (16 goals and 31 assists) and finished a -9 during the regular season. But you know how they say sometimes numbers can lie? That's the case with Giroux. He has top-line talent, possessing the passing skill and ice vision few in the world have and a shot that can be deadly accurate. He's strong on the puck, tough and gritty despite his small stature, and works hard defensively. He's a huge asset on the power play, and such a sound player that he kills penalties as well. Flyers fans knew it was just a matter of time before he exploded.
That's exactly what Claude did this series. Again, he was the single best skater on the ice. Better than Parise. Better than Kovalchuk. Better than Richards, Carter, Briere. Better than anyone. He dominated. Especially last night, scoring two goals and assisting on the first. Every shift, he stood out on the ice. Every time he had the puck, you felt as though something good was going to happen. And time and time again, he left you in awe, mouth gaping with another incredible play that he made seem so effortless. There was the absurd blind, backhanded pass to Danny Briere to score the first goal, the powerful, perfectly placed slap shot that ricocheted so hard back out of the net some players kept right on playing, and the tap-in off a great power play setup, winning the faceoff, firing a shot from the point and Scott Hartnell dishing off the rebound to Giroux to bang it home.
The guy truly was nothing short of amazing in this series. And there's no doubt he was the best player. I wouldn't trade Claude for anyone not named Crosby or Ovechkin (OK, maybe a few other players, but you get my drift). He's just that good, even if his regular season numbers didn't quite portray that. The guy is a stud, and I don't think there's any doubt we're witnessing a star in the making.
Whereas Giroux was the best skater to lace them up this series, Brian Boucher very well may have been the MVP. He certainly was the better of the two goaltenders, outplaying Brodeur in every conceivable way. Boosh faced 134 shots in this series, stopping 126 for an otherworldly .940 save percentage, finishing things off in style last night with a shutout. Conversely, Brodeur faced 126 shots in his five games, stopping just 111 for an atrocious .881 save percentage, getting lit up for seven goals the last two games, really only putting forth one Martin Brodeur-type game, the 3-2 overtime loss in game 3. Other than that game, Boucher was not only a little better than Brodeur, but light years better.
He didn't just play like
it was 2000
, he played arguably even better. Gone were the weak goals he was routinely giving up when he first took over full time for the injured Michael Leighton. Gone were the fat rebounds and frenetic play. Every game in this postseason, truthfully starting a few games before that, Boosh was technically perfect in net. He anticipated every play, saw every shot, challenged each shooter. He gobbled up ever puck, rarely if ever leaving any rebound at all, let alone a juicy one. He was the definition of a confident goaltender, coming out far to challenge shooters, playing the puck without fear, making all the stops. He was, well, awesome. Especially last night, specifically in the first period.
Last night's game was par for the course. The Flyers took a ton of penalties, and a large portion of the game came down to special teams. With the Flyers failing to get any rhythm rolling their lines, Boucher kept it all together. He made 9 stops in a first period that seemed to have more Jersey chances than Philadelphia chances, yet the Flyers found themselves up 1-0. He stopped nine more shots in the second and 10 more in the third, never once looking even remotely penetrable. The guy was a brick wall in the net.
Truth be told, he had a lot of help as well. Danny Briere had a great game himself, opening up the scoring with his goal and assisting on Giroux's second. With Carter and Gagne out, Giroux and Briere took it upon themselves to pick up the slack. The two diminutive forwards whose numbers both end in 8 were clicking on all cylinders last night. They gave the Flyers the goals they needed to bury the Devils. And they played some defense to boot.
Mike Richards was outstanding defensively, and he had two assists as well. Playing nearly 22 minutes, he was blocking shots, mucking in the corners and giving tremendous puck support in both zones. In this series, Richards lived up to his captaincy 100 percent.
Darroll Powe was relentless, Scott Hartnell finally had a good game, working his ass off, finishing checks, even notching an assist. Hell, I don't even remember him hitting the ice once all night. Ville Leino stepped in without missing a beat, as if he'd been playing all along. He was dynamic with the puck, created numerous chances and just had a great game. Pronger continued to dominate Kovalchuk and all the rest of the Devils, and Kimmo was Kimmo. Matt Carle and Braydon Coburn gained more consistency. Even Parent and Krajicek held their own.
And then there was those two fourth-line forwards, willing to sacrifice life and limb to keep that puck from getting through. I don't know how many shots Blair Betts and Ian Laperriere blocked in this series, but I know it was a shitload. These two are some of the craziest motherfuckers on the planet. They played as good as any player possibly can defensively in this series, and this duo may be the best penalty kill tandem I can ever remember. They are truly remarkable. And fearless. Even with a 3-0 lead late in the game, they were putting their bodies on the line. Betts took one or two off his hand. And Laperriere continued to sacrifice everything, which led to a moment that was simultaneously admirably and frightening.
When I saw the blood gushing from his face, I kid you not, I thought his eye had fallen out. Turns out,
so did he
. Thankfully, Laperriere's eye stayed intact, though it was a scary moment, the second time he's taken a puck right to the face. This time, he learned his lesson. No, that doesn't mean the shot-blocking specialist is going to stop giving up his body. It simply means he's going to take a cue from his fellow shot-blocking specialist linemate, Blair Betts, and start wearing a shield. I gotta tell you, I wasn't that thrilled with signing Laperriere when it happened, and I couldn't have been more wrong. It's impossible not to love that guy when he's on your team. Impossible. He and Betts and Powe were every bit as big of a key to this 4-1 series win as anyone. Truly remarkable defensive performance from that line. I honestly can't say enough great things about them.
This was a total team effort through and through. The Flyers played as a cohesive, defensively sound unit the entire time, never once losing form or focus. The Devils, on the other hand, folded. The man who was supposed to be the prize of the trade deadline, Ilya Kovalchuk, was essentially a nonfactor. Yes, he made some dazzling plays in game 1 and put up 6 points, but those were hollow numbers. His first goal came on an empty-netter. His other was on a 5-on-3. He routinely tried to do too much all by himself, abandoning the team concept and Jersey system. And he became visibly frustrated more and more as Chris Pronger and company shut him down. To say he was a disappointment is an understatement. The guy is a terrific goal scorer and dynamic player, but after watching him this series and in the times the Flyers played him after the trade, I'd want nothing to do with him. In this series, he was a selfish player, and honestly, an ineffective one. Hardly the worst player on the ice, but certainly not as noticeable or dangerous as a guy like Giroux or Parise. Someone is going to pay this guy a ton of money this offseason. I'm glad the Flyers don't seem to be in the running.
It was a great win and an excellent step for a team that everyone thought had no shot, a team that did not live up to expectations or come even close to it during the regular season. Now no one is giving them a chance against the Capitals in the next round, especially without Gagne and Carter. I'm not delusional enough to think the Flyers are going to beat Washington, a team that ran away with the Eastern Conference and employs one of the best two players on the planet. But I'm not going to say this team is completely dead in the water next round either. For starters, Washington hasn't even advanced yet (though the Caps can tonight with a victory). Secondly, if Boucher can continue riding this hot hand the defense plays as sound as it did against the Devils, you never know, especially with Washington having its own questions between the pipes. Stranger things have happened in the NHL playoffs. No, advancing any farther isn't likely, but then again, neither was thoroughly thumping the Devils in the first round.
All I know is this team is finally looking like it gives a shit, and with the talent on the roster, even without two of its top forwards, the Flyers won't go down without a fight the way the Devils did. It was a step in the right direction, after it looked as though following the finish to last season and lackluster performance this year, the franchise had taken two steps back. In Claude We Trust.
As for the Eagles in the draft last night, well, I don't think stunned is even the proper word. Right as the second period was ending in the Flyers game, the Eagles came swooping in with a trade, sending their 24th overall pick and their two third-round picks to Denver for No. 13 overall. With Texas safety Earl Thomas still on the board, a player who has the versatility and cover skills to potentially be a safety or corner on the next level, and the Eagles having a gaping hole in the secondary, there wasn't a person alive who didn't think the Eagles moved up to take him.
The panelists on ESPN spent the entire time before the Eagles picked discussing Earl Thomas and how the Eagles were taking him to replace Brian Dawkins. Not even for one millisecond did they talk about another player. Then the pick came in and it was none other than …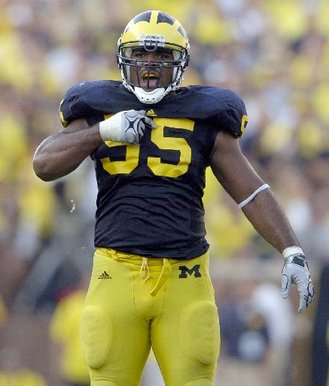 Brandon Graham? Really? Another short, smallish defensive end? Didn't the Eagles just trade for Darryl Tapp? Don't they already have an undersized beast in Trent Cole? Don't they, you know, need a fucking player in the secondary, especially a god damn safety? I don't get it. I really don't. Earl Thomas was the pick. Everyone was convinced of it. This team's biggest need is safety. There's no question about it. Yet they moved up to take a defensive end that most people were projecting as a 3-4 pass-rush linebacker. Color me stunned.
This is not to say I don't like Brandon Graham, even if he went to Michigan (aside: FUCK MICHIGAN). Listen, the guy is an absolute beast. He started three years at Michigan, surrounded by underachieving players defensively, and he tore it up for three years. Being a Penn State grad and season ticket holder the past two years, I got to see him up close and personal once, and watched him play numerous times, both against Penn State and others. He was the best player on Michigan last year, no doubt about it. In college, he was nothing short of a stud.
However, I don't like the pick. Don't get that misconstrued with not liking the player. I actually do like Brandon Graham. He's one of the only players from Michigan you will ever hear me say that about. And I actually think he has a chance to be a good player. I just don't like the pick there, given the need, given what they had to do to move up to get him. Yes, the Eagles definitely could use some help opposite of Trent Cole, and this, combined with the trade for Tapp, seemingly addresses that. But like I said, I watched Graham a lot the past three years. He's good. Really good. But he didn't exactly scream "move up in the draft 11 spots to get him" good. He certainly wasn't even the best defensive lineman from the Big Ten in this draft. That would be Big Ten Defensive Player of the Year Jared Odrick, the Penn State defensive tackle who went 28th overall to Miami. Perhaps that's a bit of a biased view, being a Penn State alum and all, but the gap between the two isn't much different. Frankly, if they were going to take a defensive end, I would have preferred Derrick Morgan, but shit, fuck all that noise, I wanted a safety. Or even a corner. I wanted Earl Thomas. Or Kyle Wilson.
But that's the Eagles for you. You never know what the hell they might they do on draft day. Here's what I do know: Those motherfuckers better take Taylor Mays or Myron Rolle here in the second round tonight. If they don't I might lose my mind. And if Mays is still there at 37, the fifth pick tonight, they have to take him. Yes, his stock dropped this season, but last year, people were calling him a sure top 10 pick if he had come out. He's a fucking monster. A 6'3", 230-240 pound safety that runs a sub-4.4 (sub-4.3?) 40. He absolutely annihilates people on the field. By all accounts, he has a lot of work to do with his pass coverage, but my god, can he hit. And he has all the tools, the size and speed, to be a difference maker. Get him. Now.
If he's gone, I don't think they could go wrong with Myron Rolle either. An incredibly smart, extremely talented safety? Yes please.
Anyway, here's what we've won so far.
Hopefully the Eagles found themselves another Trent Cole. That would certainly help take pressure off the secondary. Also, I still don't know why they traded Sheldon Brown, even if he's unhappy with his contract. I'm confused.
Beyond that, Jamie Moyer pitched fantastic last night, proving he doesn't quite have one foot in the grave just yet, pitching 6 innings of 4-hit ball, surrendering just two unearned runs. Well done, Jamie. Meanwhile, the Phillies owned Derek Lowe, tagging him for five runs (four earned) in five innings. Shane got two RBIs. Greg Dobbs went 2-for-3 with 2 runs in his first start at third of the season. Chase scored twice, Howad, Werth, and even Ross Gload all had an RBI, and Juan Castro continued to hit and hit and hit with Jimmy out, going 3-for-5 with 2 runs and an RBI, upping his average to .353. I'm not sure anyone expected the Phillies to take two of three from the Braves with Kyle Kendrick, Roy Halladay and Jamie Moyer going up against Tommy Hanson, Tim Hudson and Derek Lowe. I think most of us just assumed they'd win with Halladay on the mound, while Hanson and Lowe gave the Braves huge advantages over the struggling Kendrick and the old man Moyer. Instead, the Phils got great outings from all three starters, winning two, and they should have actually swept Atlanta, you know, if Ryan Madson didn't suck.
Oh, and Ottawa beat Pittsburgh in triple overtime to force a game 6, and it was awesome. Playoff hockey is great. Also, Kevin Durant owned Kobe last night, finishing with 29 points, 19 rebounds and four assists. I watched the entire second half, and even when he was struggling with his shot, Durant still dominated. Call me crazy, but something tells me that guy is going to be really good for a really long time. I know, bold statement. That's what I'm here for.