Last night, Jim Thome hit his 599th and 600th career home runs, becoming just the 8th player in Major League Baseball history to reach the 600 home run milestone. But unlike a few of the players of his era ahead of him — namely Barry Bonds, Alex Rodriguez and Sammy Sosa — Thome has reached that plateau without the whispers of steroid use tainting him.
Thome is one of the game's best-liked players, and by reaching this illustrious milestone, he is undoubtedly one of the greatest sluggers of all time. What he's been able to do over the course of his career, going from a slightly smaller but miscast third baseman into a moon-shotting first-base power hitter, has been a pleasure to watch both from afar and up close.
A quick little true story: I, along with a couple of my friends, went to Jim Thome's first home game as a Philadelphia Phillie back in 2003. In fact, we actually went to all three games of that weekend series against the Pirates, making the trek from State College as freshmen back home and then to the Vet. I'll never forget it — not just because it was the first full series I ever went to or necessarily because it was the first time Philadelphia got to see Thome wear the red pinstripes in person — no, I'll remember it forever because in his very first at-bat, Thome hit a scorcher that just missed being a home run, instead settling for a triple. That's right, Jim Thome hit a triple in his first at-bat in Philadelphia as a member of the Phillies.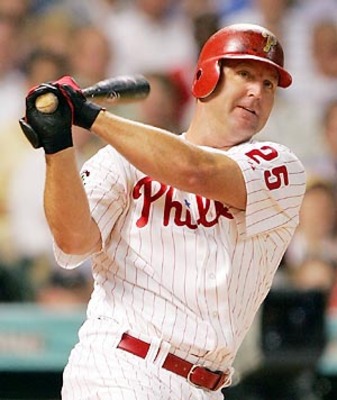 Believe it or not, Thome hit two more triples that season and one more the next year. In that first year, Thome was outstanding, slugging 47 home runs, driving in 131 RBIs, scoring 111 runs and helping the Phils win 86 games, albeit finishing third in the division. Instantly, he won over the fans' hearts, and he rewarded them with another fantastic 42-home run, 105-RBI, 97-run season the following year, in the inaugural season of Citizens Bank Park. Then in 2005, Thome started slow, got hurt and opened the door for Ryan Howard to burst onto the scene, making Thome expendable. The next season he was traded to the White Sox for another Philadelphia fan favorite in Aaron Rowand.
And while Thome's time here in Philadelphia was short-lived and did not result in any playoff appearances, his signing was the tipping point that put the team's current string of success in motion.
You see, Jim Thome was the first big free agent, the first star to actually want to come to Philadelphia in a long, long time. In fact, the team's best players had been doing everything in their power to get out of Philadelphia and leave this embarrassing organization. Curt Schilling forced a trade. Scott Rolen refused to re-sign. And no star player in their right mind was ever considering going to Philadelphia, let alone wanting to be a part of the franchise.
Jim Thome changed all that. With the new ballpark on the way, Thome saw an opportunity to help bring baseball back in Philadelphia. He was the face of the franchise when the Phillies closed out the Vet and ushered in Citizens Bank. He was the first all-star, the first truly elite-level player in decades to say, "Yeah, I want to go to Philadelphia to play."
A few short years later, the Phillies were on their way to winning their first NL East Division title in forever, then winning a World Series and attracting some of the game's biggest names, either through trade for free agency.
Now players want to come and be a part of the Phillies. Roy Halladay waived his no-trade clause to come here. Cliff Lee took less dollars and less years to return. Hunter Pence and Roy Oswalt were only too eager to go from dreadful Houston to Philadelphia. The list goes on. And while Citizens Bank Park has become a desired destination for players around the league thanks to people like Charlie Manuel, Ruben Amaro Jr., Pat Gillick and homegrown players like Jimmy Rollins, Ryan Howard, Chase Utley and Cole Hamels, it was Jim Thome who got he ball rolling.
He was the one who first stood up and decided he wanted to be a part of the Phillies. Now he's residing among the greatest of all time — Ruth and Aaron and Mays and Griffey.
So congratulations, Jim Thome. And on behalf of Phillies fans and baseball fans everywhere, thank you for being a great player and an even greater human being.