Honestly, you couldn't have asked for a better end to July and start to August if you're a Philadelphia fan. It started with one of the greatest Fridays in Philadelphia history, ended with a weekend sweep and ushered in August with another come-from-behind, extra-inning victory. Essentially, a perfect four days.
Things began Friday with the news that the Eagles signed Vince Young to be the backup quarterback behind Michael Vick.
I couldn't have been happier. Now backing up the Pro Bowl starting quarterback is a Pro Bowl quarterback with a winning record and a world of talent. Excellent signing in my opinion by the Eagles, and a chance for Young to learn from both Vick and Andy Reid to help develop as a QB and reclaim a starting spot going forward.
That seemed like it was going to be the end of the high-profile moves by the Eagles this offseason following the signing of Jason Babin and the Kevin Kolb trade that netted a second-round pick (which Kolb was) and young Pro Bowl cornerback Dominique Rodgers-Cromartie. All attention now was squarely on the Phillies and their pursuit of Hunter Pence.
Honestly, I was beginning to get agitated on Friday with all the talk and speculation going on about Pence, especially when word leaked (whether true or not) that Domonic Brown was probably going to be included one way or another in the deal. This made me furious because while Brown has certainly had his struggles, it just seemed foolish to me to give him up for Pence, a very good but not great player. I mean, the Phillies weren't willing to include Brown in trades for Cliff Lee, Roy Halladay or Roy Oswalt, and as good as Pence is, he's not nearly as good or accomplished as any of those guys.
Anyway, I wasn't feeling too good, and trying to keep up with all the rumors was exhausting. So I skipped out of work a little early, headed home and laid down to take a nap. When I awoke a little after 6 p.m., I got a call shortly thereafter by Arkansas Fred. I picked up the phone and the first words out of his mouth were, "Is it true? Is this real?"
I had no idea what the hell he was talking about because I had just woken up. He said two of our friends just texted him that Nnamdi Asomugha signed with the Eagles. I couldn't believe it. No way. Can't be true. He told me to verify and call him right back, so I hopped on my computer and sure enough, there it was … Nnamdi Asomugha, easily the best free agent on the market and arguably the best cornerback in all of football, signed a
five-year, $60 million contract
with the Eagles.
Whoa. Talk about stunning. I mean, with perennial Pro Bowler Asante Samuel already in the fold, then the trade for Rodgers-Cromartie, I pretty much thought the book was closed on Nnamdi to Philadelphia. But just as they have so many times in the past, the Eagles flew under the radar and shocked the entire NFL with this signing.
With it, it immediately brought about speculation that perhaps now the Birds were looking to move Samuel, who coincidentally had not been in camp at Lehigh yet with an excused absence. But word from the Eagles was and has been that they aren't shopping Asante and don't plan on trading him unless they are completely blown away with an offer. That means the Eagles went from Asante and a bunch of bums, making the cornerback situation a major weakness, to Asante now being only the second-best corner on his own team at best. Now the Eagles have Nnamdi, Asante and DRC, easily the best cornerbacks in the NFL by a wide margin. And given the lack of depth and experience at linebacker, I can only assume that means Juan Castillo plans to run a 4-2-5 defense (how awesome would that be?).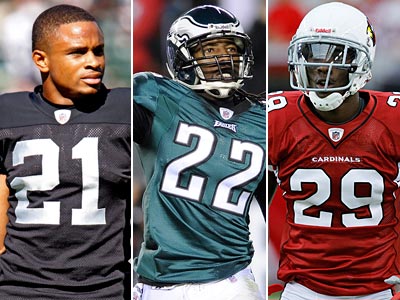 That's just frightening. I assume Rodgers-Cromartie will be the odd man out of the starting lineup given Asante's penchant for big plays, but all three will play a ton. And given the inexperience at safety as well, with the projected starters being second-year man Nate Allen (recovering from injury) and rookie Jaiquawn Jarrett, perhaps DRC may even play a little safety. But we know all three will see the field a ton, and the nickel may be utilized more than ever before.
It was really a mind-blowing signing, something I don't think anyone saw coming after the Kolb trade. But at this point, when you think about the Cliff Lee coup, the Flyers completely overhauling the franchise, not to mention the Vick signing, and now this, it's safe to say we can no longer be surprised or shocked by any transactions Philadelphia teams make.
While I was still digesting that news with glee, the Phillies went out and completely annihilated the Pirates 10-3 behind another good outing by Roy Halladay, who all the sudden looks like the favorite to repeat as the NL Cy Young winner given the recent struggles of Jair Jurrjens. And as that whooping was taking place, bringing the Pirates back down to earth, news of the Hunter Pence trade came in, with the Phils completing the deal while holding on to Brown.
Sure, the Phillies gave up top pitching prospect Jarred Cosart and power-hitting first baseman Chris Singleton, plus two other prospects, but they held on to Brown, got the right-handed bat they've been looking for and look like about as complete a team as you can possibly have in baseball.
The excitement level couldn't be any higher in Philadelphia for Pence's arrival. And as happy as I am with the trade, I want to go ahead and put a permanent moratorium on the whole "Pence-ylvania" thing. Two reasons: one, it's fucking stupid; two, the Philadelphia area is absolutely nothing like the rest of the state and in no way should Pennsylvania be trumpeted in front of Philadelphia regarding the Phillies. I'll let it slide for this weekend, especially given that the Pirates were in town, but please, no more. It's not clever. Really, it's not.
Having said that, it was nice to see Pence get a hit and an RBI in his debut, though it was Ryan Howard who stole the show in the 7-3 win, going 4-for-4 with a home run, two doubles and three RBIs.
Oh, and sliding in under the radar among the Pence buzz and leftover excitement about Nnamdi was the fact that the Eagles also finally signed a 300-lb. plus defensive tackle, luring away Cullen Jenkins from the defending Super Bowl champions, while shipping off former first-round pick Broderick Bunkley.
Damn. Talk about giving Castillo all the tools to be successful. The only thing the Eagles haven't addressed is linebacker, and while they most likely will look to bring in a veteran there, they now have a defensive line that includes Jenkins, Babin and Trent Cole, and a secondary that has three Pro Bowl corners. Add that to the news that first-round pick Danny Watkins was signed and that DeSean Jackson plans to be in camp this week, and it's a very, very good time to be an Eagles fan.
And a Phillies fan. With the Pirates coming in to Citizens Bank Park as the talk of baseball, the Phillies just went out and asserted themselves, stealing those headlines with the Pence trade, burying Pittsburgh in the first two games, and then going out and completing the sweep behind Raul Ibanez, who seriously needs to be
left the hell alone
.
All Ibanez did on Sunday was go 3-for-5 with 4 RBIs and two home runs and play the role of hero not once, but twice. The first time was in the 8th inning, with the Phils down two runs. After Ryan Howard made an absolutely boneheaded baserunning play, the Phils looked to be in a bad spot. Then all Raul did was crush a two-run, opposite-field home run to tie the game.
Oh, and then after Pence doubled in the 10th, Raul did the same thing, getting the walkoff hit to win the game.
It was Raul's 25th RBI in his last 20 games, and the guy has the most RBIs in all of baseball the past three weeks, so, uh, stop fucking complaining about him. He added another RBI last night, so yeah, the guy certainly helps the Phillies win games, despite anonymous commenters who say otherwise.
And Pence definitely acclimated himself well, scoring the winning run in just his second game as a Phillie and having a
great quote
after the game:
"Good game, let's go eat."
Pretty much a perfect way to close out July. And the start to August was just as sweet. Down by two in the 9th last night in Colorado, John Mayberry came up with two out and one on. He proceeded to have an absolutely awesome at-bat, fouling off pitch after pitch, and then finally
smoking a game-tying two-run homer
.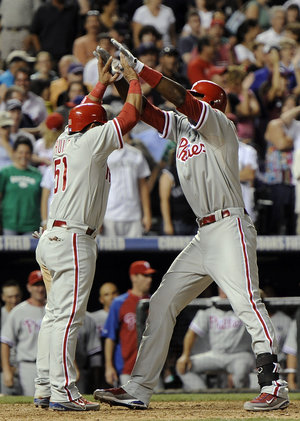 An inning later, Shane Victorino
hit the game-winning home run
, with Ryan Madson closing it out.
All in all, not a bad four days here for Philadelphia. Not bad at all.