Last night, I finally attended a Phillies game that featured both good weather and a victory — an occurrence that
hadn't happened all season
for me. Of course, there was an earthquake here in Philadelphia and all across the East Coast beforehand, which was all sorts of weird.
I can honestly say that last thing I expected when I went to work yesterday was for an earthquake to hit and rock my building. Yet there I was, at first feeling a rumbling in my feet and wondering what the hell was going on. Next thing I know, people are creeping out of their offices/cubicles, confused and curious and some even scared. The light fixtures were swaying like crazy, and for a second I thought our building was collapsing.
Then I took to Twitter and saw people all over the place were talking about the earthquake that just struck. Talk about odd. I had never before experienced an earthquake, and since there wasn't actually any damage or harm as far as I know in my office or here in Philadelphia, it was actually pretty cool.
Having said that
, I now in no way am interested in living in California. I mean, the quake originated in Virginia and was a 5.8 or something. I can't even imagine what it must feel like for a 7 or 8 on the actual fault line. When it comes to earthquakes, the East Coast is a giant pussy compared to the West Coast, no question about it.
Sadly the earthquake did not shut down my building, and work resumed as usual. In fact, I actually had to work later than anticipated even though I wanted to get out as quickly as possible and head to the ballpark because I'm pretty sure god hates me, or at least really enjoys fucking with me — not that I blame him.
Anyway, I finally head to the game with a buddy of mine, and the first thing I noticed was how few Mets fan made the trip down 95.
There was next to none of them present, a far cry from a few years ago. Remember when Citizens Bank Park opened? Every time the Mets came to down, thousands, and I mean thousands, of Mets fan would invade CBP and cause quite an electric and potent atmosphere. No, it was never a takeover like what's been happening down in D.C. when the Phils take on the Nationals, but a large portion of the stadium was taken up by Mets fans. In fact, one of my favorite CBP experiences ever was going to a game with a group of my friends and harassing a Mets fan who was wearing a faded Roberto Alomar Mets shirt. The "AL" was faded out on the back of the shirt, so the entire game we were yelling, "OMAR!" at the guy nonstop. He was clearly agitated but really couldn't do much about it because a. there was like 6 of us and b. we weren't doing anything profane. It was a blast.
Nowadays, with the Mets becoming chokers, then financially strapped and a laughingstock, there are fewer Mets fans than ever invading Philadelphia. I'm sure the fact that getting a Phillies ticket is no easy task these days plays a part in that, but still, it's pretty stunning the drop-off.
As for the game itself, it was another drubbing. Before you could blink it was 9-0 Phils, and they went on to win 9-4. Shane Victorino got the offense going by murdering a baseball in the 3rd inning, John Mayberry continued to make it damn near impossible for Charlie Manuel to sit him by crushing yet another home run, this one a three-run shot, and Placido Polanco got himself back into the swing of things, picking up two hits and making a nice play in the first to nail Angel Pagan at home plate. Hell, even Ben Fracisco had a three-hit night, with Charlie pushing the right buttons yet again. It sure is nice to play the Mets.
The story of the night, however, was without a doubt Vance Worley.
Worley started off by living dangerously. The guy threw 30-plus pitches in the first inning alone, surrendering back-to-back singles to start the game, putting runners on 1st and 3rd with no one out. Then David Wright hit a chopper to third that Polly had to back up on. It would have been tough to turn two or even go for second with the speedy Ruben Tejada on first, so Polanco's only play seemed to be at first. Except thanks to playing the Mets, Pagan froze on third, then decided to go home. So Polanco calmly threw home and had Pagan by about 7 steps. Man, the Mets are bad.
Then Vance struck out Duda looking, walked Jason Bay and struck out Nick Evans looking. Not pretty, but got out of it with no runs.
The second started out quite similar. Worley again gave up back-to-back hits to start things off, a single by Thole and a double by Turner, to put two runners in scoring position with no outs. Not good. Then all he did was proceed to strike the next three batters out, all looking. In case you're counting, that would be 5 strikeouts for the first 6 outs, all of them looking. Yeah, I'd say Vance is good at fooling hitters.
After that, Worley simply shut the Mets down, dealing through 7 shutout innings. In all, he went 7 innings, striking 9, walking just one, and surrendering just five hits and one run. Oh yeah, he also went 2-for-3 at the plate with two runs scored and an RBI. Vance is now 9-1 on the season with a 2.65 ERA and a .229 batting average. Oh, and the Phillies have won the last 12 times he's pitched. Vance Worley is good. Surprisingly good. Even
he's surprised
with how good he's been:
"I saw myself as a cup-of-coffee guy," Worley said.

"I didn't expect to be doing what I'm doing. I just figured I'd be another average guy just filling in shoes."
I'd say he's filling in quite nicely. And if Worley isn't the biggest surprise this season, then perhaps John Mayberry Jr. is. Listen, I've been about the
biggest Raul Ibanez supporter
there's been this year, especially during his hot July, but right now, it is damn near impossible for Charlie Manuel to keep John Mayberry out of the lineup. The guy has just been absolutely crushing the baseball.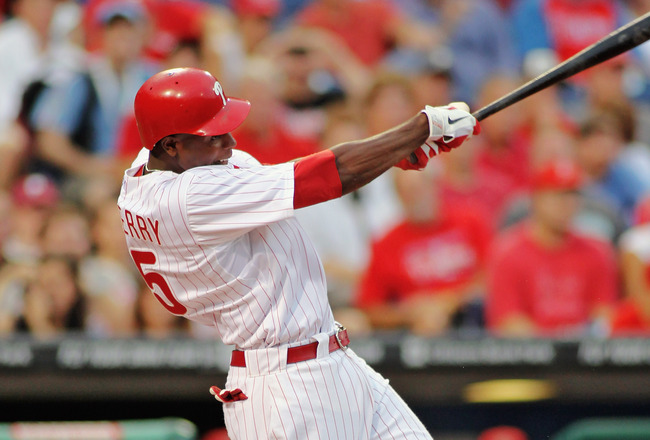 With last night's two-hit performance in which he killed a baseball for a three-run home run in what turned out to be the difference, Mayberry is now batting .275 with 12 home runs, 41 RBIs, 26 runs, 6 steals and a .539 slugging percentage. He has 26 extra-base hits. All of this in just 193 at-bats. That's beyond remarkable. The guy has 53 hits on the year, and 26 of them have gone for extra bases. Wow. And lately, he's been as dangerous a hitter as the Phillies have.
When you sit back and think about it, it's stunning. Sure, Mayberry is big and strong and fast. He's been a good fielder every time he's gotten the chance to play, and a versatile one at that, able to play any outfield position as well as first base. But entering the season, virtually nothing was expected out of Mayberry.
He played in 39 games in 2009, getting 57 at-bats and putting up unimpressive numbers as a rookie: .211 average, .250 OBP, .474 slugging, .724 OPS, 4 home runs, 8 RBIS, 23 strikeouts and just 2 walks. Last year, he was barely up with the club, getting just 12 plate appearances. And while he did manage to hit 2 homers in those 12 at-bats and hit .333 with a .833 slugging percentage and 1.218 OPS, it was hardly a large sample size. He entered this season batting just .232 and with what people perceived as a huge hole in his swing.
Essentially, he was a flawed hitter who could hit the ball far, but was easy to get out and strike out. He didn't put together good at-bats, and always went for broke. Then suddenly Shane Victorino got injured and Dom Brown and Ben Francisco struggled, so Mayberry got a chance to play every day. And while his average wasn't great at the start, Mayberry started to consistently hit the ball hard and work great at-bats. Suddenly he went from an undisciplined hitter with a huge hole in his swing to a tough out. And the more he's played, the more he's produced.
The guy works the pitcher damn near every at-bat, fouling off tough pitches and laying off bad ones. And when he does go after a ball, he kills it. He no longer looks lost and vulnerable. He looks confident and monstrous. And now he's turning into a beast. The numbers don't lie. John Mayberry has been the most dangerous hitter for the best team in baseball of late, and there are no signs of him slowing down.
It's been an extremely pleasant surprise seeing him mature right before our eyes,. No one even mentions Dom Brown's name anymore. We want more John Mayberry, and that's what we've been getting. It's to the point where he seems to be asserting himself pretty clearly over Ibanez, who has gone back into the tank following a hot July. The way he's going, John Mayberry has to be in the lineup pretty much every day.
Honestly, Vance and Mayberry have probably been the biggest surprises all year for the Phillies, even more so than Antonio Bastardo and Michael Stutes.
Bastardo has been fantastic to be sure, and while no one quite expected what he's done, he started the year with the big club and had shown a lively arm and filthy stuff in the past. And Stutes has been a revelation, but again, he's been up all year, and actually has been fading of late.
Speaking of Stutes, I'm curious as to why Manuel seems to be using him two innings every time he trots him out there of late, especially given his recent struggles. To me, he looks like he has a tired arm, and last night the Mets were rocking the ball off him, even on outs. The fact Charlie left him in in the 9th was really strange to me. Maybe he wanted to get him some more confidence, but I feel like he may be wearing down a bit at this point in the season. And with a 6-run lead going into the 9th, it seemed like a good time to use Michael Schwimmer and rest Stutes' arm a bit.
In four of his last 10 outings, Stutes has gone two innings, and he hasn't been quite as effective of late. May be time for Charlie to cut down his innings a little bit. Then again, maybe not. Charlie certainly knows a whole lot more about Stutes than I do.
Anyway, the only thing that's been more surprising than Worley and Mayberry here in Philadelphia is having an earthquake hit the City of Brotherly Love, though you'd be hard-pressed to find anyone who saw any of these occurrences coming.
Easily handling the Mets, however, isn't surprising in the least.