As I'm sure you've all heard by now, LeBron got his sunning mate, as the Cavaliers
completed a three-team trade
with the Wizards and Clippers, landing Antawn Jamison at the low price of Zydrunas Ilgauskas and a first-round pick.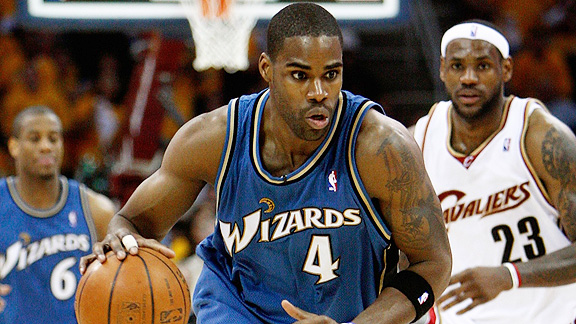 Ladies and gentlemen, this just might be the move that allows King James to finally take his throne. It most assuredly pushes the Cavs way ahead of anyone else in the Eastern Conference, and on paper, only the Lakers now provide as much depth and talent. Just take a look at these rosters
side
by
side
:
Cleveland: LeBron, Jamison, Shaq, Delonte West, Mo Williams, Anderson Varejao, J.J. Hickson, Anthony Parker, Daniel Gibson, Jamario Moon, Leon Powe
Los Angeles: Kobe, Gasol, Artest, Lamar Odom, Shannon Brown, Andrew Bynum, Derek Fisher, Jordan Farmar, D.J. Mbenga, Sasha Vujacic, Luke Walton
There are at least 11 quality players on each roster, arguably more. There aren't many (any?) other teams that can say that. Both have three all-stars/former all-stars. Both have great depth and players who contribute in every facet. And both are locked in on a collision course to the Finals.
Now with Cleveland making this move for Jamison, I have to believe David Stern will finally get the Finals match-up he's wanted for a while now: LeBron vs. Kobe.
And if it happens, I think James will officially earn his title as King. The Lakers are aging, Kobe is ailing and now the Cavs aren't a one-man show. Far from it. One simple addition has transformed this team of LeBron and company to perhaps the most complete roster in the NBA. They have their alpha dog, King James, who has risen to the top of the NBA, a player who can do literally anything and everything … and does. But now he won't have to do it all quite as much.
Jamison provides that second reliable scorer, another go-to guy with an array of post moves and range all the way out to the three-point line. He's not a great defender, but he's not an awful one either. And he's a very good rebounder as well. Shaq provides the veteran savvy and at times can still be a force in bursts. A man that big is just too tough to contain all the time. Plus, he provides solid defense against a guy like Bynum or even Gasol, even in his slower, fatter advanced state.
Delonte West gives Cleveland a do-everything guard, someone who's not great at any one thing but is very good at just about everything. He can handle the ball, shoot the three, dish the rock, play D and get in the lane. Basically anything you need, Delonte will give it you. Mo Williams, who was so good last year as the No. 2 that he became an all-star, will return soon from injury and will be eased back in. No longer will he be relied upon as the second scorer, allowing him to do what he does best: knock down deadly threes. With James and Jamison on the floor, you better believe he'll be getting the best open looks of his life.
Anderson Varajao and J.J. Hickson provide perhaps the best power forward/small forward bench combo in the league. Varajao does all the little things, snatching rebounds at absurd rates, playing tenacious low-post defense, taking charges, getting second chances … all the hustle plays you want. And Hickson has shown tremendous potential, getting better and better as the season wears on, giving the second unit an athletic young forward to run with.
Anthony Parker and Daniel Gibson add two more lethal long-range shooters. Jamario Moon is a standout defender and athletic freak. And Leon Powe, who is also expected to be back soon, adds yet another banger on the front line. There isn't another team on the planet that can boast a front court that is as deep, with Jamison, Shaq, Varajao, Hickson and Powe, not even mentioning LeBron himself.
When you add up all those pieces, I just don't see how the Cavs can be beaten. They've been nearly unbeatable already, and that was without Jamison, largely without Williams and without Powe. Add them to the mix, and how do you defend them? They have everything you can really ask for, especially when the best player in the world is running the show.
Taking into consideration just how good Cleveland is defensively too, and I don't think even the Lakers can stop them. It's LeBron's time. It just is.
The Cavs have the bodies down low to bang with the Lakers and even potentially get Gasol and Bynum in foul trouble. The West/Williams/Parker trio is superior to the Fisher/Farmar/Brown trio in my eyes. And Ron-Ron, for as great as he is defensively, can't stop LeBron. Not that Kobe can be stopped either, but I think the Cavs can make Kobe work harder than Los Angeles can make LeBron work. Cleveland can throw West/Moon/Parker/even LeBron at Kobe, giving him different defenders and different looks. It probably won't matter most of the time, as Kobe is the best player in the league at making contested shots, but it could wear on him, especially since he relies on his jumper so much. Sure, Artest will make LeBron work harder than usual, certainly getting physical with him, but if he gets in foul trouble or can't keep pace with James, who will? Kobe is too small to guard him. Sasha Vujacic? Please. Lamar Odom? Maybe … for a couple of plays. Luke Walton? D.J. Mbenga? No and no. Just won't happen.
This move wasn't just a token move to appease LeBron. It was a move to put the Cavs over the hump. There won't be another letdown in the conference finals. There won't be another sweep at the hands of San Antonio.
The arrival of Jamison didn't just ship in a talented all-star caliber player to run alongside LeBron. It just may have shipped in a championship. We'll find out in a few months … and my guess is, we'll be hoisting King James up on this throne, officially crowning him ruler of the NBA kingdom.