Everything about last night was just … wrong. I mean, everything. When I got home from work, my body just collapsed from exhaustion. Then I watched as the Sixers continued their slightly better play, edging out the Bulls in overtime — which is counterproductive to getting those ping pong balls, as the team has leapt Washington, Detroit and Indiana in recent weeks. And to top things off, the Flyers, locked in a death battle for points in the insanely congested bottom half of the playoff picture in the Eastern Conference, lost 1-0 to Edmonton on a goal with 16 seconds left in a game they pretty much controlled throughout, throwing away two incredibly valuable points.
Then just for good measure, Colorado teased me with the thought of beating No. 1 Kansas, thus opening the door for No. 2 Villanova to stake its claim at the top, only to lose in overtime. And finally, despite being insanely tired, I couldn't fall asleep until 2-2:30 in the morning. Like I said, everything about last night was wrong.
In a lost season that sees the Sixers at 17-31, 11th in the East and still 6.5 games behind the Bulls for the 8th and final playoff spot, wins are nothing but detrimental at this point. The Sixers aren't making the playoffs. It would take a minor miracle. And even if they did, they would get absolutely annihilated by Cleveland, Orlando or Boston in the first round, accomplishing nothing. In fact, the more the Sixers win at this point, the worse off they are. This team needs to land a true prize in the draft. But with each win, the likelihood of cementing a high-impact rookie for 2010-11 becomes more and more unlikely. Not that the Sixers are making a habit of winning, but still.
Last night, it was not a pretty sight to behold. Both teams missed a ton of easy opportunities, and for the first three quarters, the best player was Elton Brand. That's never pretty. Yes, Brand's stat line looks good to the eyes — 26 points, 9 rebounds, 2 assists, 1 steal, 3 blocks, 12-22 from the field — but watching him play is just painful, even when he's effective.
He's slow. He can't jump. He can't elevate over opponents to score or rebound. His shots consist of mostly fadeaways and putbacks, which he often blows because he can't jump. And everything he does looks so forced. I hate watching Elton Brand. Everything about it. It sucks so hard that he's a 76er. But he was damn good last night against one of his former teams.
Thank god Derrick Rose was there to provide some entertainment. No matter who the Sixers put on the Rose — Jrue, Lou Will, Ivey, Green,
especially
Green — D Rose was having his way. All those early season troubles are long behind him, as the second-year point guard clearly showcased that he was head and shoulders better than anyone else out there on the floor. I guess that's why he's the only 2010 all-star that stepped on the court last night. Rose went off for 30 points, 9 assists and 4 rebounds on 9-10 from the line and 10-22 from the field, including an explosive first step and crossover to blow by Willie Green and throw down an emphatic slam (1:08 in):
I wish the Sixers had a player like that I got to watch every night. Instead, we're stuck with our "superstar" Andre Iguodala, who gets paid a shit-ton of money despite never making an all-star game and never getting past the first round of the playoffs as the lead guy. Though to be fair, Iggy has his moments where he's a joy to watch, and he had a very good game last night. Like incredibly good. Iggy scored 25 points, grabbed 8 boards, dished out 8 assists and nabbed 3 steals, all while going 11-19 from the floor. He especially took over in the fourth quarter and overtime, propelling the Sixers to victory.
Those are tremendous numbers and it was an excellent game for Iggy. But things can never be that simple with Iguodala. Yes, he played wonderfully and asserted himself in crunch time. Yes, he and Brand were the main reasons the Sixers won last night. But, he was also the main reason the Sixers failed to win in regulation. Down one with a chance to take the lead at the line with seconds left, Iguodala nailed the first to tie it, and then proceeded to clank the second terribly, showing his unclutchness with game-winners yet again, despite that pair he hit last season. And on the night, Andre was 2-7 from the line. That's beyond awful. Any NBA player should be able to make more than 2 of 7 from the line with their damn eyes closed.
But hey, he helped lead the Sixers to their 17th victory of the season, so yeah. Awesome. A meaningless win that does absolutely but hurt the team's future at this point. Great. I have to admit, I'm completely onboard with trading away any and all players on this roster at this point, Iguodala included. Sadly, I'm not that optimistic that change is coming … at least until the offseason. And I hope it starts with firing Ed Stefanski, because he has taken a young team with a lot of promise and crippled it with two lethal contracts, one to a bum of a player that drags down every team he's been on. I hate the state of the Sixers so very much. They're the only Philadelphia team that can honestly upset me by winning at times. It's uncanny.
Meanwhile, the Flyers get me so pissed off for the complete opposite reason. The Flyers have absolutely turned their season around, thanks in large part to the spark they received from Michael Leighton in net, but after digging themselves such a big hole during the time John Stevens was fired and in the first couple weeks with Peter Laviolette at the helm, every single game, every single point matters. This team, currently sitting at 6th in the East but just five points ahead of the 13th-place Islanders, cannot afford to let points slip away. Yes, there will be nights where they get beaten by teams that simply play better, but the frustrating thing, even with the team's better play of late, is the fact that the Flyers have literally given precious points away in two of their last four games.
The first came against Atlanta last week, when the Flyers
blew a 3-1 lead
in the third period, losing in regulation 4-3, not even getting a single point out of a game in which they led by two with one period left to play. Then last night, they wasted a very good effort by Michael Leighton, who started his first game since Ray Emery's return, and wasted opportunity after opportunity in the game.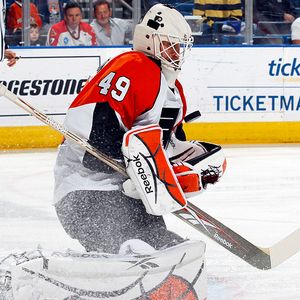 The Flyers outshot the Oilers 33-27, dominated faceoffs for once 33-20, had one more power play opportunity and literally had at least a dozen prime scoring chances, yet they lost 1-0. Yes, Jeff Deslauriers was outstanding, stopping all 33 shots fired his way and taking a lot away in close, but Leighton was pretty much his equal. The Flyers missed scoring chance after scoring chance, whiffing on open nets, breaking their sticks, hitting posts, failing to get off a shot (I'm looking at you there, Claude), and yes, getting stoned by Deslauriers.
I mean, they completely dominated for 57 minutes. Sure, Edmonton would get a little flurry here and little flurry there, but the Flyers were in control everywhere but the scoreboard. And with just over 5 minutes left, Edmonton pretty much gift-wrapped the Flyers the victory. Rookie defenseman Alex Plante
pulled a Kimmo
(against Atlanta) and fired the puck up over the boards from his own zone. With 5 minutes to go the Flyers went on the power play, their 4th of the game, with a chance to take the lead late. Only they couldn't, despite an onslaught of chances, and minutes later, Darroll Powe got his stick up and got called for high sticking with 1:50 left. The Oilers had some momentum, won a couple key late draws and then bam, with 16 seconds left former Flyer Ryan Potulny finished off a great play by Dustin Penner and Sam Gagner, a play that Leighton had no chance at stopping.
Fifty-seven minutes of hard work went right down the drain. 0-for-4 on the power play. Late faceoff losses. And a backbreaking penalty with less than two minutes. That's how you turn a victory into a defeat. Well, that and a great goaltending performance from
the most unlikely of sources
:
No. 2 Stars: Jeff Deslauriers, Edmonton Oilers
Before this week, Deslauriers had lost his last seven starts. In two games this week, he's posted impressive back-to-back performances. On Monday night he stopped 33 shots downing the Carolina Hurricanes. Tonight, he kept the Philadelphia Flyers off the scoreboard and recorded his second shutout of the season in a 1-0 win. Ryan Potulny(notes) scored with 16.1 seconds to go and Deslauriers stopped 33 shots as Edmonton won consecutive games for the first time since early December.
Two points right down the drain. Again. For the second time in four games. So instead of a major hold on the sixth spot with 63 points and being just five back of Ottawa with two games in hand, the Flyers are hanging on the 6th spot for dear life at 59 points. Luckily they still do have games in hand on the majority of teams, but it's getting to crunch time. They can't afford to let any more of these points slip away.