Temple walked into Saturday's game at the Palestra with the No. 21 ranking, a 21-5 record overall and a 9-2 conference record. St. Joe's entered the hallowed ground on the campus of Penn with a less impressive résumé to say the least, sitting at 9-17 overall and a paltry 3-9 in A-10 play.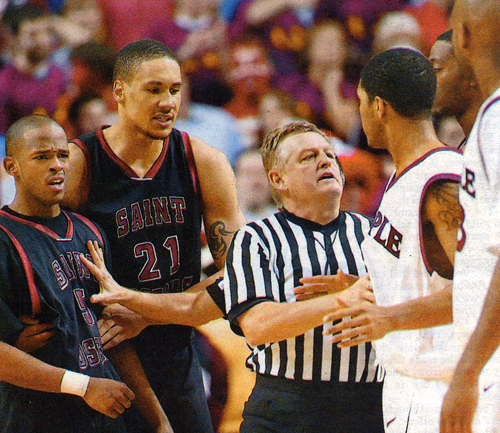 On paper, this should have been no contest. The Owls were a half game out of the lead in the A-10, had already beaten the titan of the Big 5 with their victory over Villanova and were set up to take the reigns in the conference. St. Joe's had played horrendous basketball all season long, getting blown out by superior competition all year, including a 73-46 loss on Jan. 6 to this same Temple squad. But you know, funny things happen at the Palestra.
All game long, St. Joe's was hanging around and hanging around, and with about 8 minutes remaining, I was beginning to fume. Temple was going to lose to a horrendous St. Joe's team. I was sure of it. Garrett Williamson was playing the best basketball game of his life, doing it all on both ends of the floor. Darrin Govens was bombing away. And freshman Carl Jones was showing no fear. The Hawks had all the swagger, while Temple looked out of sorts.
Ryan Brooks was dreadful. Juan Fernandez continued to struggle with his shot since returning from his concussion. And the Hawks were swarming LaVoy Allen every time he touched the ball, though he still managed a beastly 16 and 10 on 7-8 shooting. All I can say is thank god for Ramone Moore, who was by far the player of the game for the Owls, scoring 24 points and grabbing 9 boards … and oh yeah, saved them from embarrassment with his end-to-end layup to tie the game with just over a second left.
To be perfectly frank, St. Joe's just played harder than Temple most of that game. You could see it in the Hawks' eyes. They wanted this one so badly. This team had struggled so much this year. They aren't going to the NCAA Tournament. They aren't going to the NIT. They aren't going anywhere. But a victory against a city rival, an A-10 rival, a Big 5 rival in the holiest of basketball arenas would salvage something of this lost season. This was especially important to seniors Darrin Govens and Garrett Williamson. You could just see it. Govens scored a team-high 21 points, hitting four threes, and nabbed six boards and three steals. Williamson was arguably the best player on the court Saturday, scoring 20 points on 6-15 shooting, nabbing 5 boards, dishing 4 assists, 2 steals and 2 blocks, not to mention playing great defense on Brooks, Fernandez and anyone else he guarded. And in a wild finish, Williamson made that aggressive drive to the hoop, making a difficult shot to put his Hawks up two with just 5 seconds remaining. He gave every ounce of his being, and it looked as though it had paid off.
But then Ramone Moore took it coast-to-coast, tied the game, and Temple imposed its will on an inferior St. Joe's team in overtime, escaping with a 75-67 victory that perhaps they didn't deserve. And as happy as I was for Temple, I almost felt bad for St. Joe's, and especially Williamson. The Hawks scratched and clawed their way, taking it right to Temple. They were the aggressors. And Williamson did all he could to go out against Temple with a victory. By the time OT rolled around, he was just spent. He had nothing left. Neither did the Hawks. They did all they could, but it just wasn't enough. It's been that type of year for Phil Martelli's bunch.
While it was certainly a scare for Temple, they just kept on trucking along, marching straight to the top of the A-10 standings. Ryan Brooks had his worst game of the year, yet he still made some key plays down the stretch. Fernandez struggled with his shot, but he still scored 13 points. LaVoy Allen continued to quietly be awesome, doing just about everything right, from owning the boards to scoring inside to making tremendous passes. And most of all, Ramone Moore continued to blossom, taking over as Temple's lead player Saturday, something he's been making a habit of lately. It's beginning to look as though Temple just may be a force to be reckoned with come tourney time.
While the Owls got a scare at the Palestra, Villanova simply didn't have enough out in Pittsburgh yesterday. Corey Fisher picked up two early fouls, Scottie Reynolds struggled early on and the Panthers destroyed the Wildcats on the offensive glass. Ashton Gibbs and Garrett Brown outplayed all of Villanova's guards combined, as it was just one of those days for Nova. As an undersized unit, Nova struggled with Pitt's size and was in foul trouble all game long. And Pitt took advantage, getting to the line more than twice as much Nova (34-16). And that was the biggest difference in the game. Pitt made 26 of 34 free throws, while the Wildcats, typically a tremendous foul-shooting team, went just 11-16.
Sooner or later, you had to figure Nova's tough end-of-season Big East schedule would catch up to them, and it has. For the first time all season, Nova has dropped two games in a row, losing to an underachieving UConn squad and then getting beaten up a little bit by a big, physical Pitt team out in shitty side of the state. And things don't get any easier for Nova, who takes on a solid South Florida team Wednesday, then finishes up with a lethal schedule: at Syracuse, at Cincy, home for West Virginia. The Wildcats certainly have their work cut out for them to try and grab a No. 1 seed, whether we're talking about the NCAA tournament or Big East tournament. Who knows, by the time the conference tournaments roll around, Nova may not even be the highest-ranked team in the Philly area. After all, Temple already topped Nova and has only Dayton left as a real test.
The college basketball was all well and good, but I was most excited to watch the USA take on Canada last night in hockey. Now let me tell you something, if you aren't watching the Olympic hockey taking place right now, do yourself a favor and start. You'll be glad you did.
Thursday night, I watched every second of the Canada-Switzerland game and the Russia-Slovakia game. Both were awesome. Both went to overtime. Both went into a shootout. And both had the excitement of a playoff game … and we're not even in the medal round yet.
Last night was more of the same, as the U.S. stunned Canada in their homeland 5-3, thanks in large part to Brian Rafalski, Ryan Kessler and Ryan Miller.
Rafalski wasn't just the star for the U.S., he was easily the most outstanding player on either team, scoring two goals against his former teammate Martin Brodeur and adding an assist. He opened the scoring and then put the U.S. up 2-1 after Canada answered. Then he accounted for the game-winner, ripping another low laser shot from the point that went off Jamie Langenbrunner's skate and in. He was simply awesome last night. Glad he's not in Jersey anymore.
Watching that game, it was evident that Canada was the better team. The Canadians were dominating the game, outshooting the U.S. by a ton, generating loads of sustained pressure, but they just couldn't make the U.S. pay. Ryan Miller was oustanding, stopping every puck he had even a remote chance at stopping, and the U.S., while not getting as much pressure as Canada, got tons of great chances themselves … and made the most of them.
Canada threatened throughout, but the U.S. scrapped its way to the win. The New York Ranger duo of Chris Drury and Ryan Callahan were tremendous on the penalty kill, stifling the Canadian power play. Dustin Brown had an excellent game. Devils Zach Parise and Jamie Langernbrunner generated several good chances, and Patrick Kane utilized his speed successfully all night. And Ryan Kesler, who
guaranteed
the U.S. would beat Canada, had a really strong game overall, capping things off in style with a truly awesome play, busting his ass down the ice, beating Cory Perry to the loose puck with an all-out dive and batting the puck into the empty net, securing the victory.
It was one of the best empty-net goals I've ever seen. Talk about putting your money where your mouth is.
It was an exciting sight to watch, a talented but considerably less talented U.S. team going into Vancouver and defeating the loaded Canadians. Should make for an interesting medal round, that's for sure.
As far as the Flyer connection goes, Mike Richards was teamed up with Rick Nash and, gasp!, Sidney Crosby most of the game. No matter what the case, that just doesn't seem right. I prefer seeing them more like this:
That's better.
Anyway … USA! USA! USA! Suck on that, Canada.