On Saturday afternoon, I watched Penn State come storming back from a 21-0 deficit to defeat Northwestern 35-21 and give legendary head coach Joe Paterno his
400th career victory
.
It was one of the most entertaining games I've ever witnessed — an incredible comeback with hard hitting and huge momentum swings. There wasn't a single flag thrown for an illegal hit to the head, and it was one of the most enjoyable games I've ever watched.
Then on Sunday, I went to the Eagles-Colts game at Lincoln Financial Field, witnessing the Eagles finally defeating Peyton Manning in a 26-24 thriller. Yet it was one of the least enjoyable viewing experiences of my entire life, and it was 100 percent due to the referees wielding entirely too much power on the outcome of the game — most notably two personal foul penalties on the Eagles, one for hitting a defenseless receiver that actually was in the process of catching the ball and the other for Trent Cole grazing Peyton Manning on the back of his helmet.
Both plays led to Colts touchdowns, and one extended a crucial late-game drive on 4th and 18 on a play that would have pretty much iced the game. It was completely and utterly disgusting, the exact reason I am really beginning to hate the NFL.
Now listen, I completely understand the concern over head injuries and the NFL's desire to protect its players, but enough is enough. The absurdity of penalties and fines is reaching all new levels of insanity. Essentially, defensive players aren't allowed to do anything. On the Austin Collie play, Quintin Mikell cleanly hit Collie shoulder to shoulder, never once lowering his head or even hitting Collie with his helmet. Kurt Coleman also did not lead with his head, did not launch himself and went in shoulder first. Unfortunately, due to the impact of Mikell's hit, Collie's head collided with Coleman's head. Collie had the ball on a big gain. Mikell and Coleman simply made a play and knocked the ball loose. It was deemed a penalty because Collie's head dropped and hit into Coleman's. It was a truly horrific call. Both hits were clean, and even the NFL said so, not fining or suspending Coleman for the helmet-to-helmet contact because he didn't initiate it. But still, it was called a penalty, and the Colts scored shortly thereafter.
Then, with the game on the line, the Colts faced a 4th-and-18 with 3:36 remaining and the Eagles holding a 9-point lead. Trent Cole came flying in, slapped toward the ball in Manning's hand, grazed the back of his god damn helmet, then stripped the ball and the game was pretty much over. Except it wasn't, because grazing even the back of a quarterback's head is a penalty in the NFL. Instead of the Eagles having the ball and the game essentially over, the Colts got a first down and wound up scoring a touchdown to make it a 2-point game. I'm sorry, but the referees just shouldn't make that call, not with the game on the line and a 4th and 18 staring the Colts in the face and Cole literally doing nothing more than grazing the back of Peyton's head. But that's the NFL we live in. And it's absolutely disgusting. Defense is completely outlawed these days, and it's making me sick to my stomach. If you're not allowed to hit a receiver that is in the process of catching a pass and not allowed to even touch a quarterback pretty much anywhere, you might as well take off the pads, give everyone flags and change the name of the league to the NFFL — National Flag Football League.
How is it that Saturday after Saturday I can watch college football game after college football game and rarely see these penalties called, yet each and every Sunday, I'm forced to watch yet another penalty called on a clean play? I don't watch football to see yellow flags and men in zebra stripes. I watch football to see big plays, big hits and the best athletes in the world. Anymore, I can't do that watching the NFL. The referees determine too much of what goes on these days. And it's completely ruining my viewing experience. Maybe the NFL should take a long, hard look at what college football is doing, how the NCAA referees generally try to let the players decide the game, and take notes. Because these days, Saturdays are way more enjoyable than Sundays.
Not that I was altogether enjoying myself early on on Saturday. Penn State fell behind Northwestern 21-0 in the first half, and it could have been worst. The Wildcats missed a field goal that would have made it 24-0. The NIttany Lions looked lifeless. The offense was stagnant, moving the ball but then stalling, and the defense was getting eaten alive by Dan Persa. Robert Bolden played the first two series, decently moving the offense but then failing to get any points. Matt McGloin then came in to relieve him and didn't fare any better. This game had blowout written all over it, and after three unsuccessful drives with McGloin at the helm, I was calling for Bolden the rest of the way.
Good thing I'm not the coach. Because despite my protests, Matt McGloin trotted back out there for his fourth series with Penn State trailing 21-0. There were just 50 seconds remaining in the half, the Nittany Lions sat at their own 9-yard line, and they had just one timeout. It looked like they were going to go into halftime with no points and down three touchdowns, and I was already telling my dad that the score would be 35-3 before the third quarter even reached the halfway point. I mean, Northwestern wasn't just dominating, they were doing it in spectacular fashion as well.
Then something crazy happened. With the offensive line suddenly looking the way you expect a Penn State offensive line to look, Evan Royster picked up 7 yards on first down. Then McGloin hit Derek Moye for 9 more, and Evan Royster for another 7 yards after an incomplete pass. There were 35 seconds remaining as Penn State faced a 3rd and 3 at their own 32. They went with a draw play, content to get this thing to halftime if it was sniffed out, but hoping to bust one. That's exactly what happened, as Stephfon Green exploded for 21 yards. Then McGloin hit Graham Zug for a 20 yards, and Joe Suhey for 20 more. All the sudden Penn State was at the Northwestern 7 with 8 seconds remaining. Then bam, McGloin connects with Brett Brackett on an incredible catch by the senior wideout, and all the sudden a game that was a 21-0 rout that felt like 50-0 became a two-touchdown game. Just like that.
At first, I didn't think there was any way Brackett actually got his foot down. But he did. Incredibly. And Penn went into the locker room with life. That can be a scary thing at Beaver Stadium, especially with an electric atmosphere anticipating Joe Paterno's milestone 400th win. And it proved to be the drive that changed the game.
Clearly confident, Penn State came out in the 3rd quarter as a completely different team. The move to McGloin sparked something, and whatever the coaches said and did at halftime worked to perfection. The Nittany Lions completely flipped the script, taking command of the game. They scored touchdowns on all three possessions in the 3rd to take the lead and never looked back. The defense was flying around the field, showing the tenacity that has been the staple of so many Penn State defenses before, something that has been sorely missing this year. And the offense just exploded. Including the final drive of the first half, Penn State scored on five straight possessions, and each score was a touchdown.
The offensive line played by far its best game of the season, completely blowing Northwestern off the ball and opening huge holes for Evan Royster and Silas Redd. And the senior-freshman duo took full advantage. Royster finished with 134 yards on 25 carries, and scored a touchdown on a 13-yard catch. Redd added 131 yards on the ground himself on just 11 carries — an absurd 11.9 average — including a 4-yard touchdown run, and displayed the incredible talent and skill that have many people projecting him as the next great Penn State tailback. Derek Moye continued to pace the Lions in the receiving game, hauling in 5 catches for 85 yards and a score. Joe Suhey added six catches for 67 yards, and Nate Cadogan — offensive lineman turned tight end out of necessity — caught a 3-yard touchdown pass on the opening drive of the third quarter to make it a one-score game.
As good as all those players were, and as dominant as the offensive line was, the biggest spark that turned the game around was the commitment to stick with McGloin. I don't want to take anything away from Robert Bolden. I like him, and I think he does have a bright future. But there's just something different about this team when McGloin is under center. He's fiery, intense, whereas Bolden is stoic, quiet, emotionless. Maybe it's the fact that McGloin is a little older and been in the program a little longer, but the kid is very clearly a leader. He doesn't have the arm strength, the speed, the raw talent of Bolden, but he has something perhaps even more important in college football. He has command and the respect of his teammates. He is a leader.
And on Saturday, he led Penn State back from a 21-point deficit to get win No. 400 for Paterno by completing 18 of 29 passes for 225 yards and four touchdowns. No one knows what the future has in store for Bolden and McGloin, but it's clear that right now, McGloin is the best option for the Nittany Lions at quarterback. He will most certainly be the starter the rest of the way.
It wasn't all offense that turned the tides in this game either. After getting embarrassed in the first half, the Penn State defense came out as a completely different group in the 2nd. They absolutely smothered Northwestern and adjusted to the tremendous play of Dan Persa. Sean Stanley made some huge plays, and everyone really picked it up. But there was one player more than any other that stood out.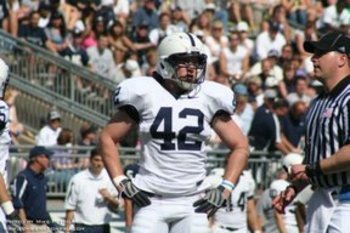 Two season ago, Mike Mauti was a promising young linebacker expected to be the next great one at Linebacker U. Then he missed last season to an ACL injury, and for a lot this year has struggled to regain his top speed. Well on Saturday, that speed returned. Mauti was a monster in the second half, flying all over the field and disrupting play after play. It was easily his most impressive game of the season, and perhaps the best game of his college career. Without him, there's no telling how the game would have went. The Wildcats were scoring so easily in the first half that it was almost comical. Mauti clearly wasn't laughing, and he decided to change things in the second half.
It was a performance worthy of Linebacker U lore, and it can only be a good sign for Mauti moving forward. Next year, I expect him to be fully recovered and contending for a spot on the All-Big Ten team.
The best part of the entire victory was the way it played out. Down 21-0 in the game and struggling for a good part of the year, it would have been easy for Penn State to just roll over and die. But these players couldn't do that, not with Joe Paterno on the sidelines and on the verge of a milestone. You can say what you want about Paterno's age, his diminished role, the game passing him by. But you can't deny that his players truly love him and truly want to win for him. That's what happened on Saturday night. They knew they couldn't let Coach Paterno down, and they didn't. It was his 400th win, and it couldn't have come in better fashion.
"Let's go beat Ohio State!"
That was fun, and more often than not in my lifetime, being a Penn State fan has be fun. And that's all been due to Joe Paterno and the program, the atmosphere, the community he's built at Penn State. He won't be with us forever. He has far fewer years ahead of him than he has behind him. But as long he's living and breathing and healthy enough to be on those sidelines, he should be, no matter what anyone else says. We are Penn State because Joe Paterno is Penn State. Saturday was proof of that. I hope he lives forever. I really do.
As much as I enjoyed the tremendous victory for Penn State, I couldn't find myself sharing those same feelings on Sunday. Sure, things started out great. We got down to the Linc nice and early, had a great tailgate that included an odd yet incredible combination of a flask of whiskey and a Jewish pickle, and the Eagles even jumped out to a 13-0 lead. But settling for field goals followed by the worst officiated NFL game I've ever been at soured my experience, even with the Eagles holding on for a 26-24 win to defeat Peyton Manning for the first time in history, culminated to put a damper on the game.
Michael Vick was outstanding yet again, throwing for 218 yards and a score on 17 of 29 passing, and adding 74 yards on the ground including a huge 32-yarder and a score. The Eagles remain perfect in games Vick has started and finished, and the man has still not turned the ball over.
DeSean Jackson returned in style, repeatedly burning the Colts' secondary, hauling in 7 catches for 109 yards and a touchdown. LeSean McCoy continued his impressive season, gaining 95 yards on 16 carries, including a 62-yarder. And the offense generally moved the ball at will, even with a lack of running plays called at times and the early struggles in the red zone.
Defensively, the Eagles were equally impressive. Yes, they gave up 24 points, but two of those touchdowns were hugely aided by the aforementioned horrendous calls. Dmitri Patterson played admirably in his first career start, and Kurt Coleman was impressive in relief of the injured Nate Allen. And Asante Samuel made the two biggest plays on gifts from Peyton, intercepting Manning twice, on the first and last drives of the night for the Colts. His first led to a David Akers field goal to put the Eagles up 10-0, and his second came on the final pass of the night by Manning, sealing the victory.
As great as it was to see all the playmakers doing what's expected, and as awesome as it was to see Mike Vick outplay Manning, I was really aggravated the entire game. The Colts were gift-wrapped two touchdowns thanks to those two personal foul penalties, and neither penalty was so egregious that it warranted a call. Yes, Collie got injured on one, but the hits were neither illegal or unnecessary. When the flag came out on that play, I lost my god damn mind and officially declared my hatred for the NFL. I still love football and wouldn't dare miss a Birds game, but I really don't and can't enjoy it anymore. I'm a defensive-minded guy. My favorite players have always been big hitters and big-play defenders. Now those guys are no longer allowed to do their jobs, and it makes me sick. I can honestly say that for the first time in my life, I didn't truly enjoy being at the stadium for an Eagles win. I was happy they won, don't get me wrong. But I was just so disgusted by the officiating that I almost wish I hadn't been there.
Football is contact sport. People are going to get hurt. It sucks when it happens, but it's part of the game. Always has been. Always will be. All the fines and rule changes in the world won't change that. All they'll do is continue to ruin my and so many other fans' enjoyment of the game we love so much. Shame on you, Roger Goodell and the NFL. Shame on you.